A business model that makes no sense … and yet it works
The town of Pena Blanca, New Mexico is a census-designated place (CDP) with a population of 661. Pena Blanca's name is derived from the Spanish term for "white rock." The median household income is $24,063, with 80% of the population being Hispanic. There's a rock quarry, a tiny family run grocery store, a package (liquor) store and a food truck in Pena Blanca. The nearest services are 35 miles away in Santa Fe, New Mexico. 
A couple of weeks ago I was driving home from Albuquerque and as I was slowing down to drive through the little town, I noticed a cute wooden sign that simply said "Seeds Art Cafe." There was a tiny little building, the size of a "She Shack" that was brightly painted. A week later there was a cute wooden sign that said OPEN! 
Seeds is COVID compliant because you cannot sit inside the tiny shed, it's too small, but instead you can enjoy your beverage sitting at a picnic table under the shade of an old cottonwood tree. Seeds is only open M-W-F from 8am to noon. 
In normal times, this makes some sense because tourists drive right past Seeds to get to the Tent Rocks National Monument, Cochiti Lake Campground and the Cochiti Champion Golf Course, all about 5 miles further down the road. Now, all of those attractions are closed due to COVID as it rests on Cochiti Pueblo Land. 
That did not deter her. In fact, she said some people do not believe it's all still closed so they go up anyway, have to turn around and chances are, they stop in. They are happy to have at least experienced something peaceful and wonderful for their effort. 
On paper, this business model makes absolutely no sense. A classic coffee shop with espresso, gourmet tea, pastries, art, and a vegetable stand 35 miles from one of the top ten tourist attractions in the US (Santa Fe). The entire population of Cochiti Pueblo, The Town of Cochiti Lake, and Pena Blanca is slightly over 1,500. When you think "business plan," this would be her "target audience" because we are the only ones out here for miles and miles. If you look at the demographics of all three, it doesn't scream "coffee house people."
So why does it work? Carson. You've never met a more down-to-earth, kind, caring, truly exceptional human being than the owner. We know that a good member experience can make all the difference in the world, especially today when everyone is a bit on edge and our world has changed forever. It costs nothing to be kind, compassionate and empathetic but the value is beyond measure. 
Does the financial cooperative business model still make sense? In the beginning we were all about a group of people with a deep common bond that pooled their resources to help one another through a tough time (the Depression). It was the purest form of people helping people. Today we have leadership saying that the notion of that common bond, aka field of membership is antiquated and should probably go away. If that in fact goes away, there would be zero motivation to start a new credit union. Because what would that look like? We want to start a financial cooperative in say Denver that offers savings and loan products like everyone else, we have no clear differentiator, no target audience and loads and loads of competitors that can do more than we can. But hey, anyone can join……
I am very concerned for the future of credit unions. There has only been ONE new credit union chartered this year and the mergers continue in triple digits. Most merging credit unions site "expanded services" as the reason NCUA approves them, and yet, for a new credit union to make its way in this world the NCUA will not allow "expanded services," but rather holds them to the standard of a credit union that started in the 1950's. To put it plainly, they will look like a savings and loan. 
This year I have interviewed several groups that have tried (and given up) or are still trying to start a new credit union. Their stories are heartbreaking. Here are some quotes from the folks I spoke with that shine a light on just how difficult it is for a de novo today.
"No one at the NCUA is assigned to this function. It felt like a tennis match. We would serve the ball and wait for months for the ball to come back." 
"We reached out to our state credit union league first and they were absolutely no help." 
"We reached out to other credit unions in our area to see if they would be interested in helping us in anyway. All of them wanted to absorb us rather than work with us. My understanding is that credit union willingness and desire to work together was their greatest strength…." 
I've even talked with some credit union CEOs that said they are not in support of new credit unions. Why? They cited competition! Instead, they want to "take in the groups" as a SEG. This obsession with size is out of control. 
Bigger is NOT better. Better is better. Seeds Art Cafe' is a better experience than Starbucks. If you don't believe me, come on down to Pena Blanca and I'll buy you a cup of coffee. 
If you feel passionately about credit unions and would like to work together to help start and support new ones and those in trouble, please join the CUSO Challenge! For more information go to http://cusochallenge.org/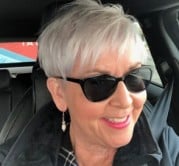 Denise started her credit union career over 30 years ago as a Teller for Pacific NW Federal Credit Union in Portland, Oregon. She moved up and around the org. chart ...
Web: https://www.zest.ai
Details