Best 2021 social media content ideas for your credit union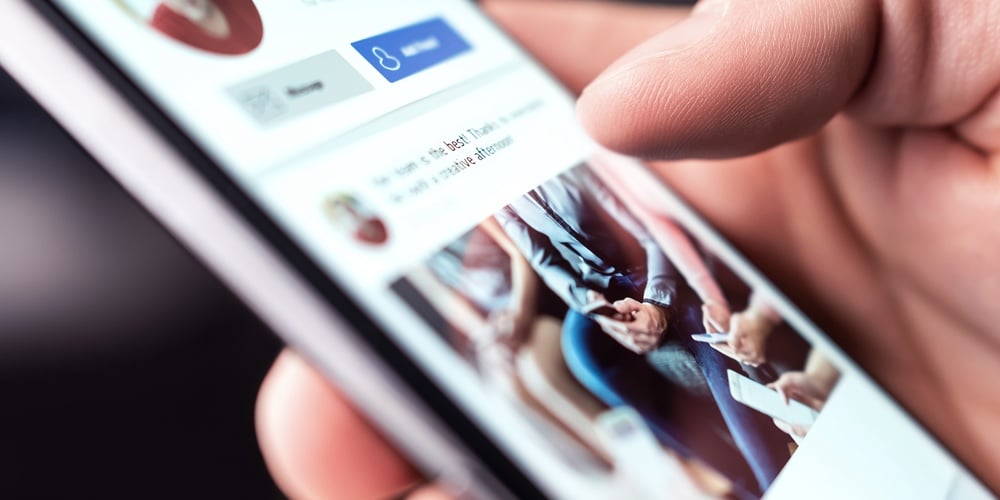 As we finish a year like no other, and continue to navigate unprecedented times, marketers everywhere are struggling to adjust their tone and continue to interact appropriately with target audiences. Here's a few thoughts about how to better leverage social media content as you wade through these uncharted waters. 
User-Generated Testimonials, Reviews or Questions
User-generated content has always been the holy grail of social media community managers. If you can successfully encourage your followers to post about your products this can produce social media magic. But for financial institutions this may prove even harder during times of social distancing. 
Consider ways to share images and stories of how your institution has helped people during the pandemic. Perhaps you can reach out to businesses that received PPP loans to ask for a testimonial and photo. Or ask customer-facing employees to be on the look-out for happy members who have good experiences with your credit union. Take photos or a video and get a quick quote.
Why not also work with your front-line staff to hear their most frequently asked questions, which you can turn into excellent content on social media. If people are asking new questions about pandemic relief or policies for dealing with late fees, over-draft charges or even how to order checks, turn these into quick posts on social that can be reused again in the future!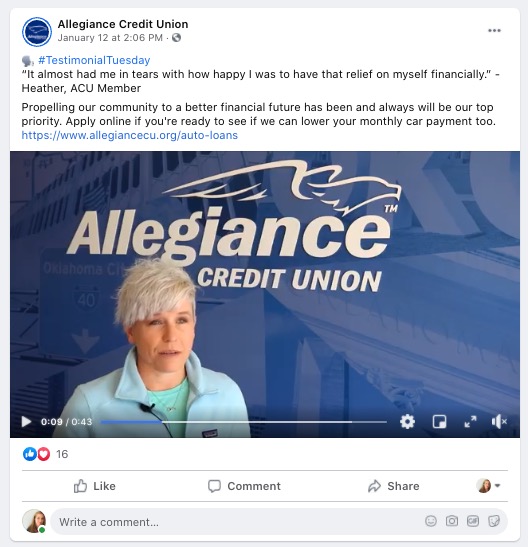 Sharing Google Reviews is also a great way to encourage more people to leave feedback online. Online reviews are so important in this day and age. According to recent surveys "91% of 18-34 year olds trust online reviews as much as personal recommendations and 93% of consumers say that online reviews influenced their purchase decisions." 
Your institution needs to be driving online reviews and social media is a great way to do just that! 
Behind the Scenes Posts
Content showing off the human side of your brand is another form of social media capital every credit union should be sharing. Your staff are what set your institution apart from local and national lenders, so don't be afraid to highlight these amazing individuals on social and show off their activities and accomplishments.
The same is true for your members. Celebrate their financial milestones, no matter how big or how small.
Educational Blogs, Podcasts or Webinars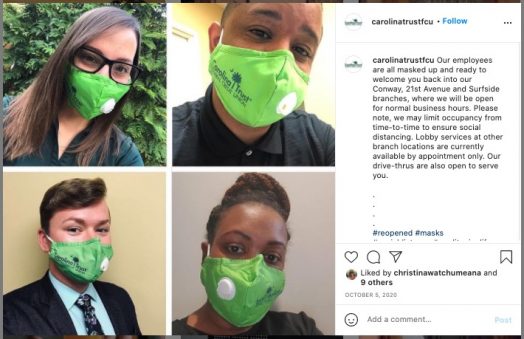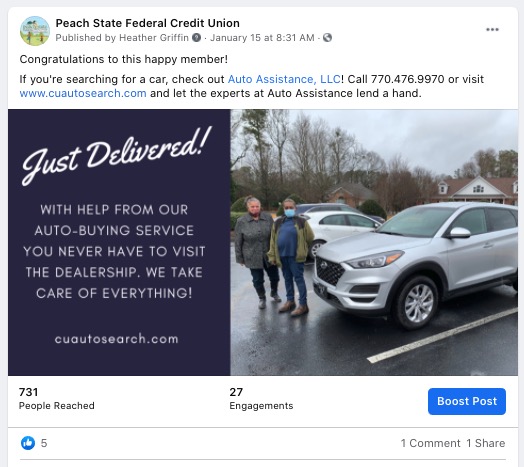 Promote upcoming webinars or educational events on social and remember to also share these recordings after the fact. Educational blogs, podcasts or webinars are a great way to continue to give back to your communities in times of crisis, but it's likely that most people will always appreciate good financial tips. Don't just do these kinds of events during pandemic times, consider putting this kind of content out all year round.
All Types of Videos
According to recent research digital video now drives 82% of website traffic! Truly we've gotten to the point where even the silliest videos on TikTok receive millions of views. If your financial institution hasn't stopped to take notice you're really missing a valuable opportunity to jump on this bandwagon.
Keep videos short and fun. Consider using tools like SnapChat or TikTok to make fun vertical boomerang videos you can share across multiple social platforms. Use these as a chance to show off the fun side of your brand and appeal to a younger audience who have basically stopped reading when at all possible. If you can't beat 'em … join 'em!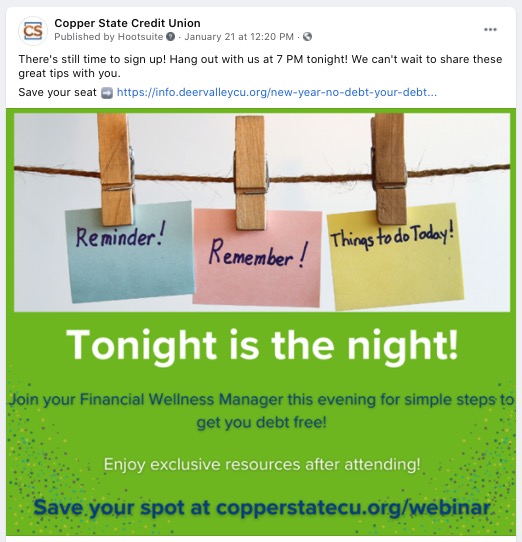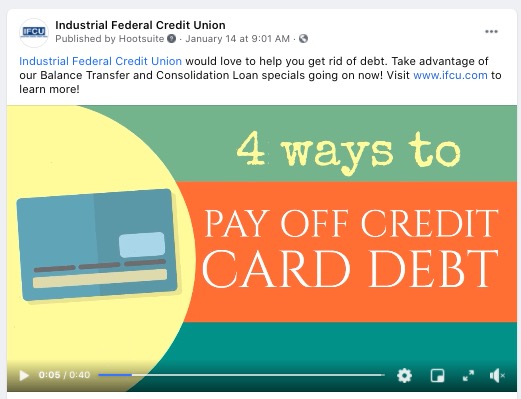 Local Business Offers or Partnerships
Look for other businesses in your area that have amazing followings on social media. These offer particularly good opportunities to partner and take advantage of some new audiences.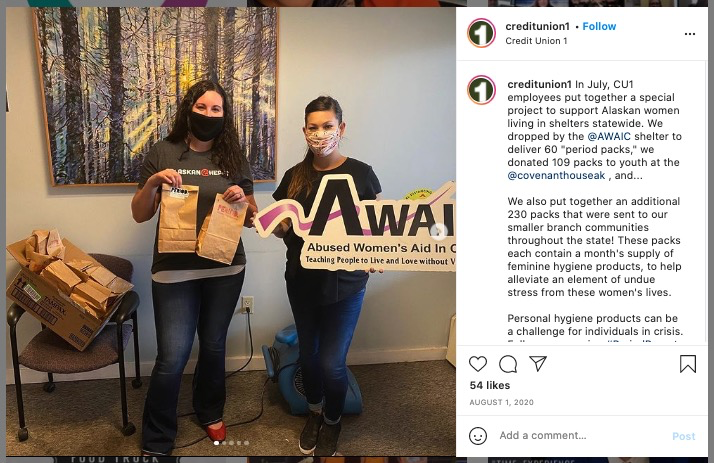 Financial Tips that are Meaningful
Find ways to share financial best practices on social media each week. Consider Tip Tuesdays or Financial Wellness Wednesday. You can share quick tips in quote form or create short tip videos for added extra engagement. Just remember to share your videos natively on Facebook and Instagram and keep them short if you want people to watch them all the way through.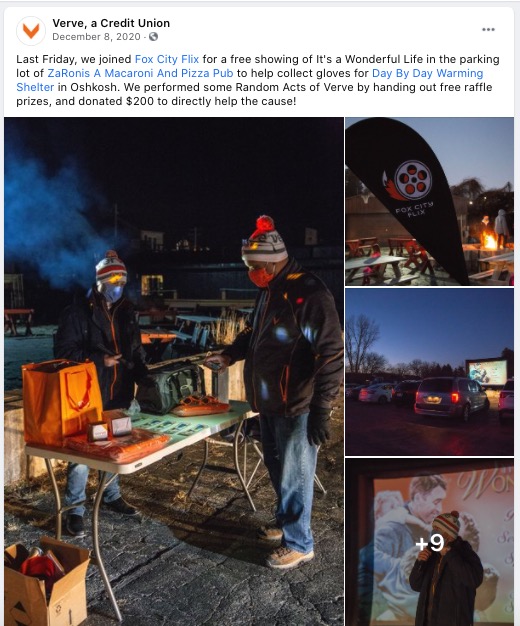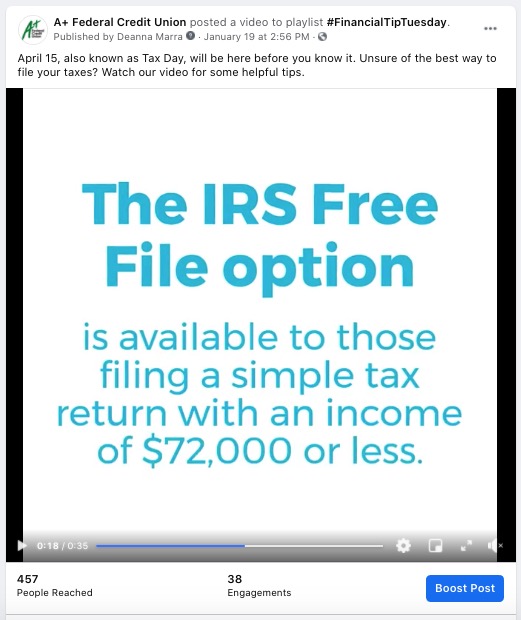 Looking for more ideas? Visit the FI GROW Solutions blog for more great social media marketing tips!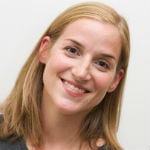 Meredith Olmstead is the CEO and Founder of FI GROW Solutions, which provides Digital Marketing & Sales services to Community Financial Institutions. With experience working with FIs in markets of ...
Web: www.figrow.com
Details