Can you picture it? How data visualization saves the day
Numbers don't lie. It's an accepted truth. But while they may be supremely honest, numbers aren't always the best communicators. People often have difficulty understanding the story numbers are trying to tell. Others are intimidated by rows and rows of data, especially when crammed onto spreadsheets printed in 9-pt font.
This is why the pie chart was invented.
Consider this: 65 percent of the population consists of visual learners. Undoubtedly, these individuals sit on your board, reside in your executive suite and lead teams within your cooperative. Giving these leaders the information they need to make transformative, member-centric decisions often requires data visualization. Why? Because tools that show, rather than tell, get faster, more meaningful action.
Images expose dangerous trends
When a mid-sized Illinois credit union used data visualization to communicate a troublesome trend, it stimulated a quick response from senior leadership. Thanks to regular reporting on a next-generation dashboard, managers were able to more easily sound the alarm. The graphic report illustrated a serious problem – attrition had risen from 4 to 5.5 percent in under 20 months!
As the picture came into even clearer focus, the credit union's leadership saw that those leaving the cooperative were members with long-standing relationships, good FICO scores and high purchase activity.
To reverse the trend, managers proposed the launch of an elite credit card product to deepen relationships with these influential members. The managers came to the proposal presentation prepared with a detailed study of the market, competition, product features and profitability calculations. However, they attribute the "Go for it!" they received from senior executives to having visually communicated the severity of the situation, as well as the danger of leaving the status quo unchecked.
Pictures open minds, broaden perspectives
Another credit union in the Midwest made a critical realization about its credit card portfolio with the help of a visual dashboard.
Despite a number of spend campaigns, the portfolio wasn't growing at an acceptable rate. To determine what could be causing the sluggish growth, the cards team worked with our data scientists to perform cross-sectional and time-series analyses. The numbers results of these examinations would have been incredibly complicated to view on a spreadsheet. By communicating the results in graphics, however, the cards team was able to demonstrate the very clear difference in how fixed-rate cards were performing as opposed to their variable-rate counterparts. The latter was far outperforming fixed-rate cards, and yet 90 percent of the portfolio was composed of fixed-rate cards. The conversations sparked with the visual representation of the portfolio's performance opened more minds to the idea of changing "the way things had always been" (i.e., pushing the fixed-rate option with members).
Getting data visualization in the hands of more credit unions
Fortunately, data visualization is becoming more accessible as data analytics providers begin to serve the community financial institution vertical. What's more, the dashboards providing that visualization are increasingly easier to use and better at displaying information. You may have heard them referred to as next-generation dashboards.
Think of data visualization as a new iteration of business intelligence, and one that is completely accessible. Using advanced analytics and visualization techniques, these dashboards allow credit union personnel of varying experience levels to create charts, graphs and visuals that demonstrate member behavior, predict sales volume, as well as identify potentially profitable adjustments to things like risk management and marketing strategy.
Simply put, data visualization helps more people easily understand large amounts of data without having to sort through stacks of reports and spreadsheets. Better yet, it often allows for insights in real time.
Of course, data visualization is more complicated than creating a chart or graph from a spreadsheet. The real magic is found in the technology's ability to bring together large amounts of data and create connections visually. It's the kind of capability that changes minds and broadens perspectives. Using pictures instead of numbers, the innovative thinkers in the movement will get that "Go for it!" executive support they need to take their cooperatives into the future.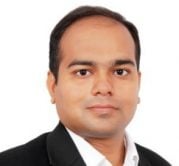 Suchit Shah is the COO of CU Rise Analytics, a Virginia-based CUSO. CU Rise helps credit unions that want to focus their time and resources on the most advantageous strategies ...
Web: www.cu-rise.com
Details