How AI powered banking is impacting revenue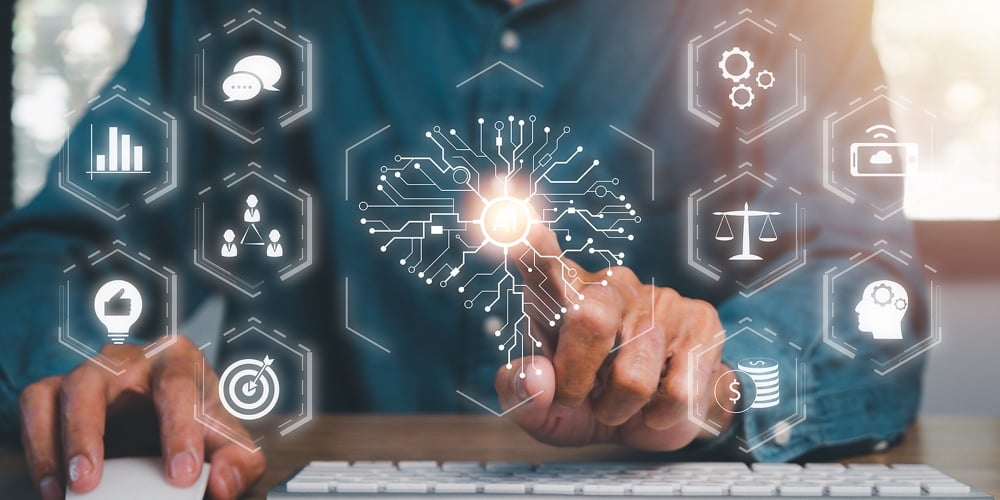 Artificial intelligence (AI) continues to entrench itself in financial institution infrastructure, and many credit unions are turning to AI to solve call center and overall member communication challenges.
Challenges Call Centers are Facing:
Increased call volume: Since the pandemic, many call centers have seen a rampant increase in inbound call volume. While branches may have reopened, members are still seeking to solve their issues outside of the branch, resulting in more calls per day than pre-pandemic. This trend will likely continue as member expectations have shifted.
Long wait times: With more incoming calls comes longer wait times for members. While the average wait time will vary from credit union to credit union, wait times are trending longer, upwards of 35 minutes.[1] (Tip: Call your own call center to verify the wait time your members may be experiencing.)
Abandonment: Mostly due to longer hold times, members are more likely to abandon the call altogether. Call centers aim for a 0% abandonment rate but with increased volume leading to longer wait times, that is proving to be challenging.
While the pandemic may have brought these challenges to the forefront, there has been a growing need for some time for artificial intelligence to bridge the gap in member service, particularly in call centers. Consumer demands are fluctuating and trending towards fast service and self-service options. To manage call volume, decrease wait times, and enhance the member experience credit unions can leverage advanced artificial intelligence tools.
9 Benefits Powered by Artificial Intelligence
Here are some call center benefits that come from an advanced, conversational AI platform:
When current call center staff is struggling to maintain excellent member service under the pressure of increased call volume, many credit unions either look to an outside call center service to manage the overflow or hire more staff internally. Instead of outsourcing to an outside call center or hiring more staff, artificial intelligence can help manage the volume in a more cost-effective way. This lowers expenses by allowing a credit union to work with current resources and keep the call center service in-house.
AI can do more than just manage volume and reduce overhead; it can also enable self-service for the member. Conversational AI can maintain a conversation with the member, and throughout the course of the conversation, it can direct the member to self-service options like make a payment, sign up for a product, or transfer funds.
Advanced AI systems can speak multiple languages and are always learning. Across a credit union's demographics a question could be phrased multiple ways, and unlike a self-built AI solution, an off-the-shelf product can integrate learnings from multiple credit unions. For example, if a member at Credit Union A makes a balance request in a different way, the system remembers that encounter and is prepared for when your member at Credit Union B similarly requests their balance.
When AI is in place at a call center, a caller doesn't have to wait for a staff member to be freed up to take their call. AI can answer and intelligently respond to many callers simultaneously, at any hour or day of the week. Reducing wait times causes the abandonment rate to drastically drop, most times to 0%, improving the member experience.
Improve member experience
Aside from reducing wait times and easing member frustration, artificial intelligence can efficiently solve the member's issue or answer their question. With advanced AI solutions, if the chatbot senses an ongoing frustration in the member's tone, pitch, or words it will offer empathy and reroute the call to a staff member within your organization.
While there are many AI options on the market, very few are built specifically for the banking industry. When considering an advanced AI technology, ensure that it is built for credit unions, has high data security, and is FFIEC compliant.
Once artificial intelligence is implemented and optimized in a call center, it can be extended to other channels. Leveraging a single AI platform for email, video, text, live chat, social messaging, and more delivers an omnichannel approach, creating a smooth member experience beyond the call center.
While there is a cost component to any new integration, a pay-for-performance model is more cost effective because the investment is directly tied to the success. This model of investing in artificial intelligence secures results because the institution pays for the positive results experienced by the automation. With this model, the cost savings significantly offsets the cost of artificial intelligence.
Expand revenue opportunities
Perhaps the most appealing benefit of implementing AI is the opportunity for expanded revenue. With on-demand answers and timely cross-sell opportunities, AI can increase revenue for credit unions. In fact, with conversational AI, the projected ROI for a financial institution with 100,000 consumers is $745,000 a month, or $8.9 million a year.[1] This revenue is derived from both personalized upsell or cross sell opportunities and by freeing up human capital to complete more complex tasks within the business. These types of results are driving credit unions to quickly seek out an artificial intelligence solution and implement it with both speed and strategy.
Artificial intelligence can automate a high percentage of call center volume. This reduces costs and wait times, offers fast, personalized self-service options, allows staff to be reallocated for higher value roles in the business, and, ultimately, creates a seamless member journey.
These benefits are the sign of a new era with artificial intelligence for credit unions. As you plan for the upcoming year, consider how AI could impact multiple areas of the business and, ultimately, increase revenue.
Click here for a demonstration of AI powered banking.
Allied Solutions is a CUES Premier Supplier Member.
[1] Allied Solutions. https://www.alliedsolutions.net/resources/webinar/2021/10/31/interface%20ai%20Webinar
Charlie Peterson is the Senior Vice President of Strategic Initiatives at Allied Solutions. In his current role, Charlie is helping credit unions nationwide successfully execute on their visions and plans ...
Web: https://www.alliedsolutions.net
Details