Keeping the competitive edge: Trends to consider for 2019
For credit unions, 2019 will continue to be a trend-driven industry with a complete disruption and reshaping of the payment landscape. Credit unions, in general, are undergoing a paradigm shift with an influx of technology, analytics, and regulatory dynamics. The member-facing perspective continues to expand with innovation, where payments become faster, smarter, and more innovative, while service providers are still grappling with back-end infrastructure requirements.
Today, members expect their credit union to deliver the same personalized, immediate, and convenient experience at their fingertips as when they use their mobile device to order a pizza, locate a ride share or purchase online with the appropriate coupon applied.
With an intense margin pressure, disruptive technology, and stringent regulations, for credit unions to adapt and gain the most success in the coming year – they need to take a holistic view of their member base and apply simplicity, convenience, and instantaneous results.  
Improve Service Focus
While credit unions have always focused on member service, the greater prevalence of exponential technologies will decrease the value of traditional competitive differentiators, resulting in decreased product revenue. This means future revenue needs to come from other means; likely differentiated services or experience.  Delivering on this change demands a digitally-savvy workforce aligned together to be able to deliver a frictionless user experience that is both convenient and accessible.
Data Analytics
Credit unions fall short of the skills needed to compete in a data-driven economy.  To translate data into direct, meaningful actions at the most optimal time is still a mystery, and despite a personalization push, most credit unions are challenged to leverage insights on a member level in real-time.
Improving the member experience requires analytical insight, in addition to applying disparate data across multiple systems. Start with simple segmentation of your members; understanding their purchase patterns to encourage the necessary behavior.
Rewards 3.0
Gone are the days of regular rewards or cash back programs. In 2019, credit unions need to focus on the use of member data to create sophisticated reward programs. With the influx of data, reward programs are becoming more and more pervasive as they integrate the member's path to purchase and as such become more relevant to individual consumers and their unique needs.
While our industry is changing in front of our eyes, to remain competitive, we no longer can afford to react and need to start looking beyond the obvious. To maintain relevance, we need to jump in front of emerging trends and understand what payment solutions we can and should offer our members at the appropriate moment in their journey.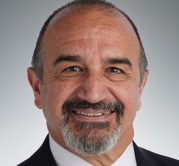 Aris Jerahian serves as the Vice President of Digital Experience & Payment Services at Oregon Community Credit Union. In this role, he is responsible for the credit unions payment architecture and ...
Web: https://www.myoccu.org
Details