Merchandising is essential to a profitable branch
When used strategically, a merchandising program can establish a powerful, personal, and long-lasting relationship between your organization and the member.
In best practices, merchandising can be one of the most powerful marketing tools, one that communicates with members in a multi-sensory way. The more you can reach people through sight, sound, touch and interactivity, the more relevant you become, resulting in the opportunity to establish a strong emotional connection with your members.
Merchandising brands the retail environment as your space. Your branches become uniquely yours and they stand out amongst the sea of sameness found in many of your competitors' branches.
Branch networks, for most financial institutions, are a patchwork of legacy locations, acquired locations, freestanding buildings, in-line spaces and a full myriad of sizes, shapes and interior design.
Merchandising is the common denominator that can tie your network together, building brand experience consistency and continuity across the entire spectrum.
When viewing the branch as a marketing medium, there's perhaps no better place to deploy well-targeted and well-timed messages to people that have already taken the first step to a meaningful conversation; they made the choice to come in.
The opportunity to deepen the relationship, cross-sell, provide advisory referrals and to increase share of member wallet is all fueled by a holistic and integrated merchandising program. The metrics and KPIs for your branches can be more readily achieved with a comprehensive plan for branding, marketing and messaging at retail.
The messaging elements themselves need strategic guidance to establish a hierarchy of storytelling as branch visitors navigate the space. There are opportunities for brand articulation, product and service features, promotion, technology demonstration and education, community engagement, heritage celebration and more.
The right merchandising program can be the difference between profitable branches and languishing ones.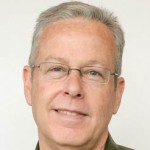 John Mathes is the Director of Brand Strategy at Weber Marketing Group, a strategic branding and marketing consulting agency focused on the financial industries. He's honed 30 years of ...
Web: www.webermarketing.com
Details