What you need to know about account-based marketing
Account-based marketing—often abbreviated as ABM or referred to simply as "account marketing"—stands to be a vital business marketing method for the next era of credit union promotion. Account marketing is already making an impression – according to a 2015 study conducted by Demandbase, 92% of companies across industry verticals recognize the value of ABM. The same survey found that 60% of respondents had immediate plans to invest in new technology that would take their account marketing strategies to the next level.
What is ABM, and how can you use ABM to benefit your credit union? In this article, we have compiled a list of the top four things that credit unions need to know about account-based marketing. With this information in your back pocket, you will be able to serve your members more effectively, improve member satisfaction, inspire referrals and positive word of mouth, and prepare your credit union for the next stage of its development.
Account-based marketing focuses on the individual
Many marketing endeavors are broad in scope, with the goal of hitting as many potential leads as possible. Brands and enterprises plan their marketing efforts based on demographics, locations, industries, or other factors that loop in as many consumers or businesses as possible that have commonalities. Account-based marketing is unique in that it emphasizes a very individualized focus.
ABM is primarily a B2B marketing strategy. It allows companies to tailor their marketing efforts to suit the specific wants, needs, and pain points of a single account holder. SaaS companies like SAP, Adobe and Marketo are recognized for their ABM models, using personalized landing pages, targeted ads and local sponsorships to target their top accounts individually as noted by Danny Zecevic in Skura's blog. In the B2B environment, one account represents an entire business, though the focus is still more concentrated in comparison to other marketing strategies.
In the context of a credit union, account-based marketing means something different. A credit union marketing plan is primarily about the members themselves. Using ABM, you can put your focus on marketing to these individuals rather than approaching your marketing strategy as a one-size-fits-all endeavor.
The first step to implementing an ABM campaign is leveraging data to learn about your customers' likes, dislikes, wants, and needs. As a banking institution, your members' needs will change as their financial situations shift. Luckily, as a banking institution, you have a wealth of customer data at your fingertips that can help you determine what your members want in terms of financial services. Harness data from account history, social media, support center information, email communications, and other sources to gain insights and start tailoring your marketing to suit distinct individual needs.
As Steve Francis posted on CUInsight, member personalization has to start with big data, but doesn't need to be intimidating.  Rather than getting lost in your big data though, we advise you to start by building member personas, which is actually easier than it sounds – and a lot of fun. Jeff Kjoller's post on CUInsight here is a great example of how to get started.   Building personas will allow you to start developing your base profiles on which to build ABM campaigns.  By developing your content and products for real personas – like Young and Free initiatives for millennials – you're taking the first steps toward having better segmented content libraries useful for designing ABM content funnels.
Account-based marketing can help you think in a B2B frame of mind
Account marketing has risen to prominence primarily in B2B spheres. Although ABM's emphasis on personalization can benefit your credit union as you deal with individual consumers, you can also gain from adopting ABM's B2B ties. Writing for The Digital Hyve about account-based marketing for credit unions, Kylie Joyner recommended that credit unions try marketing to businesses as a logical first stepping stone.
As Joyner notes, your credit union probably may not yet be winning over huge corporate clients. However, your targeted accounts are likely a list of local stores and businesses that also require high-quality banking solutions. Approach these companies and give your best sales pitch. Tell these small businesses what they have to gain from signing up with your credit union. Small, local businesses are predisposed to appreciate other small, local businesses, and local credit unions can fit nicely into that category. In other words, you already have an "in," so take advantage of it!
This B2B ABM strategy can also be implemented to win over more individual consumers. After your ABM methods convert a few local businesses, Joyner recommends dropping a line or two about the benefits of employees and employers banking at the same place. With a cooperative client and a little luck, this methodology introduces you to a new captive audience for your membership services.
Account-based marketing is all about approaching the right people at the right time
Earlier, we framed account marketing as a more focused and individualized marketing strategy than other more traditional methods. In the context of a credit union, this individualized focus means that you will be communicating directly with your individual members (or prospective members). However, because ABM has its roots in B2B marketing, your marketing approach doesn't necessarily need to target one particular person.
On the contrary, most ABM technologies are developed so that users can target very specific groups of individuals with a shared tailored marketing message. These groups of people aren't chosen based on locations, demographics, or personal preferences. Instead, the selection is based on where they work. B2B companies know that in most cases, there isn't one decision maker calling all the shots. Instead, big decisions—like what to buy or what software to use—are made by multiple people, all of whom have to be aware of and knowledgeable about the product or service at hand.
So, how can companies get their messaging to the people that most need to see it? Writing for Click Z, Mathew Sweezey described the methods behind this type of ABM as "a combination of real-time ad buying and IP-based identification." By using these technologies, companies can present tailored ads directly to the staff members and key decision makers at the office they are targeting. The highly customized nature of these ads means that only a few people receive them, which means that costs stay low. The people who do see the ads however, are the right people, which means that B2B account-based marketing can be effective despite the limited investment.
Sweezey's conclusion about ABM strategies is that they finally give companies the power to serve advertisements to the right people at the right time. For a credit union, it can be difficult to see how this particular point is directly applicable. After all, doesn't just about everyone need banking services? How can you determine a "right person, right time" in such a scenario? In her article for The Hyve Mind, Kylie Joyner had at least one tip on the subject for credit unions: target recent high school grads and college students. These individuals are starting to develop their own financial freedom, starting to earn paychecks, and needing a place to put their money. Hitting local students with marketing about your credit union could prove to be a perfectly-timed pitch.
If your credit union is like most financial institutions, then you're facing the challenge of reaching and engaging with millennials. Younger people—including students, young professionals, and twentysomethings in the midst of marrying, starting families, and buying houses—could all have something to gain from being a part of your credit union. The biggest hurdle is figuring out how to reach them.
To connect with the millennial generation, a financial institution must figure out what channels young people in their area are using and target their marketing efforts accordingly. In most cases, this means embracing digital channels, including ones you might already be using (Twitter, Facebook, etc.) and ones that might be out of your purview (like Reddit or Instagram). Hosting offline events or membership incentives are also proven to influence young peoples' banking decisions. For further reading, Dean Ara addresses how to use the right channels to target younger generations with relevant messaging in a RewardStream article.
The benefits of the ABM approach can extend to your current members
So far, we've talked mostly about how you can use account-based marketing to target and attract new members to your credit union. What we haven't addressed is how ABM might have the most substantial impact if you choose to focus it toward your current members.
What is the number one key to member retention for a credit union? Customer service is certainly near the top of the list. By serving your members effectively and making sure they are getting valuable perks out of being a part of your credit union, you minimize the likelihood of them departing for greener pastures.
How can you serve your members more effectively? With an account-based marketing approach, of course. A Silvercloud blog post on ways to improve customer service highlights eight ways for credit unions to serve their members more satisfactorily. One of the key tips was to "create personalized customer experiences." Instead of hitting all your members with the same messaging all the time, target long-time or high-value members with personalized messaging, unique upsell offers, or other custom communications.
By using what you know about your members to prepare individualized offers, you are applying ABM strategies to interact with your existing customers. Naturally, if you can upsell your members and convince them to buy additional services, you will reap the benefits. This style of account-based marketing is fundamentally about how it makes your members feel valued. Personalized offers and direct communications make your members feel like they are appreciated and respected, providing a big boost for customer satisfaction. Satisfied members, in turn, are more likely to encourage their friends or family members to join your credit union, or to sign up for a referral program if you decide to start one.
Conclusion
The personal, customized nature of account-based marketing is its most important attribute. While ABM was devised initially as a method for inspiring B2B sales, the personalized aspect of it can deliver benefits universally—no matter the business or industry. Are you trying to figure out how you might use account marketing strategies to build your credit union? We'd love to hear your story as you start implementing some of the insight provided throughout this piece. Feel free to comment below or contact us directly if you have any stories to share or questions about how ABM might work for you.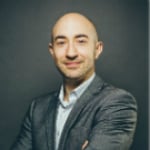 Rob Goehring is the CEO of RewardStream, a leader in automated referral marketing solutions for credit unions, financial services and telecommunications companies. Rob has 20 years experience leading high growth ...
Web: www.rewardstream.com
Details