One more reason why banks suck, and we don't
Last month this happened: "Banks Hit with Class Action Over Fannie, Freddie Bond Market Manipulation" and who could forget "Wells Fargo settles for $575 million in Fake Accounts Case." And yet the big banks are still open……go figure.
When I was at the GAC earlier this month I had the good fortune to sit next to the CEO of Los Alamos Schools Credit Union, Matt Schmidt for lunch before we hiked the hill. LASCU is $19.5 million in assets with 1,800 members founded in 1955 and still only serves school employees and their families. He has a staff of 3 and he immediately introduced me to all of them. They all came to DC to receive the Louise Herring Philosophy-In-Action Award where they took 1st place for a "mobile branch" program that delivers the teller window directly to their members. Matt is that kind of leader that didn't want to take all the credit, he wanted his hard working staff to be recognized.
So the obvious question.."If everyone is here, who is running your credit union?" You won't believe the answer.
"Six different credit unions covered for us," said Schmidt. They are Zia and Del Norte Credit Union (both have Los Alamos branches) as well as State Employees, Guadalupe and Northern NM School Employees Credit Unions (who are all headquartered in Santa Fe, about 35 miles southeast) and Jemez Valley Credit Union that normally would be fairly close by (38 miles west) but because of a snow storm, gusty winds and downed trees had to go all the way around through Albuquerque for a 2 1/2 hour drive one way and still made it to the credit union on time.
The Northern New Mexico Credit Unions are how credit unions used to be and still should be. They recognize that they are stronger together and that they are not competitors, the bank is the enemy, not another credit union. The CEOs of all the Northern NM CUs have been meeting for lunch on a quarterly basis for years now. And that's when Matt posed the question a few months ago. Could the credit unions spare some staff and allow his entire team to go to Washington DC? "There was absolutely no hesitation," said Schmidt. "They all said sure, just let us know what we need to do to make this happen." Over the next 2 months they trained the "temporary staff" on the logistics: security, core computer system, passwords, open/close procedures, support documents, etc. Matt went on to explain "Our mobile tablet that we took to DC worked perfectly and allowed us to post our back office functions and run daily reports. What a great way to test our disaster recovery system!"
I asked Matt how the members reacted to these new faces. "At first our members were surprised to see someone they didn't know behind the counter, but I have heard from several members who conducted business while we were in DC and they were proud of us for receiving such an award and really impressed with our ability to work with other CUs," replied Schmidt.
"I plan to acknowledge each individual at our chapter meeting next month." The Northern New Mexico Chapter of Credit Unions meets once a quarter and continues to have over 100 participants at each meeting – just like the good old days.
Matt concluded by saying "When all is said and done, it was an amazing example of our 6th cooperative principle: Cooperation among Cooperatives, and something you'd never EVER see banks do.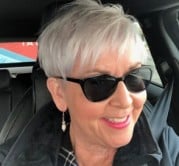 Denise started her credit union career over 30 years ago as a Teller for Pacific NW Federal Credit Union in Portland, Oregon. She moved up and around the org. chart ...
Web: https://www.zest.ai
Details