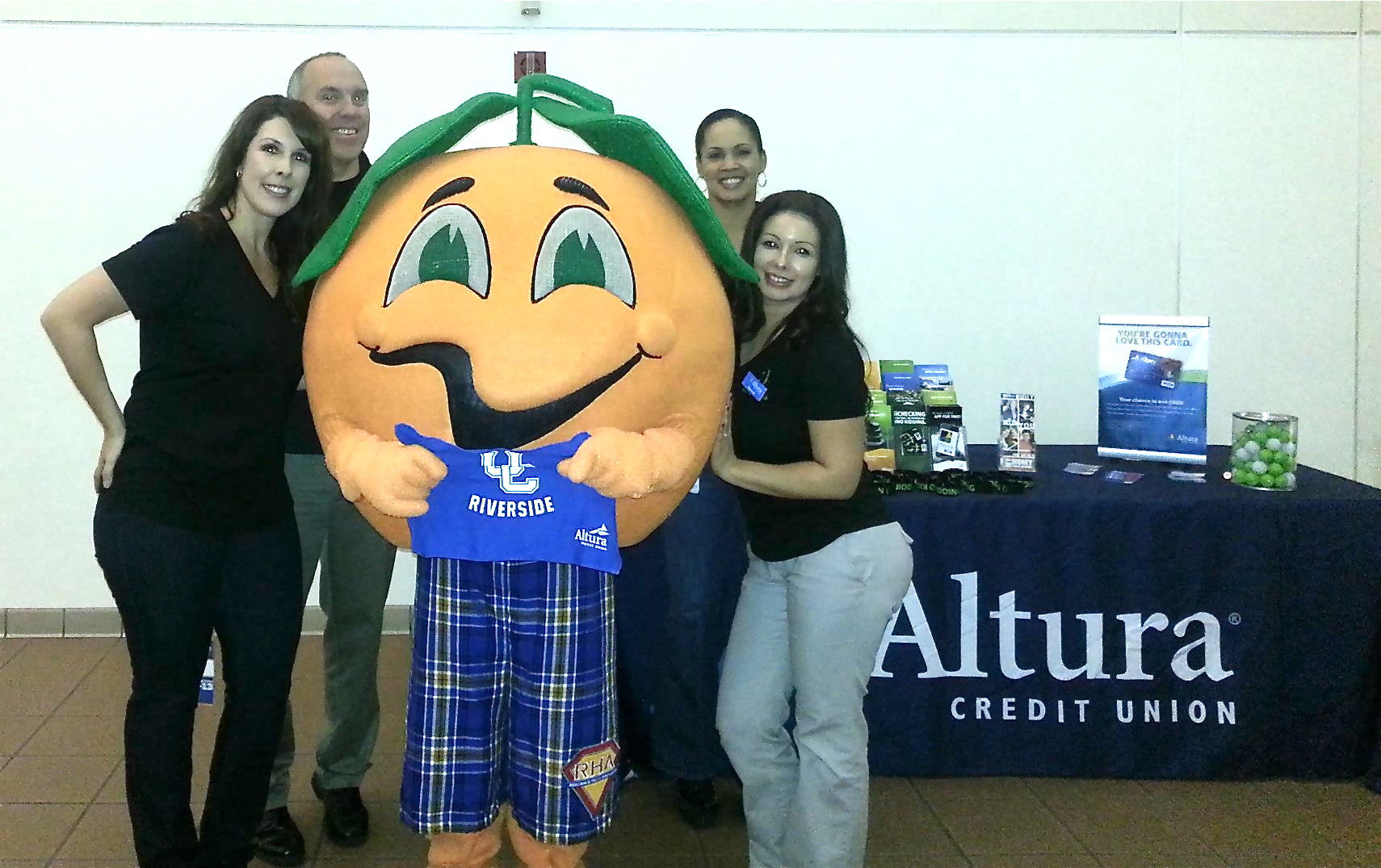 Altura Credit Union Sponsors Local College Basketball Game
RIVERSIDE, CA (March 11, 2013) – Altura Credit Union recently sponsored a basketball game at the University of California, Riverside (UCR), taking the opportunity to spread the word about its products and services while cheering on the hometown team.  The event was part of an overall partnership Altura established with UCR's Athletics Program for the 2012-2103 school year.
Altura gave away rally towels featuring both the UCR and Altura logos to everyone at the Highlander's game. At halftime the announcer noted that Altura is a "proud sponsor of UC Riverside Athletics and is the title sponsor of the UC Riverside Cub Club," an official organization of the college's athletics program for elementary-age kids.
Since Altura began sponsoring the Cub Club late last year, the program has experienced significant growth, with more than 200 new members joining. According to the Cub Club, that is the largest annual membership increase in the program's history.
"Working with the university on this program has been terrific," said Tina Covington, Altura vice president.  "It's such a great fit for us. Altura's early history is tied to the schools, and we continue to support education and students whenever we can.  Also it offers an opportunity for us to publicize our special iChecking account, which is designed specifically for 18 to 24-year-olds, a perfect tie in with a college."
Altura Credit Union staffers Tina Covington, David Fisher, Jacque Thurman and Karena Chum, from left, pose with Norm the Navel from the University of California, Riverside, at a recent Highlander's basketball game. Altura gave away more than 500 "rally towels" as part of its game sponsorship.
Altura is very proud of its 56 years of service to Members in the Inland Empire.  Today Altura is open to anyone who lives, works, attends school or worships in Riverside and San Diego counties, as well as selected cities in Orange and San Bernardino counties.  Altura Credit Union, www.alturacu.com, has been recognized with the California Award for Performance Excellence (CAPE), the state's equivalent of the Malcolm Baldrige National Quality Award.  Today, Altura Credit Union serves nearly 94,000 members and has $655.3 million in total assets.  For more information on Altura, visit our website, www.alturacu.com, or call 1-888-883-7228.
---