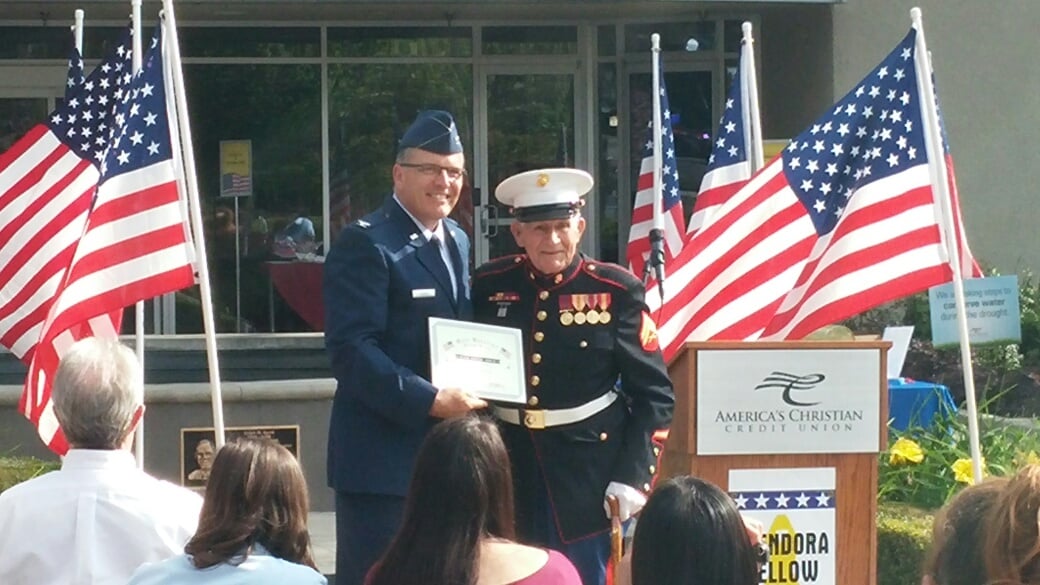 Community joins together to celebrate Patriot Week
GLENDORA, CA (May 26, 2015) — The 2nd annual Patriot Week, hosted by America's Christian Credit Union (ACCU) and Project Glendora Yellow Ribbon, was held May 18-22.  The city of Glendora, along with several other local cities, joined together to celebrate past, present and future men and women in uniform who put their lives at risk every day. The week included an Opening Ceremony, a Veterans Fair with crafts, exhibits and games, and a Family Day Celebration during which local heroes were honored.
Community groups, including several local Boy and Girl Scout troops, civic leaders, and other prominent residents, joined throughout the week to help express the continued support and gratitude for those currently serving and for those who have served. All the gifts for the Veterans Fair were donated from local businesses.
During Tuesday's opening ceremony, several distinguished military heroes and veterans' support organizations were recognized by the Glendora Mayor, Karen Davis, and former Mayor, Joe Santoro.  ACCU's President and CEO, Mendell L. Thompson was presented with a vial of sand brought back from Normandy Beach on behalf of the La Verne Chamber of Commerce.  At the close of the opening ceremony, guests were given small flags with tags bearing the name of a local hero.  Each guest was encouraged to take the flag to Glendora City Hall and place it at the Memorial Wall as a tangible gesture to honor those who have made a sacrifice for our country.
Special guests Kevin George and Joe Leal from the Vet Hunters Project were present throughout the week and were presented a special gift at Thursday's closing ceremony.  Vet Hunters are advocates for homeless veterans.  They are dedicated to finding, engaging, and supporting homeless veterans, assessing their needs, and cutting quickly through red tape to find housing and other valuable services for them. During Patriot Week, ACCU donated $10 to Vet Hunters for each new account that the credit union opened.  During the final celebration, ACCU's Mr. Thompson, announced that the credit union would extend the $10-for-every-new-account promo through the end of the month of May, and encouraged those in attendance to join ACCU and support Vet Hunters.
Also during Thursday's closing celebration, a special certificate was presented to America's Christian Credit Union in recognition of their initiative and leadership in organizing and hosting Patriot Week. A representative from the 48th Assembly District office, on behalf of Assemblyman Roger Hernandez, made the presentation.
In response to the week's events Mr. Thompson declared, "What a thrill to spend time this week in honoring our heroes and saying thanks to those who serve and protect our country every day. This week's celebration amounted to just a token of our appreciation and support to the military and first responders in our communities. We are grateful for the freedoms we enjoy as Americans.  God bless America!"
About America's Christian Credit Union
America's Christian CU provides a broad range of financial solutions to individuals and ministries that empower them to reach their stewardship goals while expanding God's Kingdom. Founded in 1958 and currently managing nearly $500 million in assets, ACCU serves the financial needs of its individual, family, ministry and business members. Funds entrusted to the credit union are reinvested in Kingdom purposes, supporting the Church worldwide.  For additional information, visit www.AmericasChristianCU.com.
---