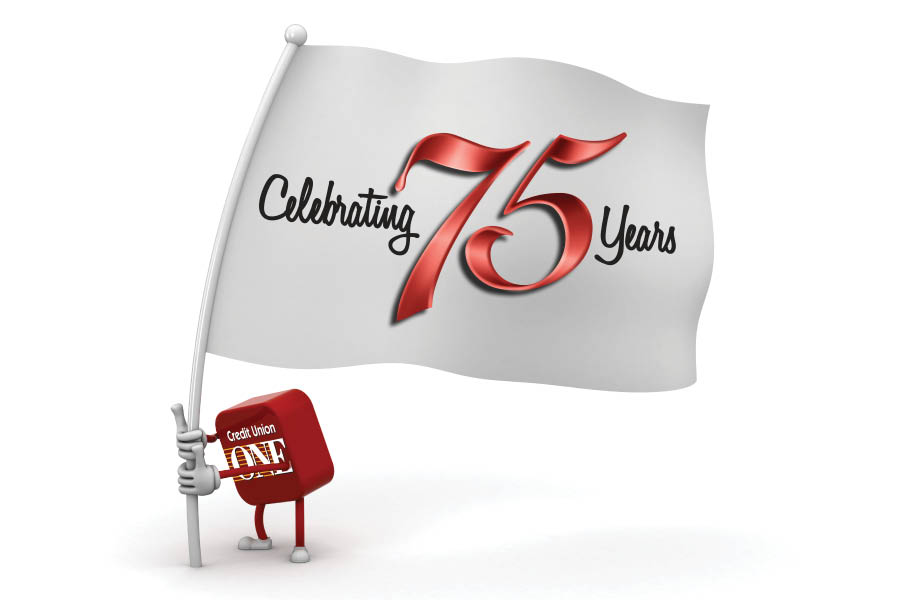 Credit Union ONE Celebrates 75th Anniversary
Ferndale, Michigan – Credit Union ONE is proud to celebrate 75 years of service to the community of Ferndale, and the state of Michigan.  Over the past 75 years many things have changed, but one thing that has remained is consistency of member service and value to the community.
As they mark the beginning of their celebration of 75 years, anniversary flags are being flown at their branches throughout the state, with promotions and celebrations continuing during 2013.
The credit union began back in 1938 as Ferndale Co-Op Credit Union, when 15 neighbors organized the credit union in a local church basement and pooled together $158 in their shared commitment to "people helping people."  Over the years the membership grew steadily, and by the early 1960's they were one of Michigan's ten largest credit unions.
It was in the 1960's that they began their first of many long-term alliances with leading health care and educational institutions.  In 1984, they changed their name to Credit Union ONE to mark their emergence as a statewide institution.  Today, this fine institution services more than 106,000 members with18 branch offices in Metro-Detroit, Grand Rapids and Traverse City, and offers a wide range of financial products and services that consumers and businesses deserve and expect.
Exemplifying the "people helping people" philosophy, Credit Union ONE is involved in numerous community programs, sponsorships and charitable gifting programs, including the Leaps and Bounds Child Parent Center, the Barbara Ann Karmanos Cancer Institute, and the Children's Miracle Network.
"Thank you to the Credit Union ONE Board of Directors and our dedicated employees, both current and past who have helped bring us to 75 years of service to our members; we couldn't have done it without you," said Paul Stuart, Credit Union ONE Chairman of the Board.
As they celebrate the year of their diamond anniversary, Credit Union ONE will continue to shine brightly as it has for the last 75 years.
Credit Union ONE, headquartered in Ferndale Michigan for over seventy years, offers a wide array of financial services and access to over 30,000 ATM's nationwide, serving 106,000 members, with eighteen offices in three major metropolitan areas, including Metro Detroit, Grand Rapids and Traverse City. For more information go to http://www.cuone.org or "like us" on Facebook
---