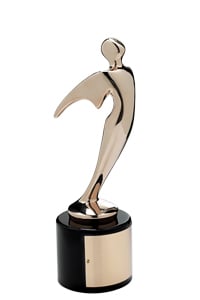 Elfcu's YouTube Video Produced with Pete the Planner Scores Three Bronze Statuettes in 34th Annual Telly Awards
INDIANAPOLIS, IN (February 28, 2013) — The Telly Awards has named Elfcu and Pete the Planner as three-time Bronze winners in the 34th Annual Telly Awards for their piece titled "No One Leaves Their Money at the Office Door." Vinnie Manganello directed the production. Greg McGuirk of Bennett Innovations  developed the score.
With nearly 11,000 entries from all 50 states and numerous countries, this is truly an honor:
Bronze Award for Non-Broadcast Corporate Image
Bronze Award for Non-Broadcast Direct Marketing
Bronze Award for Non-Broadcast Health and Wellness
The Telly Awards honors the finest film and video productions, groundbreaking web commercials, and outstanding local, regional, and cable TV commercials and programs. The Telly's mission is to strengthen the visual arts community by inspiring, promoting, and supporting creativity.
"No One Leaves Their Money at the Office Door" tells the story of a typical workplace with characters who might as well be your own coworkers. In just three minutes, the YouTube based video introduces you to 9 scenarios, covering the gamut of money challenges typical Americans face daily, even while at work.  One person is divorcing; another is behind on her mortgage; while another can't afford gas for her drive home. The story culminates with a woman who learns that her husband has just lost his job. The ultimate message to the viewer is "You are not alone."
                                    Watch the award-winning video on YouTube now.
A prestigious judging panel of more than 500 industry professionals judged the competition, upholding the historical standard of excellence that Telly represents. The council evaluated entries to recognize distinction in creative work – entries do not compete against each other – rather entries are judged against a high standard of merit.
"The Telly Awards has a mission to honor the very best in film and video," said Linda Day, Executive Director of the Telly Awards. "Elfcu and Pete the Planner's accomplishment illustrates their creativity, skill, and dedication to their craft and serves as a testament to great film and video production."

To find out more about the Telly Awards, visit www.tellyawards.com.

More About Elfcu
We provide a variety of powerful financial products and services through the safe harbor of a consumer-owned credit union. Yet Elfcu is not just a credit union. We are financial wellness providers who promise to help you achieve financial wellness in life with your own money management plan. We will nurture you toward your goals and engage you with the tools and resources that best fit and support your plan. Elfcu will always be looking out for your best interests. Join us and 66,000+ fellow members today at elfcu.org as we pursue the goal of financial wellness.
More About Pete the Planner
Peter Dunn (a.k.a. Pete the Planner), is responsible for some of the most cutting edge financial advice around. He released his first book, What Your Dad Never Taught You About Budgeting, in 2006. He is host of the popular radio show The Pete the Planner Show on 93 WIBC FM and has appeared regularly on Fox News, Fox Business, CNN Headline News and other nationally syndicated radio programs. His second book, 60 Days to Change  was released December 2009. He was named one of the four most influential personal finance broadcasters in the nation by Cision in 2012. Elfcu began their exclusive educational partnership with him the same year.
---