Global Gives $3,000 to Winners of Social Media Contest and Local Charity
SPOKANE, WA (September 13, 2013) — On August 12, 2013 Global asked "What does home mean to you?" in the form of a social media contest for the chance to win money in their pocket and a donation to the Hutton Settlement Children's Home. The winner received $1,000 and a $1000 donation to the Hutton Settlement Children's Home. Employees were also encouraged to submit entries with the chance to win $500 and $500 for the Hutton Settlement; making the Children's Home the greatest winner of all with a total donation of $1,500.
The contest spanned the last three weeks of August and was promoted through social media, radio and other marketing tactics. Entrants were asked to submit any type of creative material to express their idea of home. Global received over 40 entries ranging from paintings, poems, essays, photos, videos, and quotes submitted by both the public and staff to capture the meaning of home.
Winners were selected by a drawing of chance on September 3. Christina Deubel, local Spokane artist, won the public contest for her painting titled, "Seeking" (below).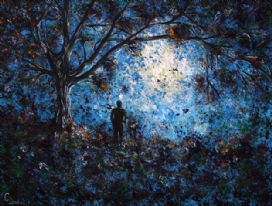 Global Member Services Representative, Elizabeth Clapper's short essay which included the sentiment, "Home is where my child is" was the winner of the staff contest.
"At Global our mission is simple. We are here to grow dreams, members and community," said Abigail Franklin, VP of Marketing and Strategy at Global Credit Union. "We wanted to hear what home means to the people in our community and the resounding answer was that a home is more than a place to live. It's a lifetime of memories, a place to dream of the future."
Franklin went on to say that Global saves people money on loans so more of their dreams can come true, "The average member saved $63,000 when they refinanced their home at Global last year; that's sixty three thousand reasons to dream. This contest helped us learn more about the dreams of our community, share how we can help people reach the dream of homeownership, and support the amazing work of the Hutton Settlement Children's Home orphanage. Winners all around."
For more information on the Hutton Settlement please visit their website: www.huttonsettlement.org.
About Global Credit Union
Global Credit Union, founded in 1954 is a full service financial institution with assets of over $352 million serving 48,000+ members residing around the world. Membership is open to anyone living or working in Washington State, Kootenai, Benewah, Shoshone or Latah counties in Idaho, and all active and retired military members and their families worldwide. For more information about Global Credit Union please visit www.globalcu.org.
---