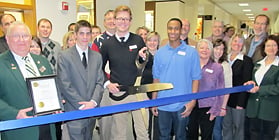 Innovative HomeTown CU honored in Progress Minnesota awards
 ST. PAUL, MN – HomeTown Credit Union made Minnesota history last year when it opened the state's first student-run, in-school credit union branch. This week the credit union was recognized for its work and selected as a recipient of Finance & Commerce's Progress Minnesota awards.
The Progress Minnesota programrecognizes individuals, entrepreneurs, businesses and organizations that are driving economic growth and development in innovative ways. Of this year's 27 honorees, the Owatonna credit union is the only financial institution that made the list.
HomeTown CU's longtime goal of opening a student-run branch became a reality in the fall of 2011 after five years of working with teachers, the school board and school administrators at Owatonna High School. Through this in-school branch office, operated by student workers and supervised by a HomeTown CU manager, the credit union is helping to fulfill a need for more personal finance education at the high school level.
"We really pushed the financial literacy component when we proposed this idea (for the student credit union branch)," said Marian Murphy, Vice President of Business Growth at HomeTown. "Financial education is not a requirement in Minnesota schools, but just having a student credit union branch can help spark students' interest in financial education."
The primary objective of HomeTown's student-run branch is financial literacy. The office is also a resource to the high school's business and marketing classes, and extracurricular business clubs such as DECA and BPA. The credit union has connected with students through focus groups and meetings and allowed them to work on product development and marketing campaigns for the in-school branch, giving them valuable real-world business experience.  HomeTown's long-term goal is to have students develop and implement their own business plan for the branch.
So far, seven students have taken advantage of the opportunity to work in the high school credit union office. Student worker Gavin Glynn said he appreciates how his experience as a teller has allowed him to understand his peers' financial situations and how he can "advise them to make good financial decisions." Student teller Kaitlyn Seykora agreed, adding that working in the branch has helped her understanding of personal finance, as well.
"I value the chance to learn how to budget my money and better prepare myself for college expenses and my future," Seykora said.
This isn't the first time the trailblazing credit union has been recognized for its efforts in developing the student branch. Last year HomeTown received the Distinguished Service Award from the Minnesota Business Educators for Outstanding Contribution to Business Education and was profiled by Twin Cities television station Kare 11 News in its segment "What's Cool in School."
An April 16 event at the downtown Hyatt Regency Minneapolis will honor the achievements of HomeTown CU, along with the other organizations and individuals who were honored with Progress Minnesota awards in 2013.
The Minnesota Credit Union Network is an organization representing the state's 134 not-for-profit cooperative credit unions serving more than 1.5 million member-owners in Minnesota.  For more information, visit www.mncun.org.
---