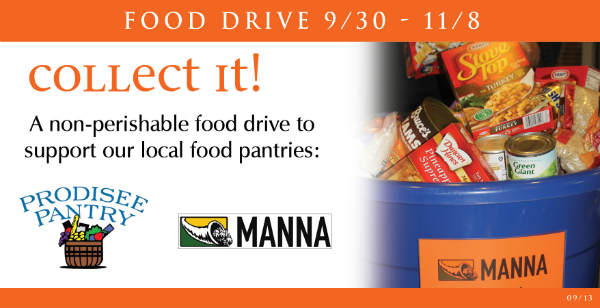 Pen Air Federal Credit Union supports community food pantries
PENSACOLA, FL (October 4, 2013) — Pen Air Federal Credit Union branch locations serve as drop-off sites for non-perishable food items to benefit MANNA food Pantries in Escambia Co., FL and Prodisee Pantry in Baldwin Co., AL.
Pen Air FCU branches throughout Escambia and Santa Rosa Counties are collecting food donations for MANNA Food Pantries in Escambia Co., FL. and branch locations throughout Baldwin Co., AL, will collect donations for Prodisee Pantry located in Spanish Fort, AL. Contributions made throughout the month of October will be delivered for the Thanksgiving holiday.
MANNA is a private, not-for-profit corporation dedicated to alleviating hunger in Escambia and Santa Rosa counties. MANNA is nonsectarian, community focused, volunteer supported, and committed to the philosophy "waste not, want not." MANNA operates six pantries in Escambia and Santa Rosa counties, and serves more than 40,000 individuals and families each year.
Prodisee Pantry is a faith-based, volunteer supported, non-profit community food pantry providing assistance to more than 111,000 individuals throughout Baldwin Co., AL. Prodisee provides food to single parents, unemployed and under-employed households, families in transition, retirees and caregivers.
"As the holiday season falls upon us, it's important to remember those less fortunate and lend a helping hand whenever possible," says Pen Air FCU President and CEO, Stewart Ramsey. "I encourage everyone to stop by a branch and make a contribution to the food pantries in our community," said Ramsey.
Pen Air FCU is the largest and oldest local credit union headquartered in Pensacola, FL., with 19 branch locations across Northwest Florida and Southeast Alabama, including four student-run credit unions at area high schools. Pen Air FCU is a not-for-profit, member-owned financial institution serving more than 1,000 workforces and their immediate families. Visit www.penair.org.
For more information, contact Morgan Cole at (850) 505-3200, Ext. 4151 or colemo@penair.org.
---