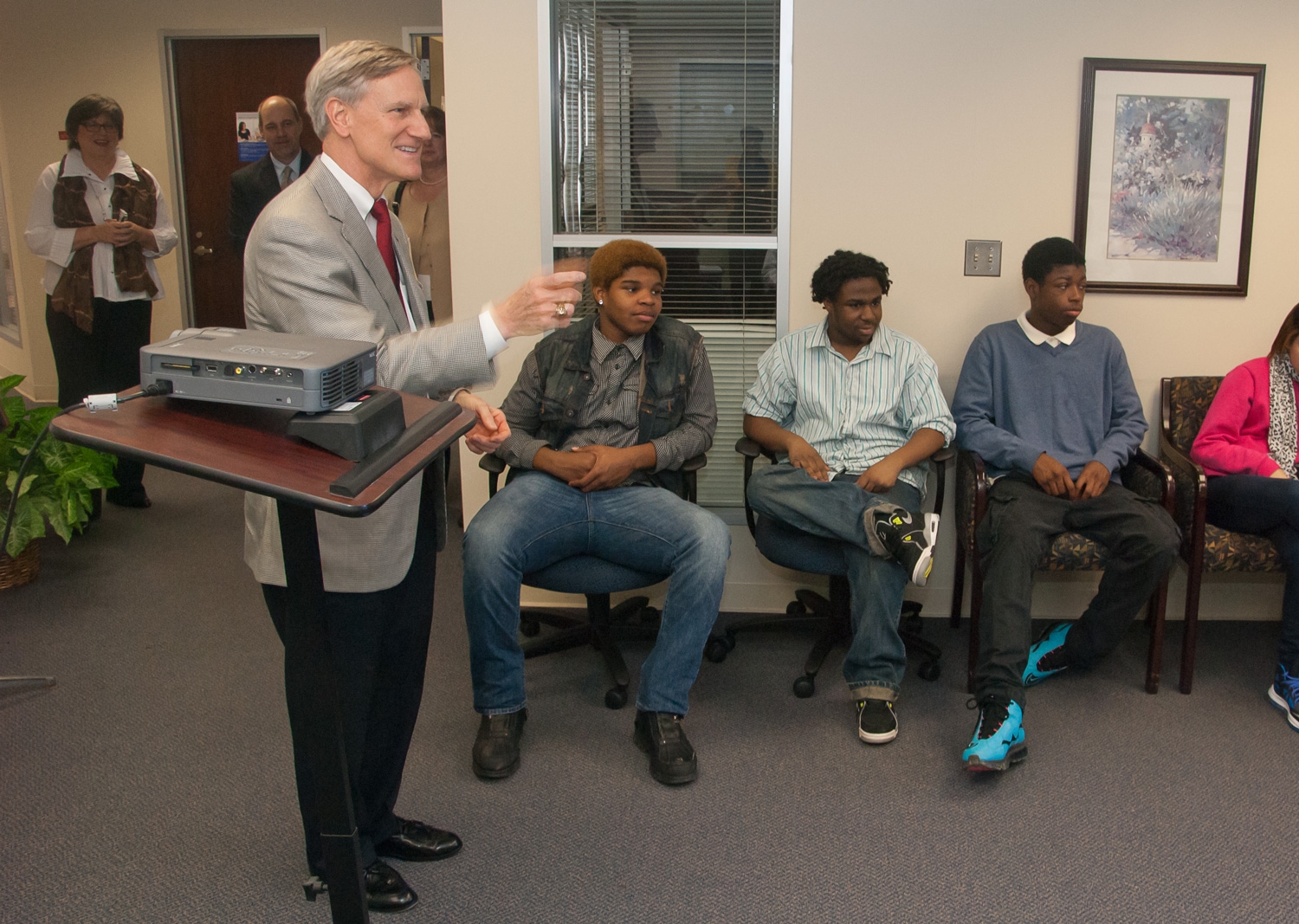 SECU Provides Workplace Education Activity for NC Middle School Students
RALEIGH, NC – An event hosted today by State Employees' Credit Union (SECU) welcomed a visit from Tony Almeida, Sr. Advisor to Governor Pat McCrory for Jobs  and the Economy.  Mr. Almeida was there to show his support of the Credit Union's participation in North Carolina Business Committee for Education's (NCBCE's) Students@Work Week.  The event was held at SECU's Raleigh-Centennial Parkway branch, where Mr. Almeida and SECU Board of Directors member Jo Anne Sanford spoke with a group of 17 8th grade students from Daniels Middle School and emphasized the importance of staying in school to further their education and achieve future workplace success.  Raleigh-NCSU branch staff coordinated the effort and provided a hands-on "Real World" financial education exercise for the visiting students.
"Job shadowing and mentoring programs such as the Students@Work initiative are crucial to preparing our future workforce for the jobs that await them," said Mr. Almeida.  "These programs allow students to see at an early age what skills are needed to achieve success in their field of interest."
The Students@Work program, a joint initiative between the NCBCE and the NC Department of Public Instruction, focuses on helping to raise North Carolina's graduation rate by providing middle school students a chance to connect what they are learning in the classroom with occupations that exist in the real workplace through job shadowing or mentoring opportunities.  During the 2012 initiative, SECU personnel reached nearly 12,500 students across the State.  For the third consecutive year, SECU branches statewide are participating in the February 25th through March 1st week long program.
Miles Brite, Assistant Principal at Daniels Middle School in Raleigh remarks, "Educators want today's curriculum to be relevant for our students.  Providing a hands-on financial education experience is an excellent way for SECU to link academic success today with financial freedom tomorrow."
About SECU
A not-for-profit financial cooperative owned by its members, SECU has been providing employees of the State of North Carolina and their families with consumer financial services for 75 years.  With 1.8 million members, SECU provides services through 248 branch offices, 1,100 ATMs, 24/7 Contact Centers and a website, www.ncsecu.org.
---