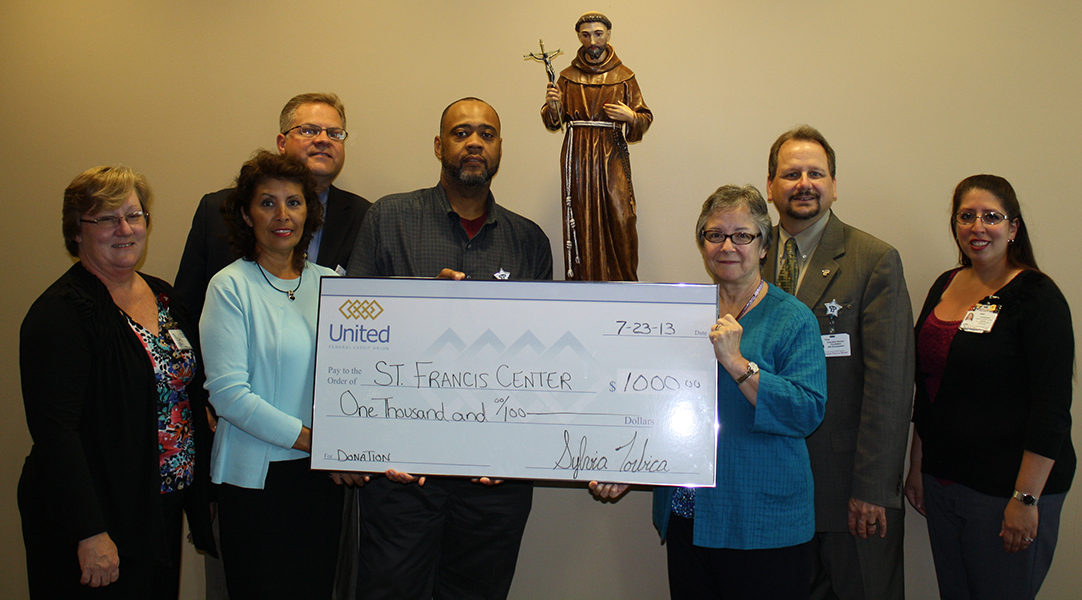 United Federal Credit Union Gives $1,000 to the St. Francis Center Serving the Youth of Indiana
GRIFFITH, IN (August 6, 2013) — United Federal Credit Union (UFCU) contributed $1,000 to the St. Francis Center of Dyer, Indiana. The center provides therapeutic care to adolescents age 12 to 18 from throughout the state.
With access to a team of professionals and therapeutic treatments, residents learn to overcome a variety of obstacles. These include chemical dependency, stress and anger issues, the effects of neglect and abuse, loneliness, and grief. Residents also acquire the life and communication skills needed to rejoin their communities and families.
"The St. Francis Center impacts the lives of teenagers in hundreds of ways, helping them overcome challenges that affect their emotional and physical well-being," said UFCU Griffith Branch Manager Sylvia Torbica.
The center also offers a structured and controlled environment, which experts deem essential to the program's success. Individualized treatment focuses on the coping skills needed so each resident can function effectively, and, regain the confidence and security they need.
"After touring the facility, talking with staff, and seeing, firsthand, the impact they have made on the lives of these kids, I was in awe," added Torbica.
Highly-talented, caring individuals comprise the center's professional team. This includes therapists, licensed educators, chemical addictions counselors, recreational and occupational therapists, and residential advisors.
Using a multidisciplinary approach, residents learn adaptive approaches and skills for a balanced lifestyle. The center also offers a self-contained school where residents can earn credits toward graduation.
"Many of these kids have suffered from abuse and neglect or struggled with drugs or alcohol," continued Torbica. "And nearly all have distorted self-worth images. The personal success stories shared with me have been nothing short of amazing."
On July 23, 2013, UFCU presented a check to The St. Francis Center. Torbica concluded, "I'm thankful that we, as a credit union, could offer the financial support this strong and compassionate organization needs." UFCU cares about the communities it serves, and, encourages outreach and support to other organizations with missions similar to the St. Francis Center.
About UFCU
United Federal Credit Union has served its Members since 1949 by helping them to build a sound financial future. UFCU consists of more than 120,000 Member/owners worldwide, and manages assets in excess of $1.57 billion. Its corporate offices and main branch are located in St. Joseph, Mich., with additional branches in Arkansas, Indiana, Michigan, North Carolina, Nevada, and Ohio. UFCU has been named the Michigan Credit Union League Outstanding Credit Union of the Year 2013. UFCU has also been named the National Federal Credit Union of the Year 2013 by the National Association of Federal Credit Unions.
About The St. Francis Center
The center was formed in 1998 by one of Indiana's leading hospitals, Franciscan St. Margaret Health, Dyer, Ind. The center's namesake comes from the hospital's founders, the Sisters of St. Francis of Perpetual Adoration. St. Francis, in his youth, was thought to have lived life in extremes which brought him ill health. During a lengthy convalescence, he responded to God's call to become a healer. Since its inception, more than 350 adolescents have benefited from the center's therapeutic environment. More information can be found at www.franciscanalliance.org.
---