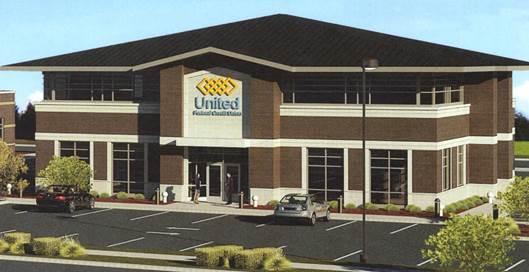 United Federal Credit Union set to open new branch in St. Joseph
ST JOSEPH, MI (February 10, 2015) – United Federal Credit Union (UFCU) is pleased to announce its new flagship branch at 2819 S. State Street, St. Joseph, Michigan, will be open for business on Monday, February 16, 2015.
The 9,600-hundred-square-foot facility is state-of-the-art. It was designed to enhance Member convenience through expanded drive-thru capabilities and to incorporate Member service and new technology into an inviting environment. The branch will offer a full suite of Member services including teller services, auto and mortgage lending, business services and investment planning.
"We are excited to open the doors and hear what our Members have to say," said Branch Manager Emily Szymkiewicz. "We think this building will not only meet their needs, but it will allow us to exceed their expectations for financial service providers."
UFCU's corporate office building, which previously housed the St. Joseph branch, will be renovated to add administrative space to accommodate the credit union's expanding workforce.
A grand opening celebration for the new branch is scheduled for Wednesday, March 25 at 11:30 a.m. The public is invited to attend.
About UFCU
United Federal Credit Union has served its Members since 1949 by helping them to build a sound financial future. UFCU consists of more than 130,000 Member/owners worldwide, and manages assets in excess of $1.83 billion. Its corporate offices and main branch are located in St. Joseph, Mich., with additional branches in Arkansas, Indiana, Michigan, North Carolina, Nevada, and Ohio.
---