The CUInsight Experience podcast: B. Dan Berger – Extreme member service (#3)
"It takes the same amount of energy to be nice as it does to be a jerk" - B. Dan Berger
Welcome to episode three of The CUInsight Experience podcast. Hosted by Randy Smith, co-founder and publisher of CUInsight.com. In each episode we have wide ranging conversations with thought leaders from around the credit union community. What issues are facing credit unions? What are they working on to help? What leadership lessons and life hacks have they learned along the way? What's the greatest album of all time? These questions and more will be asked and answered.
The goal of The CUInsight Experience is to dive deeper with the people of the credit union community and find gems from their experiences that add value to all of us.
Our guest today is B. Dan Berger (@BDanBerger). Dan is the president and CEO of the National Association of Federally-Insured Credit Unions (NAFCU), a direct membership association for federally-insured credit unions committed to representing, assisting, educating and informing their member credit unions to help them grow, and help grow the credit union industry.
Dan brings more than 25 years of government relations and political affairs experience to the credit union movement and has held key association and business management positions. In addition, he served as chief of staff in the U.S. House of Representatives.
For 15 consecutive years, Berger has been listed as one of the most influential lobbyists in Washington D.C. by The Hill. He has been a commentator on Fox News, CNBC and CNN, and is quoted regularly in the Wall Street Journal, The Washington Post and numerous financial services publications. Read more about Dan here.
Listen to the full episode or scroll down past the short video and show notes to read the full transcript. You'll even find out what the B in B. Dan Berger stands for is you listen all the way through.  Enjoy.
How to find Dan:
B. Dan Berger
President and CEO of the National Association of Federally-Insured Credit Unions (NAFCU)
dberger@nafcu.org
www.nafcu.org
Twitter | Linkedin
Subscribe on: Apple Podcasts, Spotify, Google Podcasts, Stitcher
Show notes from this episode:
NAFCU's advocacy efforts
Dan's recent article: Top advocacy priorities for credit union growth in 2019
NAFCU's 2019 conference lineup and training
NAFCU's federal compliance assistance and resources
Credit union shoutout: CAMPUS USA Credit Union
Learn more about NAFCU Services and their trusted partners.
Read more about NAFCU's advocacy efforts on data security here.
Company shoutout: Q2
Check out the Berger Leadership Blog. (you won't regret it)
Leader mentioned: Ajaypal Singh Banga
Best album of all time: Tom Petty and the Heartbreakers – Damn the Torpedoes
Book mentioned: Anything by Stephen Covey
Book mentioned: Awesomely Simple by John Spence
Find all past episodes of The CUInsight Experience here.
Full episode transcript:
Randy Smith: Hello boys and girls of the credit union community, and welcome to episode three of The CUInsight Experience, our podcast. My name is Randy Smith. I am one of the co-founders and the publisher of CUInsight.com, and it is my job on the show to bring you the best and the brightest from around credit union land. The movers and shakers, the people that are changing and pushing our movement forward. And today's show is no exception. I'm excited to have our guest today, Mr. Dan Berger, the president and CEO of NAFCU. From my previous interactions with Dan, I knew we were going to have a blast. He has a very engaging, awesome personality and the show did not disappoint. We talked about everything from NAFCU priorities for credit union growth in 2019. We talked about advocacy, how Washington's changed since his time there. From there we moved on to management, life hack and leadership issues. Dan runs a leadership blog, so he had a lot of great information there. I was really looking forward to that part of the conversation. We wrapped it all up as we always do with the rapid fire questions. If you stick around until the very end, you'll even find out what the B stands for and B. Dan Berger. Without further ado, I give you my conversation with Dan Berger. Enjoy.
Randy Smith: Dan, thank you so much for being on the podcast. I've been excited to talk to you.
Dan Berger: Hey, I'm glad to be here, anytime. This is my very first podcast. I'm being real hip here.
Randy Smith: We appreciate being your first podcast, being one of our first guinea pigs as well. Anyways, I want to just jump right into it. With the dysfunction in Washington, has it made the job tougher?
Dan Berger: Yeah. That has made things a little bit tougher from the standpoint of getting some real things moving forward on behalf of the credit union industry. Probably the silver lining in all this from an advocacy standpoint is the fact that nothing happens negative to the industry. That's a win too, so if you're looking for that silver lining, that's it. You don't have to worry about the bankers going after our tax exemption or some of the other bad actors out there, predatory lenders trying to do some things. There's a pretty good balance approach, but from a proactive standpoint, it does make things a little bit more difficult.
Randy Smith: I can only imagine. Recently, just in the past week or so, you published an article about the top advocacy issues for credit union growth in 2019. What's most important for credit unions the way you use it?
Dan Berger: It's a lot of things. We use a multipronged attack here. We're really focused on advocacy. That's our job. Number one, people join NAFCU for advocacy. We do only three things here, at NAFCU. we do advocacy, education and training, and compliance assistance. That's it, but advocacy is number one and is number one for a reason, so we're really focused on a couple things. First and foremost is data security, second is data security and third is data security and then there's some reg relief issues and some more powers and authorities that were looking at, but also looking at to play a little defense too. The bankers, again on Capitol Hill, they just sent a letter up again today attacking credit unions and so we do this rapid response and then we have responded to Congress and so advocacy is nonstop. So what we try to d, we're always doing it. We're always focused on it. Yesterday we were at the CFPB, yesterday. I met with leader Mitch Mcconnell for a couple of hours day before that we were at Treasury, couple of weeks before Christmas we had a meeting at the Federal Reserve, but the NAFCU board, we're on Capitol Hill every single day and so it just. Advocacy is 24/7, 365 and that's what we do.
Randy Smith: You're saying advocacy is every day. That was the question that a little bit further down my list, but it plays right into it. We think of the big wins, we think of the big fights, but what does NAFCU do every single day for credit unions?
Dan Berger: Just like I said, we put ourselves in front of the decision makers and the policy makers and the elected officials every single day. We have meetings on Capitol Hill everyday. We have NAFCU lobbyists meeting with members of Congress and their staff, everyday. We're meeting with the leaders in both the House and the Senate. We meet with the folks at the White House. We were just at the White House not too long ago. Again, we meet with all these decision makers, whether it's the NCUA, CFPB, and that's what we do, day in and day out, and we have a passion for it. We truly love NAFCU members and my colleagues at NAFCU do such a wonderful job, but it all start, quite frankly, with the NAFCU board of directors. The men and women make decisions that are in the best interest of NAFCU members in the credit union industry and everything flows from that.
Randy Smith: I've heard you say that working on behalf of credit unions is personal NAFCU. What does that mean to you?
Dan Berger: I grew up in Gainesville, Florida, and I've been a member of Campus Credit Union down there since I was nine years old. Gave me my first auto loan when i was 16, and so I've been passionate about credit unions. My parents used the credit union. My mom, who's 84 now, still does, so that passion is there. It's rooted. They helped me, they helped my family, but I see all the good they do in their communities, so it's passion our mission. We have a mission statement here and NAFCU and it's to strengthen credit unions. Okay. That's it. To strengthen credit unions. And behind that or values. Our values is to be member-driven, to be passionate and to really focus on being excellent. We really focus on excellence and so all those three things, it brings out the passion that we have and so we work really hard and focusing all our advocacy efforts with that type of passion.
Randy Smith: Stick with the excellence, what do you view as the greatest strength of your team at NAFCU?
Dan Berger: I think it's not just having the skillset in lobbying. A lot of people have the skillset and the networks and the contacts on Capital Hill or within the administration to get a meeting and things along those lines, but it's also having the attitude and the aptitude. Here at NAFCU we have what we call the no jerk policy and so we hire people for attitude and aptitude. You want people that genuinely liked people that genuinely like credit unions and our members and so that passion you see it and you'll see from top to bottom. They care about the members. Internally, we call it extreme member service and so God forbid you get lost in our phone tree here at NAFCU, the young lady in the mail room can help you as much as I can and so top to bottom, left to right, we work really hard and really enforcing that extreme member service and they do it with passion. My colleagues do such an amazing job and so it all focuses in and having that passion and that excellence day in and day out. We're known for our responsiveness. You send me an email or give me a phone call. You're getting responded to immediately and it's the same throughout the building.
Randy Smith: That's pretty cool. We were just looking at the NAFCU calendar in our office last week. We were putting a bunch of the NAFCU events into the calendar on CUInsight and you guys have a lot going on in 2019. Are there topics that credit unions want information or are a there a few topics that when you look out at your events calendar for this year, that from an education standpoint, information standpoint that credit unions are craving at this point in time?
Dan Berger: It's nothing new. It's the same year in and year out. If you talk to credit unions, they're telling us every single day I need tools to grow. I need new powers and authority so my credit union can grow. I need more lending so we can grow, membership growth so we can grow, so our entire focus from an education and training standpoint really focuses on that seed of growth. That's where we talk about. That's the lot of the content that you see at our conferences, whether it's our board of directors conference or CEOs and senior executives conference. All these conferences that we have, the underlying theme is grow. We're going to try to help you grow and so that's what we focus on all year long with our conferences.
Randy Smith: I'll throw a question in that I just started thinking about here recently in the past few days that that goes along with the credit union growth. Are there any current beliefs held by credit unions today that you think will change significantly over the next few years?
Dan Berger: Nothing really major. I think a lot of from a belief standpoint, that core belief being not for profit financial institutions, being volunteer boards, being member driven, that's not going to go away. That core belief that credit unions have, they developed an incredible trust that the banks will never have, that Fintech will never have, and so to maintain that trust is going to be really important, but at the same time you have to do what the membership wants. The members want access to their money. Having your watch. People go to Whole Foods you can pay for it. That's the stuff that I think credit unions really need to look at is having that technology necessary for members to have access to their money. And to make sure that credit union account or the credit debit card or credit card as it top of mind, so it's on top of wallet. It's convenient and it's right there so you don't have to carry all those credit cards anymore. I have it on my watch or I'll have it on my smartphone and so credit unions more and more are embracing that technology because members want access to their money and they want to be able to pay for things relatively frictionless.
Randy Smith: I actually think that technology can be the great equalizer. I think we've seen that switch and fintech where instead of them wanting to go directly to the customer or the member, they're like, that's tough. Maybe we can partner with people. More marriages there that can happen.
Dan Berger: No, I agree. Randy, so from a standpoint it's even more important now we have NAFCU Services Corporation here at NAFCU, and they have these incredible partners that will help bridge that gap with technology, so to have those kinds of partnerships that give them the opportunity to have that type of technology is extremely important and more and more beginning to do that.
Randy Smith: Yeah, I agree with that completely. That's for sure. If we were to sit down at a year from now, what's NAFCU's biggest win or what are you most proud of? We're sitting down in 2020, let's just say.
Dan Berger: NAFCU biggest win for 2019, I think we would really like to see a data security bill get passed that holds the merchants and retailers accountable for all these breaches. You see almost seemingly every day that's going on. They needed to be held to the same standards that we do as financial institutions. We would like to see that bill passed and of course victory also would be fighting off anything that's thrown at us, whether it's CRA reform or taxes, something like that, with the bankers going on the attack, and playing some strong defense
Randy Smith: CRA reform is so interesting because it's kind of what credit unions do anyways, right? Like it's built into the fabric of us.
Dan Berger: That's exactly right, and you have to go back to the history of CRA as it was put in place on banks because they were predatory lenders. They were taking money out of communities. They were red lining, so it was a punitive measure. Credit unions who've never been redlining, ever, and so why would you subject them to another layer of regulation that's unnecessary and extremely costly. It's an unnecessary component of this time.
Randy Smith: I want to switch directions a little bit here and talk about leadership and life hacks. First question, what was it about credit unions that inspired you to take the job as the CEO and president and NAFCU?
Dan Berger: Well, first and foremost, it's the members and it's the credit union industry and how they help members, how they help their communities. That's different. We are the white hat folks in the financial services arena, that matters to me. You're not lobbying guns or alcohol. I'm lobbying for credit unions. We just have a different mission and different belief system, different value system. That was important to me and so when I had the opportunity to become CEO, not only do we have a great industry and a great membership at NAFCU, I have an incredible board of directors, and the men and women that make up that board do a wonderful job taking some very difficult positions. They see it through the filter of, and this is how they talk and board meetings by the way, the NAFCU board, how is this going to affect the man and woman running that credit union? How's it going to affect that institution? And so those are the positions they take, whether it's legislation or rules that have to be promulgated. That's how my board looks at things and so how could you not want to be part of that?
Randy Smith: Sounds like a fun gag, right? Has the inspiration changed with time on the job?
Dan Berger: Inspiration has not. The seriousness has. Because you see credit unions almost one a day going away and it's a combination of factors first and foremost, of course the regulatory burden. That's expensive. I mean a credit union is lucky to have one compliance officer maybe two some of the smaller ones actually share a compliance officer. Where Bank of America may have 250 or 300 compliance officers, but all those compliance officers that the credit unions need to understand the 20,000 pages of rules the same as those 250 compliance officers that the larger banks need to have. So that's a huge burden. But you know, technology costs, technology's not inexpensive. So back to your original point is important that credit unions partner with Fintech for the mobile banking, for their online banking with companies like Q2 and others. It's just real important to have that kind of relationship with the Fintech folks that are out there. And then of course his competition is competition from the banks, community banks, regional banks, Fintech, other credit unions. So all of those pressures, it's a very difficult environment. So the issues that we deal with on a daily basis, I think it become even more important and more serious over the years.
Randy Smith: How has Washington changed since your time there?
Dan Berger: I've been here since 2002 and I've been lobbying for almost 30 years now. And in the financial services space it has become more polarized and I think a lot of that is from, if you look back in the history of it all, I think a lot of it has to do with the state legislatures. And then drawing the congressional lines. There was a time you remember congressional districts, we're 51/49 or 45/55 and so they work together across party lines to get things done. But if you look across the country, the party lines, the congressional districts in our 70 percent Republican, 30 percent Democrat or 80 percent Democrat, 20 percent Republican, and there are so far apart in the political spectrum that they just, there's nothing in common to work on and so the environment has become pretty hostile right now. Probably the most difficult that I've seen in my career. There is some hope and some light at the end of the tunnel and some things like data security and things along those lines. Financial Education, financial inclusion. I think you'll see some of those things worked on in this next congress, but the political environment overall probably been the most difficult that I've seen.
Randy Smith: Talking about that polarization of Washington and it's not only Washington, it seems like it's also main street. So when you're dealing with NAFCU members, sometimes you're working with people in that maybe they don't support politically. Is a difficulty to keep that core credit union message when you're talking to people, credit unions, that are on both sides of the aisle, let's just say?
Dan Berger: No. And as you can imagine, the credit union folks are not shy. Credit union CEOs are not wallflowers. They have opinions and strongly held beliefs and they pick up the phone and they let me know the good things we do and things that we could improve upon. And some of that's in the political arena as well, but we are a bipartisan organization. We had some folks call upset that we met with President Trump, but we're, again, we're bipartisan and to be able to push our agenda and to get our stories across to the administration and to Congress, you have to have those bipartisan meetings. We met with President Obama and President Bush and President Clinton. We do this in a bipartisan standpoint and that's what we do. I don't have to agree with people that are in the Oval Office or in that seat in Congress. But I believe in the credit union industry. I believe in the NAFCU members. I have to tell their stories. I don't care who's holding that seat or that gavel. I have to get our point across and advocate on behalf of NAFCU members in the industry. And so that's my focus and everybody understands that, once you walk a couple of them off the ledge but might be a little torque at me a little bit, they understand that from the bipartisan standpoint.
Randy Smith: Have you noticed a change in credit unions since 2006? When you started?
Dan Berger: I think they're doing a really good job in changing with the times. They are really beginning to look at data, looking at the technology. They're really looking at cybersecurity and data security so those things have changed over the last decade or so for the good and you're seeing them because members, and it's not everybody talks about millennials. Millennials want the Apple Watch so they can go buy their stuff at Whole Foods. Members want all these shiny squirrels and bells and whistles and stuff along those lines, but you want to make sure that you have a technology platform that allows them to have that access, which is a lot different than it was 10 years ago and so the problem that credit unions wrestled with is the cyber security standpoint because people do want access to their money. They want it quickly. They want it frictionlessly, and the trouble is when you make it easy and quick, sometimes those cybersecurity dynamics get a little bit more difficult and so you have to really keep an eye on on that side of the ledger as well.
Randy Smith: I spoke with a member of your team, and this is switching gears, but they use the term servant style leadership when talking about you, first of all, what does that term mean and what does it mean to you? Why is it so important?
Dan Berger: I've seen different definitions of it, but for me is genuinely showing that you love and care for your team and your staff. I have the best colleagues in the world. They are truly NAFCU's best asset and so when you take care of your colleagues and you take care of your team, they in turn take incredible care of NAFCU's members and so we take a real focus on providing training opportunities, executive coaching opportunities, things that really helped them in their careers and their personal life and their professional life, and so I think staff and my colleagues, they recognize when you truly love and care for them and that matters and in turn they love and care for the NAFCU membership. I know it sounds a little hokey, but it from the standpoint you take care of your folks, they in take care of the others.
Randy Smith: Take care of your members, right?
Dan Berger: Absolutely.
Randy Smith: I'm a huge fan of your blog, the Berger Leadership blog. It's one of our favorites to pull in on CUInsight. To me, it feels like it's quick hits of information, quick leadership tips, links to other things that you've read. What was the motivation behind starting a leadership blog?
Dan Berger: Well, I read about a book a week book, every two weeks. I alternate between fiction and nonfiction. The nonfiction is usually like process improvement, leadership books, things on those lines and yours get nuggets. Nothing really new comes out necessarily, but it's always really good reminders and tidbits and know what I need to try doing that a little bit more often. I should focus on that a little bit more with my colleagues or with my board or my personal life and things along those lines, so I look for things that I find useful for me, hoping it's useful for other people, other CEOs and folks that are plugging into the Berger Leadership blog is that, hey, this helped me reminded me about this every once and a whileI learned some new tidbits, but usually it's reinforcing something you already knew were having thought about in quite some time.
Randy Smith: I'm a huge fan of it. Is there something at NAFCU that your team has heard you say so many times they can finish your sentence as soon as you start to say it?
Dan Berger: They would probably barf if I said extreme member service again. We talk about it nonstop here and we're passionate about it. We believe in it. If you take care of your members, that's how we keep the lights on here. People know that we're responsive, they know that we're effective and efficient and so we call it extreme member service and again, everybody in this building is empowered to help NAFCU members solve the members problem. That they're upset about something, fix it, and then put some process in place or SOP in place where it doesn't happen again. So everything's all around extreme member service. So if you asked anybody on my team what is Dan's catchphrase through the building, it would be extreme member service.
Randy Smith: Has there been a piece of advice or a life lesson that you received, maybe earlier on in your career, that you just constantly keep going back to?
Dan Berger: The advice that I go back to is something that I learned very young from my grandfather, I won't be as crass as he was, and it says it takes the same amount of energy to be nice as it does to be a jerk, so why not be nice and helpful. That's always a component we try to strive forward here. Lets be helpful to folks, Lets be helpful to one another. We're all on the same team. We're all rowing in the same direction and so that's the reason we work really hard or hiring people with attitude and aptitude and so you have the right attitude. Everything else fills in itself.
Randy Smith: That's cool. That's something from grandpa that you still hold onto. When you run into a problem, something that you know you're hitting your head up against the wall on. Is there something that you do to take a look at things from a different direction or step away from it?
Dan Berger: I have a nice circle of CEO mentors, not necessarily in the financial services space, but who are relatively new at it, like myself, people who've been doing it for decades, you know, one of those things, if you sit there and you look at it and I'll bounce things off, say hey, did you try this? What worked, what did not work? And so I have a sounding board, a fellow association CEOs. Some of them have seen everything. I mean some of them, I mean I've seen their industry implode and come back. I mean they've seen the whole gamut of things and they really helped me be that sounding board that I want. Also I have a tendency of taking a deep breath and going for walks. If something that's frustrating, you know, I'll leave and come back and grab a cup of coffee and then try to think things through. But I think with the bouncing things off with my fellow senior execs here and people in my management team as well as other association CEOS has been really helpful to me personally.
Randy Smith: To have that network. If you have a free day, there's nothing on the calendar, what are you doing?
Dan Berger: There's two things I'd love to do. One is fly fish, anytime outside in nature or with my feet in the water, fly fishing. It is good to me whether it's down in the Florida Keys or in a river up here. Also I ride a Harley and so I love getting on my motorcycle and I'll go visit CEOs on my motorcycle and stuff and so I love doing things along those lines. Anything that gets me outdoors, I'm a big lover of the outdoors. That's kinda my balancing act is anything outside.
Randy Smith: Get some fresh air. Absolutely. As a leader, how do you make sure your message stays fresh to your team, and how the NAFCU is message say fresh to your member credit unions and as well as to Washington?
Dan Berger: Well, it's things like your podcast here, communicating and telling them what you're doing. Everybody knows we're focused on three things and we talk about all the time. I talk about it and have for I guess three, four years now. We do advocacy, we do education and training, and we do compliance assistance. That's it. If you want all this esoteric pixie dust stuff, there's plenty of other places you can get that kind of stuff where those are the three things that we focus on and we talk about it all the time. We have a monthly management team meeting. We talk about it there. We have a monthly all staff meeting. We talk about it there. We talked about in our communications. We'd keep our members informed of NAFCU Today in articles through CUInsight and other places, talking about the things that we're doing to show them what we're doing and so we have to communicate that and that's a responsibility we have to tell my colleagues what we're working on and tell a membership what we're working on, so we just reiterate it and we're not going to change that focus. I mean, they're going to have to kick me out of this office in order to change it. Then focus isn't changing. This advocacy, it's education and this compliance assistance. We're not going to change that focus. That's what the CEOs have asked for. That's what our members are asking for. That's what my board of directors demands of me. That's all we're going to be focused on.
Randy Smith: Very cool. So now we're going to have a little bit of fun. We wrap up every show with some rapid fire questions. The questions are rapid. Your answers don't have to be.
Dan Berger: Cool.
Randy Smith: Any daily routines that if you just don't do your day feels off. I'm going to keep saying for me it's journaling. I should be sponsored by moleskin. Maybe if I keep mentioning it, they'll send me one, but is there something for you that you just have to do everyday?
Dan Berger: I have to work out. I get up in the morning and have coffee and breakfast and a workout for 45 minutes, an hour. I get up early, five, 5:30 and I get it done. I'll do cardio on a rowing machine or on the treadmill for about a half hour and then I lift weights for another 20, 30 minutes, but I have to. If I don't work out, I don't feel right for the rest of the day.
Randy Smith: I need to get in that habit (laughing). This question I don't send out because I want it to be top of mine. First person you think of when you hear the word success, who is it?
Dan Berger: Wow. For success. Part of the CEO of Mastercard, Ajaypal and the transformation that he's done. He's done a magnificent job with transforming the company into a technology company. It's not just a payments company. Not just a payment processing company, it is a technology company and then watch him operate in and change the culture and everything at Mastercard I think it's been fascinating to watch.
Randy Smith: I'll have to look more into that. Maybe a month ago or so, I listened to a podcast, that the CEO of Walmart was on and he talked about that are a digital company, not a brick and mortar retailer. They're a digital company, so that transformation that all these companies have to make.
Dan Berger: It's interesting you say that. I have spoken at board of director meetings at credit unions and we'll sit there and we'll talk about what they're looking for in the future and you've seen some young dynamic CEOs coming out. They're really going, you know what, we're not a credit union anymore. We're a financial services technology company with Credit Union mission. Okay. He or she is trying to change the thought process and a culture within that credit union. Going we're financial services technology company that has a credit union mission and so that just changes it. Everybody wants to explore new ways to provide services. Everything's digital and looking at their online platform, the mobile platform, the wearable technology. And so it was just a completely different mindset and on top of it actually helped in their recruiting too. So putting ads out there, hey, come work for a financial services technology company is more appealing to a 22 year old technologists than maybe a credit union would be. And so I've found that really fascinating and I think if I were a CEO of a credit union, I would preach that. I would say, hey, we're a technology company with a credit union mission, and I would probably talk about that a little bit just to get that mindset where they're being innovative and they're looking at new technologies and they're looking at new ways to service their membership. I kinda liked that thought process a little bit.
Randy Smith: The random question. What's the best albums of all time from front to back?
Dan Berger: Tom Petty. Damn the Torpedoes. Front to back. I can't get tired of listening to it. My hometown musician.
Randy Smith: He's from Gainesville?
Dan Berger: Gainesville. Yup.
Randy Smith: After he passed, the song that I kept listening to was Wild Flowers. Fantastic.
Dan Berger: Great Song. When he passed away, NAFCU pac actually had an auction, the folks at Chartway Federal Credit Union donated a sign guitar that Tom Petty and all the Heartbreakers who signed on it. I am now the owner of that guitar.
Randy Smith: To circle back to something you'd mentioned earlier, you're a reader, so you know, generally a book a week. Is there a book over the course of life or maybe even just recently that you've either gifted or that everybody should read that book? They talk about over and over and over again?
Dan Berger: Stephen Covey, anything by Stephen Covey is good and then anything by John Spence, those are the two that I recommend the most. They write it in a way that you can apply. There's a lot of really esoteric, real high level leadership books out there that are good and they were fine, but I like when they're broken down and examples in what if scenarios, if this happens, these are some things that you should consider doing that's helpful to me to read a bunch of scientific information and data, that's fine, but how to apply it in certain scenarios and situations. That's what I find helpful. And so those books, anything by Stephen Covey, anything by John Spence is broken down in a way that's digestible quite frankly.
Randy Smith: Is there one that you would recommend that listeners start with?
Dan Berger: Awesomely Simple by John Spence. It's a terrific book and it's done in a way that you can understand it. He's got a lot of research, does a lot of training with CEOs of Fortune 500 companies around the world. And so he's seen it all, he's heard it all, and I mean he's helped us here at NAFCU in some of the stuff and growth and things along those lines. He helped us with strategic planning and so he's seen it all and so he really helps us and helps me personally with the blind spots that everybody has or every company has. So to find a book that really breaks things down that you can utilize in everyday life at your association or your company. I find that helpful.
Randy Smith: Last question in here, as you've gotten older, has anything become more important to you? Has Anything become less?
Dan Berger: My family has become more important. I have a 14 year old daughter. I rarely miss, she's very athletic, she's a straight A student, but really focusing on her and those things. I take my job very seriously at NAFCU. I love my job, but I make a concerted effort not to miss her dive meets or tennis matches. And that was part of my life that I truly enjoy. I find it absolutely nerve wracking watching her compete, but I wouldn't miss it for anything in the world. It's one of my favorite things to do. What would I tell myself at 25 years old is continue to reinforce, be nice and helpful to folks, and I think when people start off in their careers, I think they have a tendency sometimes to be overly aggressive and it's kind of the me, me, me, they get to the next level of things on those lines, but I have really seen to cross through my career. The more that I helped my boss, the more that I helped my boss look good. It's a win. You look good and your boss looks good, so it's a twofer and so those things early in the career. I wish I would learn that a little bit sooner, but I think really do your job right away. Do it with excellence. If you're in of making copies and coffee at an office, make the damn best coffee you can and the damn best xerox copies that you can make and be the best at it. And then just keep moving on. We've all had terrible jobs. Okay, we've had. You're going to have to do it anyway so you might as well do with a positive attitude and do it with excellence and that's your reputation. So you have a reputation with a strong work ethic and that you don't do it, you know, half ass. You give it a 100 percent all the time. People notice that and they recognize that. And I think that's important.
Randy Smith: The last question, probably the most important. What does the B stand for?
Dan Berger: Brian. Brian Daniel Berger
Randy Smith: My managing editor. John, actually guessed Brian. The last thing. Thank you again for taking the time and be on the podcast. I greatly appreciate it. I've had a lot of fun. Do you have any final asks of our listeners or any final thoughts?
Dan Berger: For the listeners, for the credit union folks out there. Keep taking care of your members. Stay focused on your members and your community and everything else will work out itself. And then you'll have NAFCU up here in Washington DC being your Washington watchdog, taking care of the rest for you, but take care of your members and take care of your communities and everything else will work out.
Randy Smith: That's fantastic. Everything we talked about, we'll link to in the article below. Is @BDanBerger on twitter the best way for people who have additional questions or email? How do you want people to get a hold of you?
Dan Berger: Sure, and I'm on Linkedin as well. People can feel free. My email and phone number is on our website, so anybody wants to contact me, talk issues or policy or membership or whatever. I'm on the nafcu.org website. Visit.
Randy Smith: We'll link to all your contact information below as well. So again, Dan, thank you very much for taking the time. I greatly appreciate it. This has been a lot of fun and I will see you soon down the road.
Dan Berger: I look forward to it. Hey, thanks for the opportunity. This i my first podcast, man,
Randy Smith: You did great. I greatly appreciate it though, Dan. Thank you very much.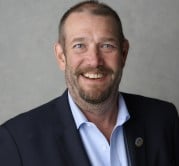 Randall Smith is the co-founder of CUInsight.com, the host of The CUInsight Experience podcast, and a bit of a wanderlust. As one of the co-founders of CUInsight he looks ...
Web: www.CUInsight.com
Details