The CUInsight Experience podcast: Tom Kane – CIA to CEO (#51)
"Never show up with a problem without at least one solution." - Tom Kane
Welcome to episode 51 of The CUInsight Experience podcast. Hosted by Randy Smith, co-founder of CUInsight.com. Today Randy welcomes Tom Kane to the show. Tom is the President and CEO of the Illinois Credit Union League, as well as LSC and other organizations. Tom received a Masters Degree in International Relations with a focus on the Soviet Union, and that led him to a job with the CIA. But lucky for us, sixteen years ago, he got into the credit union movement, and hasn't looked back.
Tom speaks about the three things that credit unions need to do to stay relevant. He talks about consolidation being the trend and how small and medium-sized credit unions need to collaborate more.
We discuss the CU Kind campaign and how they got more than 61 credit unions to come together across the state giving more than 5000 volunteer hours in one day. And discuss Tom's desire to see how doing this on a national level would benefit so many.
Tom talks about his inspiration to take the CEO position and how the motivation has changed in the four years that he's been on the job. The enemy is the perfect good is what he tells his team all the time. Tom believes that you can't wait to be perfect before you act, or nothing will get done.
Have you heard the saying 'people don't leave companies they leave people'? Listen in as Tom speaks about being a good employee, but most of all, being a good boss. He gives us many nuggets we can learn from. Enjoy!
Subscribe on: Apple Podcasts, Spotify, Google Play, Stitcher
How to find Tom:
Tom Kane, President and CEO of the Illinois Credit Union League and LSC
www.ICUL.com
www.LSC.net
tom.kane@icul.com
LinkedIn | Twitter | Facebook | Instagram 
Show notes from this episode:
Check out all the good work Tom and his team are doing at the Illinois Credit Union League.
LSC has been a long time partner of ours. See all the good work they do for credit unions here.
Follow the CU Kind campaign on Instagram here. Great job!
Shout-out: Jill Nowacki
Shout-out: Jim Nussle
Shout-out: Mark Cummins and the CU Forward campaign in Minnesota.
Shout-out: Staci Hering for her work on the CU Kind campaign.
Shout-out: Feed My Starving Children
Shout-out: NCUF Annual DE Day of Service
Shout-out in memoriam: Dan Plauda
Shout-out: Chuck Fagan
Shout-out: CUES
Shout-out: CUNA – Tom is on the board.
Illinois Credit Union League Women's Leadership Conference that Tom mention Jill spoke at.
Shout-out: Diana Dykstra
Album mentioned: True Confessions by Bananarama
Album mentioned: Vampire Weekend by Vampire Weekend
Book mentioned: In Search of Excellence by Thomas J Peter & Robert H Waterman
Book mentioned: Good to Great by Jim Collins
Go follow Tom on Twitter. Get his followers up from 57.
Previous guests mentioned in this episode: Jill Nowacki (episodes 4, 18 & 37), Jim Nussle, Chuck Fagen, Diana Dykstra
You can find all past episodes of The CUInsight Experience here. 
In This Episode:
[01:23] – Tom, Welcome to the show!
[02:01] – Tom talks about his life and what led him to the credit union industry.
[05:15] – Are there any other CEOs with a tech background in the league system?
[06:40] – Tom speaks about being an optimist about credit unions and that he sees consolidation as being the most significant thing happening right now.
[09:57] – Tom says three things can be done to keep credit unions relevant. A basic set of products and services, plan to grow membership and succession.
[13:06] – Unless you are part of a substantial credit union, collaboration is the way to grow.
[15:20] – Do you have five different boards you have to deal with?
[16:28] – Tom discusses the CUKind Campaign that he was instrumental in putting together.
[20:29] – What was the inspiration to go for the position as the President and CEO of the League?
[21:51] – He tells us that he was passed over for the job a year earlier, but he kept his head in the game and was asked to take the position.
[23:51] – The inspiration since he took the position has shifted from making changes to strategy.
[25:41] – How would you describe your leadership style? How would your team describe it?
[28:05] – Great experience and diverse is how he describes the team he has put together.
[29:30] – Tom speaks about the Women's Leadership Conference and the difference in styles between women and men.
[31:18] -The enemy is the perfect of the good, is what his team hears him say over and over.
[33:34] – People don't leave companies; they leave people is something Tom uses all the time.
[34:55] – What mistakes do you see young leaders make today? That you made when you were younger?
[37:43] – When he has a day off, he visits with his adult children, and he works around his house doing renovations.
[39:27] – Do you remember the first time you got into memorable trouble.
[40:49] – Tom says he has absolutely no routines at all, every day is different.
[42:07] – His favorite album of all time is Vampire Weekend.
[43:41] – What book do you think everyone should read?
[45:14] – Health has become more important as he's gotten older, and his free time has become less important.
[46:59] – Tom's dad is the person who comes to mind when he hears the word success.
[48:02] – His final thoughts?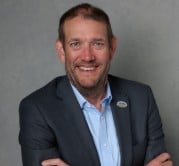 Randall Smith is the co-founder of CUInsight.com, the host of The CUInsight Experience podcast, and a bit of a wanderlust. As one of the co-founders of CUInsight.com he ...
Web: www.CUInsight.com
Details