The CUInsight Network podcast: Data & marketing – Marquis (#29)
Featuring Ryan Housefield, SVP of Sales at Marquis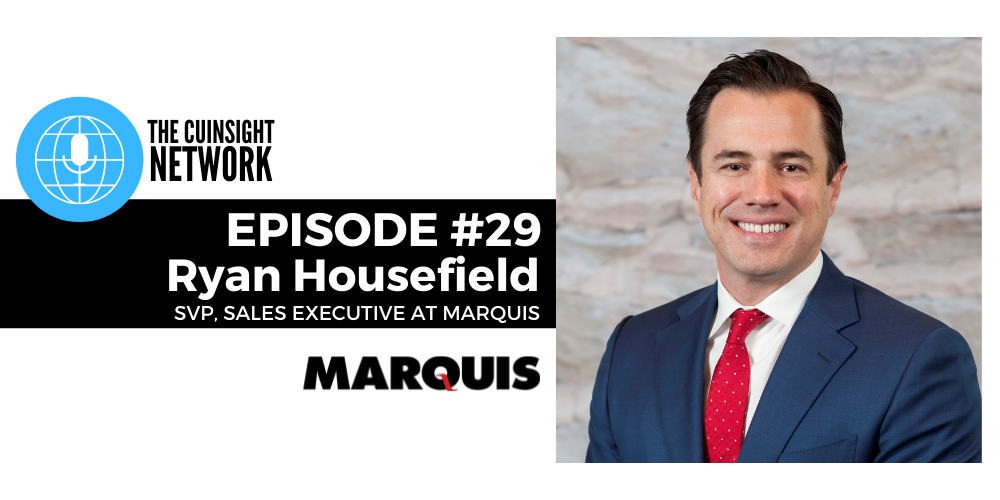 Thank you for tuning in to episode 29 of The CUInsight Network, with your host, Lauren Culp, Publisher & CEO of CUInsight.com. In The CUInsight Network, we take a deeper dive with the thought leaders who support the credit union community. We discuss issues and challenges facing credit unions and identify best practices to learn and grow together.
My guest today is Ryan Housefield, SVP of Sales at Marquis. Marquis delivers four key components of a successful data analytics, marketing automation, and CRM strategy for credit unions to build personalized relationships with members. Ryan believes credible data sources are key, and that the credit union industry can leverage that data to provide better marketing and member experience. 
During our conversation, Ryan shares the importance of taking action on data. He chats about how data is an evolution rather than a revolution, and that finding and maintaining good data is never complete. He explains that relationships and personal connections are key to a credit union's competitive advantage, and that Marquis enables their clients to deliver on those promises. Treating each member as an individual instead of a number is something Ryan believes sets credit unions apart. 
Ryan and I discuss creating more awareness to make sure that credit unions aren't a "best kept secret." He shares that once someone knows about and joins the credit union, we need to continue the education throughout the whole member journey. Overall Ryan sees a high-tech and high-touch emphasis emerging for credit unions, including both the technology tools they need to succeed as well as the relationship focus with each member. He encourages credit unions to use data, not just for data's sake, but to improve member lives. 
During our rapid fire questions, Ryan talks about podcasts, country music, and his daughters. Listen in as Ryan talks about what he wanted to be growing up, the recent purchase he can't live without, and one of his favorite books. Enjoy my conversation with Ryan Housefield!
Connect with Ryan:
Ryan Housefield, SVP of Sales at Marquis
ryanh@gomarquis.com
https://gomarquis.com
LinkedIn | Twitter 
Show notes from this episode:
What an amazing interview with Ryan! Check out all the exceptional work his team is doing over at Marquis here.
Want to hear more from Ryan Housefield? Click here.
Shout-out: Credit Union National Association (CUNA)
Shout-out: CUNA's Governmental Affairs Conference (GAC)
Shout-out: Edward Jones
Shout-out: NBA
Shout-out: CUNA Marketing and Business Development Council Conference
Shout-out: Ryan's wife and children
Shout-out: Peloton 
Shout-out: CLEAR
Place mentioned: Dallas, TX
Shout-out: Ryan's dad
Shout-out: Randall Smith
Shout-out: SmartLess podcast
Book mentioned: Start with Why: How Great Leaders Inspire Everyone to Take Action by Simon Sinek
Shout-out: YouTube
Shout-out: Ryan's daughters
In this episode:
[00:52] – Ryan Housefield originally wanted to be a professional basketball player.
[02:27] – Ryan explains the four key components of a successful sales strategy that is based in technology.
[05:26] – Before acting on data, there needs to be a plan to learn from the data.
[08:08] – Credible data source is key.
[10:31] – Ryan talks about data measurement and transparency.
[12:32] – How can credit unions maintain personalized services for members?
[14:34] – Ryan describes the advantages of using CRM technology.
[16:18] – Credit unions are one of the best kept secrets. What are Ryan's thoughts on this?
[18:54] – Ryan talks about leveraging partnerships to deliver great services, and emphasizes using member data to deliver improved experiences.
[21:09] – Ryan shares his stories about Peloton, transportation passes, and his dad.
[23:29] – Listen to Ryan talk about podcasts, country music, books, and his wonderful daughters.
[25:27] – Elevate the member experience.
Lauren Culp is the Publisher & CEO at CUInsight.com. She leads the growing team at CUInsight, works with organizations serving credit unions to maximize their brand and exposure, connects with ...
Web: https://www.cuinsight.com
Details