The CUInsight Network podcast: Member experience – CU NextGen (#30)
Featuring Kent Zimmer, CEO at CU NextGen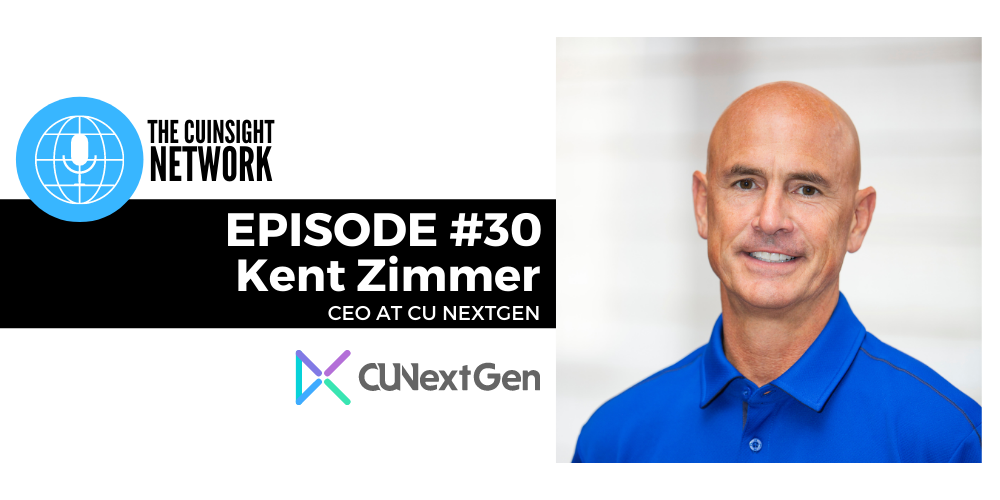 Thank you for tuning in to episode 30 of The CUInsight Network, with your host, Lauren Culp, Publisher & CEO of CUInsight.com. In The CUInsight Network, we take a deeper dive with the thought leaders who support the credit union community. We discuss issues and challenges facing credit unions and identify best practices to learn and grow together.
My guest today is Kent Zimmer, CEO at CU NextGen. CU NextGen is the CUSO dedicated to bringing next-generation technology to credit unions, helping them improve the service delivered to their members, the daily experiences of their staff members, and the efficiency of their operations. CU NextGen is a partnership between Members Development Company, a consortium of nearly 70 large and future-focused credit unions, and ClaySys Technologies, a technology company with leading products in the no-code application development, robotic process automation (RPA), and artificial intelligence spaces.
During our conversation, Kent emphasizes that expectations for ease-of-use and digital experience are constantly evolving. Kent and I discuss how CU NextGen gives credit unions the tools they need for digital transformation, and provides them the flexibility to quickly customize the member experience. Kent shares his thoughts on credit unions being more proactive in customizing the member experience and embracing digital transformation, instead of being reactive to changes. He is excited for the future and for new challenges in creating a better member experience on behalf of credit unions.
During our rapid fire questions, Kent talks about owning a Tesla, winning gold at the pickleball nationals, and his go-to music choices. Listen in as Kent talks about why his idea of success comes from mentors instead of celebrities, and what book he recommends. Enjoy my conversation with Kent Zimmer!
Connect with Kent:
Kent Zimmer, CEO at CU NextGen
kent.zimmer@cunextgen.com
https://cunextgen.com/  
LinkedIn | Twitter | Facebook | Instagram
Show notes from this episode:
What an amazing interview with Kent! Check out all the exceptional work his team is doing over at CU NextGen here.
Want to hear more from Kent Zimmer? Click here.
Shout-out: Members Development Company
Shout-out: Amazon
Shout-out: Google
Shout-out: Facebook
Shout-out: Tesla
Shout-out: Kent's children
Shout-out: Elon Musk 
Book mentioned: Elon Musk: Tesla, SpaceX, and the Quest for a Fantastic Future by Elon Musk
In this episode:
[00:44] – Kent Zimmer shares his original childhood dream job.
[01:20] – Kent is an example of what happens when you write down your ideas and goals.
[03:33] – Credit unions can be more proactive in customizing the member experience and embracing digital transformation.
[05:58] – Pay attention to enhancing the ease-of-use on the front end of member experiences.
[07:51] – CU NextGen figures out the "how" for what credit unions want to do.
[09:12] – Kent says he's grateful for his Tesla amidst the rising gas prices.
[11:25] – CU NextGen is an advocate for credit union success.
Lauren Culp is the Publisher & CEO at CUInsight.com. She leads the growing team at CUInsight, works with organizations serving credit unions to maximize their brand and exposure, connects with ...
Web: https://www.cuinsight.com
Details