3 ways network diagrams (maps) may save your credit union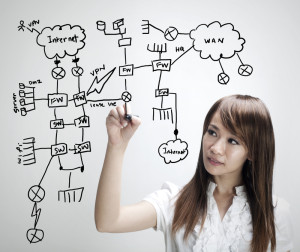 Today's credit union technology infrastructures are so complex that savvy CIOs are stepping up their efforts to capture as much detail as possible in network diagrams. Why the sudden interest in these artfully drawn maps with intricate details on everything from your servers to your MPLS networks? Quite simply, because without an up-to-date network diagram you simply can't have a complete grasp on your infrastructure. And without that detailed analysis, you could be exposing your credit union to unnecessary risks. Today's post will show you how your network diagrams can literally save the day!
GAP Identification/Threat Mitigation
Accurate and complete network diagrams provide an opportunity to identify gaps in your strategies and/or planning. Problems most often captured by the network diagram analysis are:
Single Points of Failure
Lack of bandwidth for critical processes
Exposed resources (DMZ)
Regulations/Audits
No one likes to fail IT Examinations and with all the information the both NCUA and the FFIEC provide in terms of examination prep there really isn't any excuse for not being prepared. One item that is consistently mentioned throughout the prep documents such as the AIRES files is the "network diagram".  A critical point to understand is that having just one network diagram isn't sufficient. The expectation is that you will have multiple diagrams that document 3rd party interfaces, applications, servers, all telecommunications, online banking etc. It is definitely not a one-day job to get this right but you have to start somewhere!
continue reading »