A Social Media Open Letter for Credit Unions Not Attending ACUC
by: Michael Ogden, Media Relations Manager for New Media, CUNA Mutual Group
Dear Sir/Madam or whomever fits the demographic of CUInsight.com –
I am secretly writing to you in a very public forum and I may not have much time since my supervisor (myself) has run out to get coffee. You see, the social media planning, strategizing and scheduling for Twitter and Google+ during America's Credit Union Conference (ACUC) has blurred my reality and my days and nights simply run together. My supervisor is working me as hard as ever and he's a real bear if he (me) doesn't get his coffee.
As a part of "the Resistance" I must share with you something I've learned during the hundreds of hours of ACUC planning: conferences like ACUC, GAC and <pick any CU League meeting> are typically geared toward those who attend. But the beauty of existing social media technologies allows even those who cannot afford to fly to San Diego, to experience a lot of what we'll be seeing, doing and learning.
I have this built-in need to share and that is especially true when it comes to large events and conferences. I want everyone following us on Twitter and Google+ to feel as if they are sitting in the front row during the conferences.
My solution: here's a full list of people and organizations you should connect with if you are or are not attending ACUC this year. I'll even throw in reasons why you should follow these social media accounts. (I have to make this quick, because my supervisor will be back any minute).
TOP SECRET – WHO TO FOLLOW ON SOCIAL MEDIA DURING ACUC:
Letting this list of social media connections out of my hands has put me in no danger at all. But it has given you the power to be more connected to all of the information you can get your eyeballs on to help you and your credit union flourish in this amazing industry!
Oh no! He's back…and someone put half-and-half in his coffee!
Remember, I've given you a gift. Use it. Embrace it. And connect with all of us at #ACUC from June 17th through the 21st. If you're there, give me a hug – I'll need it. If you're not attending, reach out and I'll connect with you personally.
I must go. I hope this letter finds you well.
Sincerely,
Michael
P.S. If you have other people you think we should connect with for ACUC, please include them in the comment section. Also, would someone please let out my dog while I'm gone?
Bio:  Michael Ogden is the Media Relations Manager for New Media at CUNA Mutual Group. You can connect with him on Twitter @CUDiscovery or on Google+ at +CUNA Mutual Group. Voted "Most Likely to Reach 5'9"' by his high school peers.
CUNA Mutual Group, based in Madison, Wis., is a leading provider of financial services to credit unions, their members and customers worldwide. www.cunamutual.com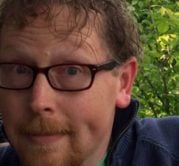 Michael has been in the social media business for more than a decade inside the credit union, technology, financial and food industries. He's the founder of For3, LLC, which ...
Web: www.for3forgood.com
Details