Are your Gen Y staff satisfied enough to stay?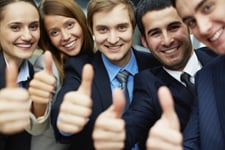 Education and training can help make sure Millennials not only like their jobs but plan to keep working at them.
By Lisa Hochgraf
As you look around your credit union office, are your Millennial-aged employees looking pretty happy? If they are, you probably should give yourself a pat on the back.
But a Harvard Business Review survey suggests you might want to look deeper. It found that 69 percent of Gen Y professionals working in Fortune 500 companies reported being satisfied at work. At the same time, 48 percent said they planned to stay at their current job two years or less.
One of the reasons, according to another Harvard Business School report, "Danger in the Middle: Why Middle Managers Aren't Prepared to Lead," is that many of these "satisfied" but "planning to leave" staffers are in middle management–a place where more training is needed if staff are to do two key things: a) find success in executing strategy and b) transform from "order givers" to leaders.
Amy Fox, CEO and founder of Accelerated Business Results, Cincinnati, offers three insights for better training these members of your team:
continue reading »