Bringing the Branch to You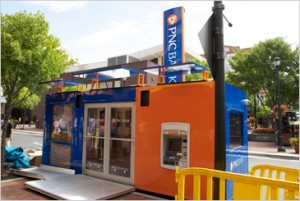 by. Travis McCafferty
Ever the forward-thinking innovator, PNC has recently opened a "pop-up" branch in downtown Atlanta. It's brightly colored in blue and orange to match the banks brand, and presents itself in a striking 20×8 foot total package. As the industry forecast shifts to indications of smaller, more precise branches that are just as much billboards for name recognition as a place to fulfill banking needs, this pop-up branch takes the idea to heart in a very dramatic way.
A recent article in American Banker summed up the best overall aspect of this branch idea, stating,
"The concept is designed to engage people on the streets, where they work, live and play, and show off some of the bank's newer offerings, such as PNC Virtual Wallet and Cash Flow Insights for small businesses. It's not meant to replace a traditional bank."
Bingo. Let's face it, are new customers going to come into a bright, food truck sized bank branch in the middle of a busy urban center to apply for a mortgage? Probably not. But what they are going to do is be surprised by the whole idea, pay attention to the brand, and stop in to find out what it's all about. And once they're inside, it's all about modern engagement, with two banking specialists equipped with iPads to show off products like the Virtual Wallet.
continue reading »