Change the world? Why, yes … yes we can!
Recently Ent Credit Union's board of directors and senior leaders gathered for our annual strategic planning session. We were joined by the incomparable Mark Sievewright of Sievewright & Associates, the highly entertaining economist, Elliot Eisenberg, and the industry's most respected D.C. advocate (my opinion), Ryan Donovan. Mark led us through an exercise during which we put on our future-seeing glasses and looked out 20+ years to foretell global changes big and small.
Over the two days the team discussed heady and heavy topics such as climate change, the growing wealth divide, the precariousness of our democracy, increasing regulations on our industry, the requirement to continue innovating and partnering to serve members who demand (rightfully so) the most in convenience and frictionless banking. At one point, Mark asked, "Are you excited about the future?" to which I thought, "Hell no…"
The future painted, in many ways, was pretty bleak. Zillennials (as Mark referred to them), a combination of individuals in Gen Z and the Millennials, overwhelmingly choose to bank with the four big banks likely because of the slick mobile and digital experiences offered through years of $100s of millions of dollars invested in these experiences. Our differentiation as a member-owned financial cooperative and our give-back-to-the-community business model isn't resonating with these generations, at least not in a significant way. Changing the circumstances for the working poor in this country has proven to be daunting. Our political environment is more toxic than at any other time since most of us remember, rendering the ability to develop and pass positive, bi-partisan legislation nearly impossible. Relatedly, Americans are more divided and divisive than ever, angrily (sometimes violently) voicing, what would have been just a few years ago, uncouth and unacceptable attacks on their neighbors, causing one board member to ask, "How will we ever come back from this?"
During the two days, I jotted down random thoughts and questions on which I wanted to noodle. You can see my crazy brain below somewhat organized in themes:
How can we (that's we in the CU movement), with or without government intervention, make a more meaningful impact on the lives of working-class Americans? Are we doing enough to rebuild or establish credit for these individuals? Are we doing enough to not just educate on financial well-being but forgive financial missteps? Are we paying a living wage to all of our team members (which, by the way, would encourage other businesses to do the same)? Are we doing enough to create change through our philanthropic gifts and volunteerism?
Are we open-minded, innovative, and action-oriented enough to provide more modern digital solutions for our members? Mergers of equals are not enough. Our current CUSO model has not yet proven to be enough. Not one group of CUs, that I know of, has taken advantage of the "network" credit union model, which could position CUs to operate like many Canadian credit unions do with Desjardins. Thankfully some in our industry have found ways to start collaborative venture funds (also see here), but how many credit unions have actually explored this as an option? Seriously, what are we willing to do, as a collective, in the digital space to leapfrog our real competition – the big banks?
In former lives, I spent many days on the road working with credit union leaders and often heard the lament, "If only more people, especially young people, knew about credit unions and all the good we do!" Yes, great idea! We must elevate the brand of credit unions! Credit Union National Association (CUNA) stepped up to the plate and over the past 3+ years has developed and iterated a credit union awareness and consideration campaign, which has shown promise where deployed. Yet, despite Ent's early investment, other Colorado credit unions chose not to invest in the "Open Your Eyes" campaign. How many other states will miss this opportunity because the largest credit unions couldn't come together and make the investment? What will this state-by-state approach mean on a national level?
Have credit unions considered our impact on climate change, or ability to collectively and positively impact it? How do we convene leadership on this topic or is the topic too removed from our business model to even try? Aside from finding ways to stay relevant, if we don't have a healthy planet on which to operate, what is our future?
In writing this, I truly don't mean to be Debbie Downer (you know, the one played by Rachel Dratch from Saturday Night Live fame that invariably kills any good time). After all, as an industry, credit unions do make a ginormous impact on the communities we serve – I mean to the tune of multiple billions of dollars! Even CNBC wrote about why Americans turned to credit unions during the pandemic. I know there is light at the end of our tunnel. But I do challenge us to grab the strategic bull by the horns and ever so boldly take action – TOGETHER – to remain relevant and create real change.
"How?" you ask. I don't have all the answers but I do have faith that collectively we do. Collectively we can harness the willingness and tenacity to solve our industry's, and – dare I say – country's biggest challenges. Collectively we can deploy our capital to innovate and increase scale. Collectively we can raise our voices and not-so-humbly tell the world who we are. Collectively we can make a difference for those families who need us most. Are you up to the challenge? Yes? Well, what are we waiting for? (No, really…the largest gathering of credit union professionals will be taking place starting February 27th in D.C. during CUNA's Governmental Affairs Conference (GAC). We should do something, collectively of course.)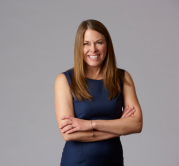 Mollie Bell joined Ent Credit Union in December 2018 as Chief Development Officer. Mollie has worked on behalf of credit unions since 2007, having worked for CUNA Mutual Group, Filene ...
Web: https://www.ent.com
Details