Could changes in the credit card world increase debit use?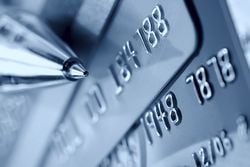 Shifts in both consumer and lender behavior have set off several trends in the credit card marketplace. American consumers are paying down credit card debt, paying less to use credit cards, and making fewer purchases on credit, according to a new report from the American Bankers Association.
"A change in consumer behavior coupled with shifts in the risk profile of bank portfolios means that the effective cost of credit card credit for consumers is falling," Kenneth Clayton, executive director of the association's card policy council, said in a press release. Adding, "At the same time, access issues influenced by continued economic uncertainty and regulatory limits on the ability to manage risk remain."
The report found that credit card debt, especially among sub-prime lines, has fallen in each of the last three years, and is down 22 percent compared to 2008. The mass pay-down is occurring even as the cost of keeping a credit card continues to fall. As a percent of outstanding balances, interest charges have fallen from about 13 percent in early 2008 to 11 percent in 2013. Of course, the availability of credit has lessened as lenders have gotten more choosy about who gets credit and how much.
Consumers with lower credit scores have been most greatly affected by the decline of available credit. Credit card lines of credit decreased considerably during the financial crisis and the recession following, experiencing a nearly 19 percent decline in 2009. Total credit lines continued to diminish even after the recession's end.
continue reading »