Credit Unions' Social Media Evolution – The Great Connection
by: Michael Ogden, Media Relations Manager for New Media, CUNA Mutual Group
Credit unions are going through a period of social media evolution – what I've been referring to as "The Great Connection." We've spent so many years getting annoyed with robo-calls and email blasts from marketers. We've blindly accepted "friend" requests from strangers who are actually mining our profiles. We've tolerated spammers/companies/celebrities on Twitter who have their "people" schedule thousands of tweets each month just to increase their number of followers. The good news is that people and companies are finally starting to wise up and use social media to make true connections for their brand/personal lives.
The even "gooder" news? Credit unions are starting to catch on to that same concept. Why now?
The best asset credit unions have going for them isn't necessarily the $1 Trillion (although, it's not a bad thing). The people inside the brick and mortar CUs who live and work in the communities are the most precious assets. "No duh," you say? I say, "Hang in there with me for a second."
Number one rule of social media: #1 Make it social!
I spend hours and hours every day of every week connecting with the women, men and sometimes animals (I'm looking at you FamZoo.com) who run the social media sites for our credit unions and financial followers. I love these people! They not only provide the important credit union news and promotions coming out of their slice of the CU world, they also give us the flavor, attitude and personality of themselves. That is how you make a quality social media connection.
Throughout the day when I'm on Twitter or Google+, I make a point to connect with certain people/accounts because they have reached out to me in personal ways. Below is a list of some of those people and credit unions:
@TinaRamosIngold (CA/NV Credit Union Leagues) – the friendliest lady on Twitter.
Pima Federal Credit Union – fan of Ryan Gosling and green screens.
FamZoo.com – has a Zebra-print rug in his office.
@fr0gger79 – had her first experience with jury duty recently.
@AmandaLThomas  – recently married and a huge Buckeye fan.
@OECU (Oklahoma Employees Credit Union) – I know where they eat lunch every day.
@TDECU (Texas Dow Employees Credit Union) – Ashley is on duty!
@GoldenwestCU – great videos showing off their personalities!
@TBA Credit Union – They always ask if I'm having a good week.
Make it a point of your social media day to find these people and organizations – you can thank me later.
You can strategize and carefully plan out your social media marketing strategy all you want. But if you're not genuine to begin with, your social media plan is going to fall flat. Keep social media social!
The opinions expressed and bad grammar in the previous paragraphs do not represent my mother's. She is a lovely lady who doesn't have a mean bone in her body. Happy Mother's Day Mom…love you!!
Michael Ogden is the Media Relations Manager – New Media at CUNA Mutual Group. You can connect with him on Twitter @CUDiscovery or on Google+ at +CUNA Mutual Group. He's a sucker for Kung-Fu movies.
CUNA Mutual Group, based in Madison, Wis., is a leading provider of financial services to credit unions, their members and customers worldwide.  www.cunamutual.com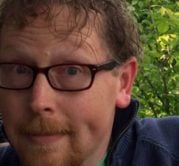 Michael has been in the social media business for more than a decade inside the credit union, technology, financial and food industries. He's the founder of For3, LLC, which ...
Web: www.for3forgood.com
Details