CUES award meaningful to 'future leader' now CEO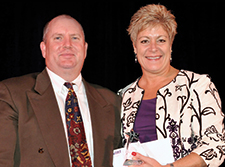 Back in 2009, CUES member Steve Schipull, CCE, was CFO of Generations Federal Credit Union and the recipient of the CUES Future Leader award (now called the CUES Exceptional Leader.) Today, he's president/CEO of the $519 million San Antonio CU. As we started thinking about this year's CUES award nominations (due in June and July), we caught up with Steve to see how the award impacted his career and professional outlook.
Q: What has changed for you career-wise since you won this award in 2009? (With Schipull in the photo is past CUES  Chairman Carla Altepeter, CCE, now president/CEO of $1.3 billion Numerica Credit Union, Spokane Valley, Wash.)

In 2011, I was honored to be selected as "CFO of the Year – Community Service Company" by the San Antonio Business Journal. This award meant a great deal because I was recognized locally for my business leadership and contributions to my company's reputation and success.
In November 2012, I was selected as the new president/CEO at our credit union. I was the only internal candidate in a nationwide search and was truly honored to be chosen to take our credit union to the next level.
continue reading »