Cultivate the CEO/chair partnership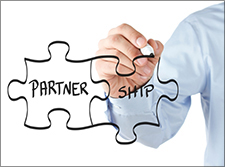 by. Kelly Schmit
The relationship between a credit union CEO and its board chairperson is too important to be left to chance. With proper care and nurturing, this vital partnership can be strengthened to help the organization reach its full potential now and into the future.
Les Wallace, Ph.D., president of Signature Resources, Inc., is a noted consultant in the areas of leadership, governance, management and personal success. He believes, "The #1 responsibility of a board of directors is to help the CEO be as successful as possible." To that end, he recommends improvement in three key areas:
Business communications. Many CEOs and board chairs have friendly or social relationships that extend beyond the credit union, which can blur lines of communication. "CEOs don't like getting informal feedback and suggestions on the golf course or over a drink. They would prefer dealing with business in a business setting," Wallace has observed.  He recommends the book Crucial Conversations as an excellent resource for improving interactions.
CEO formal assessment process. Wallace is surprised at the number of organizations that do not provide formal annual feedback to their CEO. He recommends taking the evaluation process a step further to also provide a half-year assessment. This is a standard at high performing organizations to make sure expectations for the year are being met while there is time to fine-tune their tactics as needed.
continue reading »