CUNA Mascot Madness: See the West winner and vote for the South champ
One more regional champion to crown before the semifinals start Thursday.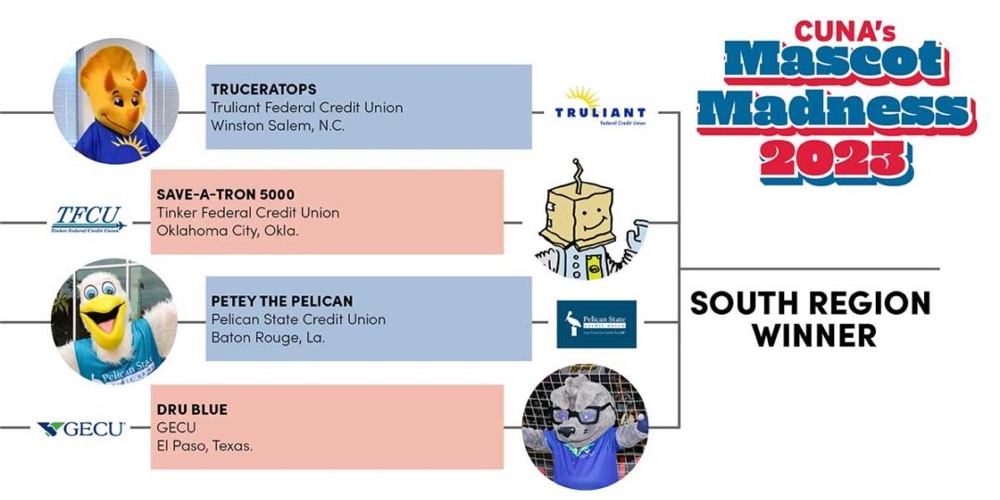 The West Region champion of CUNA's Mascot Madness tournament is …
Share Bear
Share Bear, the mischievous mascot of $8.7 billion asset Idaho Central Credit Union in Pocatello, Idaho, received 541 votes (58.74%) to win a region that also included Rogue Credit Union's Wally the Wolf (38.11%), Golden 1 Credit Union's Goldie (1.74%), and SunWest Credit Union's Pounce (1.41%).
Share Bear advances to take on the South Region champion in the semifinals from March 30 through April 3. The South champion will be decided between now and 12 p.m. Central Standard Time on March 30.
Readers can vote for their favorite of a South Region group that includes Truceratops of $4 billion asset Truliant Federal Credit Union in Winston Salem, N.C., Save-A-Tron 5000 of $6 billion asset Tinker Federal Credit Union in Oklahoma City, Okla., Petey the Pelican of $619 million asset Pelican State Credit Union in Baton Rouge, La., and Dru Blue of $3.9 billion asset GECU in El Paso, Texas.
continue reading »