Onsite: Dave DeFazio talks "Beyond the Big 5" at day 2 of National Director's and CEO Convention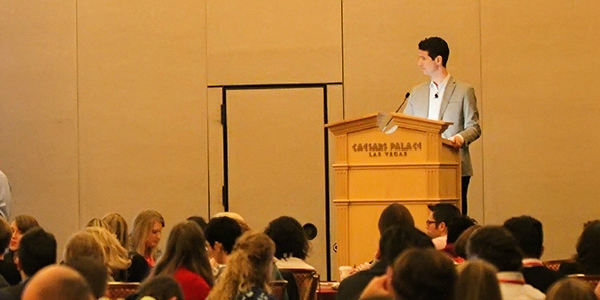 There were so many interesting breakout sessions happening today at NDCLC that it was really hard for me to decided which one to attend. In the end I settled on "Beyond the Big 5 – What's next for Mobile Banking", and I'm so glad I did.
Following some advice from yesterday's speaker, I was excited about presentation that would have me looking through the curve and get me thinking about what the future of mobile banking holds.
One of the things that Dave (who is from StrategyCorps) discussed is that everyone has (or should have) 5 key features for their credit union:
1: Mobile Banking App
2: Mobile Bill Pay
3: Mobile Deposits
4: ATM/Branch Locator
5: P2P Payments
If you look at all the major financial institutions they all offer every one of those 5 features. Why does that matter to your credit union? Well, in the past year 60% of people have switched financial institutions and of those 70% went to one of the major institutions citing accessibility of these features as the reason. In order to get those people back, credit unions have to go one step further. We need to offer 5 + 1.
There are so many options for your +1 depending on what your members need, but my favorite he talked about was this app called BaZing, which pairs a members phone to their banking account, from there it tracks your spending habits and has some cool bonus features. It not only notices where you've spent money in the past but it's location sensitive so it knows where you currently are (great if you travel frequently) and – here's the cool part – if finds you deals based on your interests and location. So let's say BaZing notices I always buy coffee in the mornings, but I'm now in Vegas, I can open up the app and find all the coffee specials around. But it gets even better, in order to engage users the app allows you to hashtag your purchases which you can then use to budget and track spending habits. One of the most entertaining parts of the app was the ability to earn badges for deals; so if you purchase pizza 3 night using a BaZing deal, you can officially be awarded the "Dorm Room" badge!
If your credit union doesn't have the big 5, implement them ASAP, if you do, start looking around the curve. Talk to your members, think about what features would make you think you couldn't live without that app. Engaging your members and simplifying how they bank is the key to deciding what your +1 will be.
Amanda Reed joined NACUSO in December of 2021 as the Marketing and Membership Officer. She has a background in education and served as a middle school English teacher before being ...
Web: nacuso.org
Details