Document backup: Hindsight is a soggy 20-20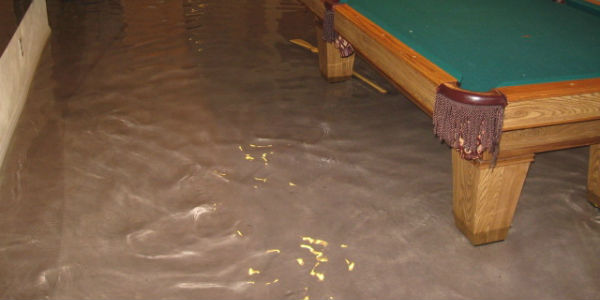 My neighbor's basement recently flooded. Only about 4 inches of water… but it did a number on her belongings. Fortunately, she had sump-pump overflow coverage (something all homeowners should consider), so insurance paid for most of the water damage. But, sadly, my neighbor had lots of personal items and keepsakes stored in cardboard boxes, stacked on the floor. When the water rushed in, they didn't stand a chance. Many of these items were irreplaceable – insurance or not. For instance:
High school and college diplomas – duplicates just aren't the same with current-day designs signed by administrators she never knew.
Daughter's hospital birth certificate – you know, the keepsake with the tiny footprints. You can request a certified copy from the state for official business, but those baby prints are gone forever.
Family photos … lots of family photos – grandparents' 75th anniversary, family weddings, even high school prom. Truly irreplaceable mementos.
Most of us know to regularly back up our work files, but what about personal papers, legal documents and special photos? The fact is, 30 percent of consumers have never backed up their important files. That's a third of your members!
Thinking about my neighbor makes me very glad we launched My Virtual StrongBox® so credit unions can offer their members a secure solution for protecting important documents – documents that could be compromised if stored locally on a computer, phone or tablet or, worse, in a cardboard box like my neighbor learned.
Even the government's Federal Emergency Management Agency (FEMA) provides guidance for protecting valuables and securing financial documentation in case of disasters. The Agency recommends that members identify their valuables and take steps to ensure they are protected in case of fire, floods or other unplanned events. To learn more, visit FEMA Safeguarding Valuables.
DigitalMailer began offering My Virtual StrongBox so consumers would have a secret and secure storage solution for important information. FEMA's guidelines include many of documents we recommend safeguarding:
Medical histories
Insurance information
Car titles
Property records, leases and deeds
Mortgage documents
Tax files
Wills and powers of attorney
Bank statements
Birth certificates and other vital records
Family photos
Personal files
Investment documents
Copies of social security cards
Copies of passports and other ID documents
Copies of credit and debit cards (both sides)
Legal contracts
Whether it's for business or personal needs, it's important to safely store financial documents and other vital papers, and identify a secure place to keep them. As consumers' PFIs, credit unions are uniquely qualified to offer the safe storage solution they will trust. To learn more, contact us at My Virtual StrongBox.
Help your members preserve their files, credentials and significant mementos before a catastrophe. Waiting until after a flood, fire or other disaster is a solution that just doesn't hold water.
Ron Daly is the president and CEO of Virtual StrongBox, a secure, end-to-end member engagement platform that can be integrated into various workflow processes to provide high-risk Enterprise IT firms ...
Web: www.virtualstrongbox.com
Details