Duchess of Cornwall to welcome CUDEs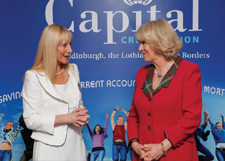 International CU Day meeting at royal residence is good for UK CUs–and the global movement.
by: Lisa Hochgraf
It might surprise you to learn that a June BBC news article reported that just 2 percent of the adult population of the United Kingdom belongs to a credit union, while 46 percent of adults in the United States are credit union members.
"In the UK, credit unions are still relatively unknown, which creates issues around credibility," acknowledges Marlene Shiels, ICUDE, chief executive of $50 million (U.S.) Capital Credit Union Limited, Edinburgh.
But Shiels has good news. Her Royal Highness the Duchess of Cornwall's first visit to a credit union–to Capital CU in 2012–spurred her to learn more about, and do more to support, these institutions.
"The Duchess was so taken with the work we do, particularly for those with fewer financial choices, she decided to get to know credit unions better," Shiels says. Shiel's 25-year-old Capital CU has a community-based membership of 19,000 that covers the East of Scotland (from the Scottish Borders to Angus). "Our main products are savings and loans, mortgages and prepaid debit cards," Shiels says. "We do not offer checking accounts."
continue reading »