Essential functions: How CUSOs are coming together to make a difference
It was December of 1999 and we were assembled in the board room of First Tech Credit Union going over the final plans for dealing with the possibility of a technology Armageddon when the clock struck midnight on 12/31/99 and ushered in the year 2000. Given the automation of modern life, some feared widespread and severe disruption to critical services as the two digit year 99 was replaced by 00. The potential impact was the "melt down" of technology and widespread panic. As it turned out, there was little to no disruption and life went on. But in that meeting we were labeling our "essential functions" that must be maintained, if only manually.  When it comes right down to it we "move money" electronically. And if that electronic system were to fail – we needed to be prepared. Not surprisingly marketing (my department) was not one. We were not essential. Kind of hurt at the time but I get it.  
In the last two weeks we've watched Hurricane Harvey dump a year's worth of rain in the Houston metro area in a matter of days. Flooding, power outages, food and gas shortages continue to plague the area. Yesterday Hurricane Irma made landfall in South Florida and once again we watch as millions of people struggle. And sadly today is the 16th anniversary of 9/11 an event no one was prepared for and forever changed out Nation. People work best in a time of crisis and credit unions really shine.
On Friday CUNA, CO-OP and PSCU collaborated to create a system-wide disaster response for the credit union movement. Special toll-free numbers dedicated to helping credit union members with access and branch information as they may be displaced or their institution unavailable due to Hurricanes Harvey and Irma are now available.  We are an essential function. Members need safe access to their money to get through this ordeal.
In a press release issued Friday by Jim Nussle (CUNA), Todd Clark (CO-OP) and Chuck Fagan (PSCU) said, "CO-OP and PSCU are both CUSOs, but even as competitors, the cooperatives are built and owned by credit unions and truly exist to serve credit unions. The two companies are rallying to support our industry because that's what it means to be a CUSO."
Having a shared branch system already in place is such an opportunity to show our cooperative difference. It's in our DNA to cooperate and recognize that together we are better. On August 3rd of this year CO-OP shared branch network surpassed Chase in number of physical locations.
As the only trade association for CUSOs we couldn't be prouder. There is no greater example of people helping people and living the 6th cooperative principle: cooperation among cooperatives is essential to our success.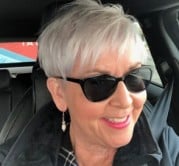 Denise started her credit union career over 30 years ago as a Teller for Pacific NW Federal Credit Union in Portland, Oregon. She moved up and around the org. chart ...
Web: https://www.zest.ai
Details