Five Ways to Shift the Organization's Focus from Today to Tomorrow
by: Denise Gabel, Chief Finance and Strategy Officer, Filene Research Institute
I love the sense of security that comes with living in a cul-de-sac, or a loop as they say in Canada. It's the one place that traffic is not buzzing by and car pool lanes are clearly nonexistent. And that marvelous circle of pavement in the center—that's the hub of the community.
I like the credit union cul-de-sac. But on occasion, I like to venture out and see what's happening outside. I'm not talking about the change in my blood pressure as I try and merge on to the freeway with five lanes of traffic where other drivers don't seem to welcome my entry. I'm talking about stretching my mind.
In my work at the Filene Research Institute, I spend my time as a business strategist and change agent. I'm tasked with looking outside the credit union cul-de-sac every day. Here are five ways you can shift your organization's focus from today to tomorrow.
1.  RECONNAISSANCE:
Send one individual to Finovate to see first-hand how new start-ups are entering financial services. Ask them to return with a full report. See Filene's executive summary and report detailing 100 new products at Now Showing: The Best in New Financial Technology. One trend that I find fascinating…think social media meets the stock market. Stocktwits.com makes it easy to find and track investors who match your style. Some say yikes! But, consumers say, this is great.
2.  FIELD TRIP:
Pile the executive team in the car and head to Innovation Engineering Leadership Institute. You won't find your credit union colleagues here. Something remarkable happens when credit unions interact with small business owners and large corporate executives—everyone learns the value of creating, communicating, and commercializing ideas to grow. We use this methodology for our Filene i3 innovation program.
3.  CHEAT:
Actually, you can't call this cheating because there is no final exam. But you can take a shortcut outside the cul-de-sac by simply exposing yourself to smart people. Again, the executive summary will illuminate opportunities and illustrate implications. Tap Global Trends: Drivers, Values, and Strategic Questions for Credit Unions, by Andy Hines, Lecturer/Executive-in-Residence, University of Houston Futures Studies and Principal, Hinesight.
4.  ADD SUGAR:
When everyone else is cutting back, you can intentionally add sugar to your conversation diet. In other words, sweeten the next meeting agenda with something future focused. Filene always has multiple research topics in progress like The NEW Field of Membership: Social Niches. Ask individuals to bring articles that, on the surface, have nothing to do with credit unions. Trendwatching.com is a great resource.
5.  GET CURIOUS:
Stop, look, and listen to increase your curiosity muscles. Challenge yourself to ask more questions—what, when, who, where, etc. Take what you learn and ask yourself how this might apply to financial services. Being right doesn't matter at this point. It's about training your brain to stay open and increase your capacity to process new types of information.
Cul-de-sacs work. Snow mounds for sledding are made higher and faster by working together. The neighborhood potluck always happens because it feels like a violation of the homeowners' rules if we don't. I even find myself jazzed about the opportunity to drag my outdated treasures to the curb to support the annual garage sale.
But by looking beyond the familiar credit union issues, I'm also investing in my future. If we want our cul-de-sac to continue to have things like natural gas so I can flip a switch on my fireplace, increased internet speed to power my iPad, and sugar free chai tea mix that arrives at my door by the case, we need to look outside constantly and keep up with the rest of the market.
What do you see outside the credit union cul-de-sac?
As Chief Finance and Strategy Officer of the Filene Research Institute, Denise is responsible for identifying trends and opportunities outside the credit union system. Through her high-energy style and a natural ability to coax people and ideas forward, she brings new business models, people, and opportunities together.
Denise's career is littered with both left and right brain assignments. Prior to joining Filene, Denise served as a Vice President—Strategic Direction for Spokane Teachers Credit Union. In her first assignment at Filene, she served as the Chief Innovation Officer where she led the prestigious i3 group. She is a summa cum laude graduate of Eastern Washington University, and a member of the Berkeley Innovation Forum at the University of California Berkeley, Haas School of business. Denise also graduated from Harvard Business School's Women's Leadership Forum.
When she's speaking and traveling, she's mentoring and connecting, constantly looking at trends and exploring new strategies to help leaders get off the cul-de-sac to see what's going on out on the autobahn. She challenges the notion of life balance—arguing that one can have it all. A big part of her all is her husband Dennis who is her biggest champion.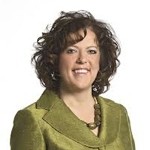 As Chief Finance and Strategy Officer of the Filene Research Institute, Denise is responsible for identifying trends and opportunities outside the credit union system. Through her high-energy style and a ...
Web: www.filene.org
Details