Grit alone won't cut it: The people who walk with us
I was raised by very kind, extraordinarily gritty, and determined Midwesterners. They expected me to give my best and do the hard things first before enjoying a bit of fun. My mom taught high school English for 30 years, and my dad was a CPA. I remember sitting in my mom's classroom when I was young. She graded papers and prepared lesson plans well beyond the school bell ringing. I remember observing my dad's dedication to his clients at all times of the year, with a strong push for the months of tax season. They modeled hard work and dedication.
Throughout my career, I followed their guidance, and I worked hard. I came in early, and I stayed late. I picked up duties that others might not desire. I invested in learning. Grit mattered. And grit alone was not enough.
As a curious and social human, I relished time with mentors who were open to sharing their ideas, perspectives and guidance with me. Those mentorships developed over time with investment, commitment, and strong relationships. I've reflected on those mentors and the power of their gifts on my life and career. There are far too many incredible people to name them all here, for which I am grateful. I've identified five personas worth considering as you shape your tribe:
Someone who sees your potential before you do. The first CEO I worked for, John Normandeau who was with BestSource Credit Union, saw my capabilities and encouraged me to lean into them. He saw that my strengths complemented his and invited me to bring who I was to the team. When he had a VP of Sales & Service role open, he called me to suggest I apply for the role. I immediately told him, "No, I'm not a salesperson." Thank goodness John saw enough in me to call back a bit later to ask, "Tansley, are you sure you don't want to talk about this?" I listened, applied and was able to take on the role, which had a huge impact on the rest of my career.
Someone who values your voice. When I arrived at Canvas Credit Union four years ago, I was very excited about our work to rebrand from Public Service Credit Union to Canvas. I had lots of ideas. Some of them were wild, and as I initially shared them with my new boss, Todd Marksberry, I was nervous about his response. As I navigated our early relationship with a nod to his authority, I would ask his opinion, and the refrain I heard over and over was, "What do you think, Tansley?" When I would share my thoughts, he would typically say, "Awesome. I agree. Let's go." I gained confidence quickly. He wanted to hear my ideas. He trusted me to run with them. That didn't mean that we always agreed. I remember with one campaign that I was super excited about, hearing his questions and knowing he might not have gone in that direction. However, he didn't tell me to yank the campaign, and he talked to me to seek to understand our focus. Having someone in a leadership role believing in my voice and ideas while still being willing to share alternative views helped me grow and become a more decisive leader.
Someone who tells you the truth. One of my long-time mentors, Michael Neill of ServiStar Consulting, has walked with me through almost my entire career. He's a wonderful friend, and we enjoy laughing together and dreaming about what's possible for credit unions. He always tells me like it is. Years ago, one of my goals was to become a better speaker. He had events throughout the year, so I asked if he would allow me to speak at his event. He agreed. I prepared. I worked hard to be ready. When I finished, he said, "Tansley, that wasn't great. You can do better." My heart sank. As a perfectionist this feedback hit me hard. I asked him to share a bit more about what I could do better, and he told me that I needed to pick topics for which I felt passion. That's a lesson that stuck with me. Beyond that, I took every speaking engagement I could. I practiced at home. I had coaches support my growth. A few years later, Mike and I had the chance to present together, and it was one of my proudest career moments when I saw his stunned face. During a break, he said to me, "Tansley, you aren't even the same person. What happened?" I told him, "I heard you. I knew I had to improve." The hard truth matters. You can only hear that hard truth from people who care deeply and have built the trust to share candidly in a way that helps you grow.
Someone that includes you. I've dreamt of becoming a CEO for years. During that time, I've wanted to talk to and connect with those that have earned that seat so that I could learn from them and carry that learning forward. While many were willing to speak with me, there was sometimes a limitation on my involvement as I had not made it to that seat. My friend April Clobes, President & CEO of Michigan State University Federal Credit Union, never made that distinction. She encouraged our friendship to grow. She didn't care what my title was. She asked me questions about my work and wanted to learn with me. Her acceptance of me as a colleague and peer, regardless of my role, was a powerful statement about worth, irrespective of the words behind my name.
Someone who listens. Mollie Bell with ENT Credit Union has been a colleague, confidant and friend for years. I'm a low-trust person, and it can be hard to open up to others and share my vulnerability. Mollie encouraged me not just to share my most bright and shiny moments but to share the darker zigs and zags. As I did, she kept my trust, and I was able to grow through our conversations. She asks me good questions. She shares her perspectives, and more than anything, she inspires me to know that I can trust my instincts, and no matter the outcome, I know that she'll be right there.
Many books or theories share guidance on what it takes to succeed as a leader. There isn't any one answer. As I brewed my leadership formula, my parents taught me grit; I learned other ingredients from my tribe. These critical people helped shape me into an even better human being and hopefully impacted my ability to create possibilities for the people I have the chance to lead. As you build your tribe, consider what you need so that you feel the cushion necessary to grow and thrive.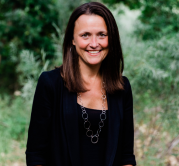 Tansley is a dynamic force of nature, fiercely crusading on behalf of all credit unions while tirelessly driving forward the brand image and family spirit of Canvas. She joined us ...
Web: https://www.canvas.org
Details