Hard to shake consumers' addiction to branch banking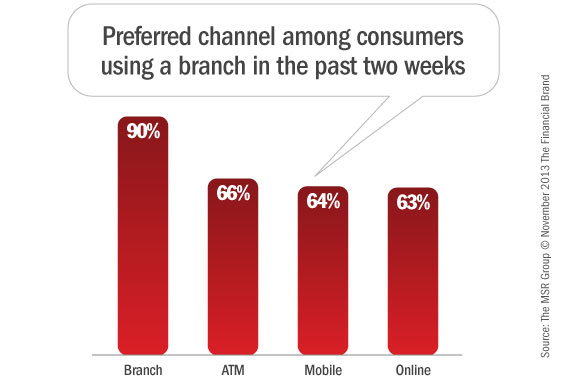 A national study reveals what consumers think about branches today, and why the brick-and-mortar channel still has relevance.
by. Julian Vermaas
There's been a great deal of debate about the future of branch banking as declining transactions and increased adoption of electronic channels have left many brick and mortar locations on the chopping block. If branches went away, what kind of impact would this have on the typical banking consumer? More than you might think.
According to The MSR Group's National Banking Study, consumers not only like the idea of branches, they continue to use them. In this online survey of over 1,300 banking consumers across the nation, 70% of respondents say they have used a branch to conduct their personal banking business within the past two weeks.
A Matter of Convenience
Only 25% of consumers overall identify the branch as their preferred channel. However, even those who say they would rather do business through automated services (online, mobile or ATM) are using branches on a regular basis. Over 60% of those who prefer using other channels have actually conducted business at a branch in the past two weeks.
continue reading »