Helping members to "retire on track"
For some people, the thought of retirement is a far out concept of an event that will happen "someday." Oftentimes, people put off saving for retirement because, let's face it, there are many bills that have to be paid today and take priority over saving for tomorrow. It may be easy to live in the now instead of preparing for your financial future, which poses a challenge for credit union organizations.
There is ample evidence to support this. For example, according to the Economic Well-Being of U.S. Households Report released in 2015, 17% of Americans have given no thought to financial planning for retirement. In the same report, of those who have a household income of $100,000 or more, 40% indicated that they had no 401K. Scary, right?
A May 2015 report from the Government Accountability Office (GAO) found that about half of households age 55 or older have no retirement savings. This same report also stated that only about a quarter of American's between the ages of 55-64 can expect an adequate cash income to live on from their retirement savings.
So what does this retirement picture look like? It looks like work needs to be done to help American's learn to better financially plan for retirement – to shift focus from living in the now to planning for the future. Here's where credit unions – and the National Credit Union Foundation – come in.
Credit union organizations pride themselves in their financial education and training, demonstrating that we put the members first in all that we do. In a recent blog post, we highlighted some of the ways that we, as your Foundation, are here to help you help your members; especially when it comes to retirement planning.
The Foundation has developed a "Retire on Track" Retirement Fair Program, an interactive experience to help members develop better strategies for saving for retirement. It's built on the successful interactive Reality Fair model for teaching teens about budgeting and managing money as an adult. This new program is designed to help members at all stages of their life, no matter what their current retirement savings situation may be. The fair encourages participants to think about the lifestyle they wish to maintain in retirement, and develop savings goals to help them where they want to be.
To get a better understanding of a Retirement Fair, you can watch this short video that walks you through what a fair looks like. You can hear directly from participants how powerful it is to put yourself in your "future-self's" shoes, and learn what it might cost to live in retirement.
This program, "Retire on Track," can be purchased from the Foundation, providing you with materials necessary to hold your own fair. The Retire on Track guide and materials contains electronic files to hold a fair, including a comprehensive guide, PowerPoint presentations, handouts, posters, webinars, and more. This is beneficial to not only your members, but to staff who may need help with retirement planning.
It's important to find ways to connect with your members and staff, and work towards helping them better prepare for their financial future. The more you can help your members to think forward and about their future, the better prepared they will be when the future becomes the now.
It's never too late to start saving for retirement and there's always time to get on track.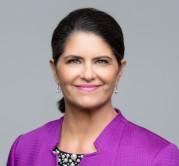 Gigi Hyland serves as the Executive Director for the National Credit Union Foundation (NCUF), the philanthropic and social responsibility leader of America's credit union movement. Prior to her work with ...
Web: www.ncuf.coop
Details