The holidays are here! Prepare yourself … and your wallet
Thanksgiving has come and gone. Here comes Christmas. Take a deep breath and come up with a quick game plan in advance. The later you wait to purchase your Christmas gifts the more you will spend. As you race to get all your presents purchased, devoting time to making smart shopping decisions will go out the window. Below are three gift-giving ideas to put on your radar before things get too hectic.
Secret Santa: If you have a large group of friends or a big family, this gift-giving idea is a great alternative. Have everyone draw one name, set a spending limit, and then each person will be responsible for buying just one gift. You'll be amazed at how much you'll save.
Kids-only: The older you get, the more young children there will be in your family. Instead of buying gifts for couples and their kids, instead opt to only get presents for the children. For example if you have a brother, sister-in-law, and a young niece or nephew, get the child a nice gift and refrain from buying something for the adults. After all, no one treasures Christmastime like children.
Pinterest-made presents: It's true that a handmade gift may take a little longer to get together, but imagine how much you can save by creating something yourself. Get ahead of the game and start now by looking up ideas and creating inspiration boards on Pinterest. Remember Christmas is a special time for family and friends; there's no better way to show someone what they mean to you than by creating something personalized just for them.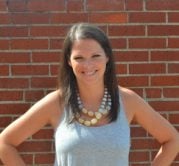 Wendy Moody is a Senior Editor with CUInsight.com. Wendy works with the editorial team to help edit the content including current news, press releases, jobs and events. She keeps ...
Web: www.cuinsight.com
Details