How to turn the tables on elder financial exploits – a pattern based approach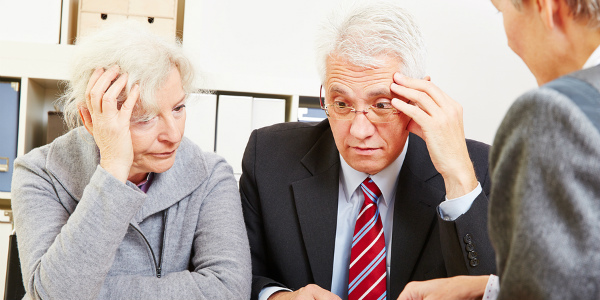 Every family has or had multi-generational relatives. Safeguarding family and financial assets is paramount to one's sense of security and well being. This article highlights patterns of abuse, the perpetrators and what to do when the unexpected happens.
Did you know:
According to National Adult Protective Services Associaton Association (http://www.napsa-now.org/policy-advocacy/world-elder-abuse-awareness-day/)
One in nine seniors reported being abused, neglected or exploited in the past twelve months
The rate of financial exploitation is extremely high, with 1 in 20 older adults indicating some form of perceived financial mistreatment occurring in the recent past
Elder abuse is vastly under-reported; only one in 44 cases of financial abuse is ever reported
Abused seniors are three times more likely to die and elder abuse victims are four times more likely to go into a nursing home
90% of abusers are family members or trusted others
Almost one in ten financial abuse victims will turn to Medicaid as a direct result of their own monies being stolen from them
Let's start with an example:
One family's tragic story
Katsu and Charles Bradley of Tacoma, Wash., owned their home and had set aside a nice nest egg for their retirement years. When they could no longer care for themselves because of advanced forms of dementia, the family hired Norma Cheesman to be a live-in caregiver.
The Bradleys' daughter, Caroline Moye of Seattle, tells me Cheesman "took everything" her parents had worked and saved for their entire lives.
"She thought she had found the goose that laid the golden egg," Moye said. "And in a matter of 10 months she made my parents homeless and penniless."
The prosecutor in King County, Wash., has charged Cheesman with various felonies, including theft and forgery. Court papers say within months of moving in, Cheesman convinced 86-year old Charles Bradley to give her power of attorney, name her as beneficiary of his estate and disinherit his wife.
Cheesman is also accused of facilitating a reverse mortgage on the Bradleys' house (which the couple owned free and clear) as a way to fill their bank account with a large sum of money which she could then steal. The prosecutor claims Cheesman literally guided Katsu Bradley's hand to sign her name on the loan documents because she was too infirm at the time to sign her name herself.
Court papers say Cheesman then had Mr. Bradley withdraw huge amounts of cash from the couple's savings and persuaded him to buy the home she was living in.
In all, the Bradleys' estimated cash losses are put at more than $300,000. And the home they lived in for 45 years went into foreclosure. Charles and Katsu Bradley died within a month of each other in 2008 with just $374 in the bank.
Why the Elderly:
Persons over the age of 50 control over 70% of the nation's wealth
Many seniors do not realize the value of their assets (particularly homes that have appreciated markedly)
The elderly are likely to have disabilities that make them dependent on others for help. These "helpers" may have access to homes and assets, and may exercise significant influence over the older person
They may have predictable patterns (e.g. because older people are likely to receive monthly checks, abusers can predict when an older people will have money on hand or need to go to the bank)
Severely impaired individuals are also less likely to take action against their abusers as a result of illness or embarrassment
Abusers may assume that frail victims will not survive long enough to follow through on legal interventions, or that they will not make convincing witnesses
Some older people are unsophisticated about financial matters
Advances in technology have made managing finances more complicated
Financial elder abuse is a serious problem, a study done by MetLife Mature Market Institute in 2009 estimated the financial loss form elder abuse to be approximately $2.6 billion a year. The financial services industry has become sensitized to elderly financial exploitation and has been steadily identifying key indicators, risk indicators and actual fraudulent activities aimed at senior citizens. Additionally, this work has expanded into government regulatory areas to help institutions identify behaviors and events that indicate elevated risk of financial exploitation schemes.
FINcen, the Financial Crimes Enforcement Network, US Department of Treasury published expanded indicators for financial services institutions in 2011 including the following "red flags" related to:
"Erratic or unusual banking transactions, or changes in banking patterns:
Frequent large withdrawals, including daily maximum currency withdrawals from an ATM;
Sudden Non-Sufficient Fund activity;
Uncharacteristic nonpayment for services, which may indicate a loss of funds or access to funds;
Debit transactions that are inconsistent for the elder;
Uncharacteristic attempts to wire large sums of money
Closing of CDs or accounts without regard to penalties."
This is just a small sample of risk and event indicators institutions must include in their continuous monitoring and alerting processes. Reputational risk and exposure continues to increase for these institutions since news of identify theft, credit card and related breaches are instantly reported and garner ongoing press and public attention.
So, how can we turn the tables on criminals attempting to defraud our senior citizens' assets and independence?
First, realize the ways criminal target aging financial services clients.   For each of the "erratic or unusual banking transaction patterns" listed by FINCEN, there is fraudulent or misleading behavior that targets elders and carefully draws them into these patterns.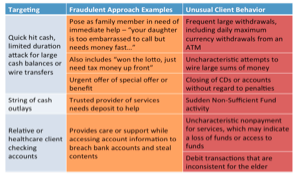 Second, we need to understand the kinds of pressure, misdirection, fear and deception employed by those seeking to defraud elders.
Perpetrators:
Family members, including sons, daughters, grandchildren, or spouses. They may:
Have substance abuse, gambling, or financial problems
Stand to inherit and feel justified in taking what they believe is "almost" or "rightfully" theirs
Fear that their older family member will get sick and use up their savings, depriving the abuser of an inheritance
Have had a negative relationship with the older person and feel a sense of "entitlement"
Have negative feelings toward siblings or other family members whom they want to prevent from acquiring or inheriting the older person's assets
Predatory individuals who seek out vulnerable seniors with the intent of exploiting them. They may:
Profess to love the older person ("sweetheart scams")
Seek employment as personal care attendants, counselors, etc. to gain access
Identify vulnerable persons by driving through neighborhoods (to find persons who are alone and isolated) or contact recently widowed persons they find through newspaper death announcements
Move from community to community to avoid being apprehended (transient criminals)
Unscrupulous professionals or businesspersons, or persons posing as such. They may:
Overcharge for services or products
Use deceptive or unfair business practices
Use their positions of trust or respect to gain compliance
What to look for:
Indicators are signs or clues that abuse has occurred. Some of the indicators listed below can be explained by other causes or factors and no single indicator can be taken as conclusive proof. Rather, one should look for patterns or clusters of indicators that suggest a problem.
Unpaid bills, eviction notices, or notices to discontinue utilities
Withdrawals from bank accounts or transfers between accounts that the older person cannot explain
Bank statements and canceled checks no longer come to the elder's home
New "best friends"
Legal documents, such as powers of attorney, which the older person didn't understand at the time he or she signed them
Unusual activity in the older person's bank accounts including large, unexplained withdrawals, frequent transfers between accounts, or ATM withdrawals
The care of the elder is not commensurate with the size of his/her estate
A caregiver expresses excessive interest in the amount of money being spent on the older person
Belongings or property are missing
Suspicious signatures on checks or other documents
Absence of documentation about financial arrangements
Implausible explanations given about the elderly person's finances by the elder or the caregiver
The elder is unaware of or does not understand financial arrangements that have been made for him or her
When the unexpected happens, get involved. We need to treat our elders better, if you suspect abuse of an elderly person, you can contact Adult Protective Services, local law enforcement, or the senior's financial institution.  It is best to get help for financial abuse as soon as possible.
Contributing Author: Cecily Dennis
Cecily Dennis, certified PMP, is a Senior Analyst and Program Manager at K2-Solutions. She has focused on a variety of large scale enterprise initiatives in both in the commercial and federal sector spanning human capital and data management programs.   Recently, she has focused on CRM development and analytics, financial crimes prevention programs and E-Learning Product development and deployment. She holds degrees in Sociology and has participated in Darton's Executive Leadership Program.  She can be reached at cdennis@k2-solutions.com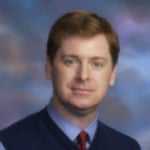 Dan provides enterprise data management and governance consulting based on over twenty-five years of experience with clients in financial, retail, manufacturing, government and other markets. He serves as the President ...
Web: www.k2-solutions.com
Details