Is your culture thriving or surviving?
How digital workplace technology supports hybrid teams by fostering stronger connection, communication, and collaboration.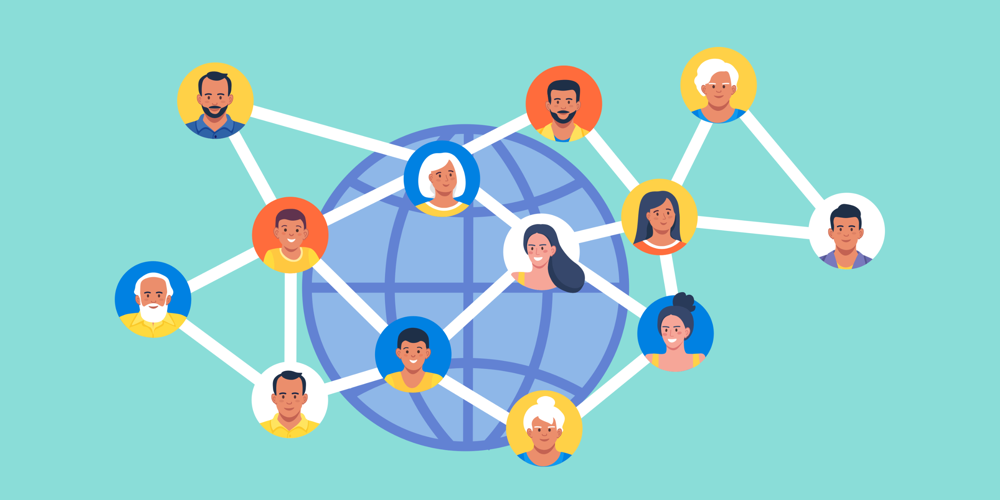 If CEO and credit union leaders don't have enough on their minds already, many have been asking us: how can we cultivate employee culture with a distributed workforce? More specifically, how can we meaningfully connect, collaborate, and communicate in a hybrid environment?
Recognizing the importance of modern employee technology is a key first step to answer these questions. Gartner 2022 Predictions says, "digital workplace applications play a crucial role in enabling digital dexterity and shaping employee experience."
But what exactly is a digital workplace, and how is it different from the traditional corporate intranet and wiki pages of yesteryear? Digital workplaces are designed to go beyond the sender-to-recipient experience by inviting employees to connect, collaborate and communicate more effectively. It's the intranet 2.0 – serving up department information, policy and procedure documents, and news stories, while also delivering:
A personalized experience, with bite-sized content at the right moment.
Smarter search and knowledge-sharing capabilities; streamlining content across core systems to better serve members.
Crowd-sourced innovation, peer-to-peer recognition, and advanced discussion board capabilities.
Solutions for the workforce when, where, and how they need them – a secure, mobile first, omni-channel experience.
An improved sense of belonging and connection to the mission; a focus on two-way engagement.
Opportunities to connect at work, strengthening employee productivity and ensuring a diverse range of voices are being shared.
Many credit unions are embarking on an intranet modernization to transform the way they work together – whether onsite, remote or hybrid. Here's how digital workplace technology can support your culture and employee engagement:
Connection
What if your digital employee experience was a catalyst for connection? Digital workplace platforms that integrate with existing tools can digitally reimagine company culture — creating connections, surfacing knowledge and insights, capturing feedback, and nudges to act — all in employees' natural flow of work.
We recently partnered with TDECU (Houston, TX, $4.7 billion in assets) to launch "The Vault" – a digital workplace solution named by employees. Building a greater sense of connection for their distributed workforce was a top priority. We accomplished this by:
Redesigning how employees interact with key business information like the strategic plan, key results, and core values.
Strengthening employee connection and trust by showcasing real-time, peer-to-peer recognition.
Encouraging and acting on employee feedback for continued system enhancements.
Communication
It will come as no surprise that digital workplace platforms play a vital role in communicating culture across the organization, increasing access to learning, and supporting employee well-being.
The Vault not only serves as a hub for communication, but a catalyst in evolving how information is shared across the credit union. TDECU has moved from an always-on to on-demand model where employees can decide how and when they want to be notified when new content is shared or updated. As a result, TDECU has successfully reduced employee communication emails by more than 50%.
Collaboration
While technology like SharePoint teamsites and Teams are fine, there are many advancements that allow for greater collaboration. For example, conversations around new projects and initiatives can come to life with dedicated social channels and discussion forums, maximizing employees' collective insights and knowledge.
At TDECU, The Vault seamlessly integrates systems and applications, giving employees a single pane of glass to take productivity to the next level. This means less time wasted in ancillary systems and more time spent on meaningful work; serving members, collaborating on projects, etc.
The biggest win? Data!
As recent events have shown us, change is inevitable, and agility and flexibility are key. We should continue to listen to what employees want and need — what's working and what isn't — and adjust accordingly.
TDECU uses built-in analytics to translate data into actionable insights, allowing for:
Continuous improvement of the member and employee experience by reducing time to find information.
Delivery of accurate and timely information.
Real-time tracking of engagement trends.
Act
We believe we can build a workplace culture that's better than before. While the 'space' in which work gets done has radically shifted, we are still humans, craving connection, communication, and collaboration. By following the data, listening to our employees and members, and incorporating flexibility into everything we do, credit unions will become the organizations and the people that thrive in an ever-disruptive world.
As Co-Owner & Partner at Cultivate, Molly is dedicated to helping credit union leaders drive measurable results through innovate people strategies. Leveraging her diverse background in corporate communications, public relations ...
Web: https://www.cultivateresults.com
Details