Keys to success: A conservatorship success story
Conservatorship doesn't always mark the end of a credit union. Sometimes it marks the beginning of a new journey toward success.
This is the success story of Keys Federal Credit Union in Key West, Fla., which recently, against all odds, was returned to its members after the longest conservatorship in NCUA history.
When placed into conservatorship, Keys was all but dead in the water. The story of how this unstable credit union reversed course and is now thriving is one of collaboration and determination.
Setting Sail
Keys Federal Credit Union is the oldest financial institution in the island chain known as the Florida Keys. It was chartered in 1940 to serve Key West Naval Air Station employees.
The field of membership expanded in 1994 to a community charter serving all islands in the chain. It ultimately reached more than 10,000 members and $120 million in assets.
The Perfect Storm
However, the credit union was knocked far off course by the financial crisis that began in 2008. The crisis depressed tourism throughout the Florida Keys, causing massive job losses and a 50 percent drop in real estate values.
Complicating these unfortunate circumstances, Keys was weighed down by heavy concentration risk. Real estate loans accounted for more than 67 percent of the portfolio and almost 900 percent of net worth.
By September 2009, the delinquency ratio loomed above 5 percent; the net charge-off ratio was closing in on 1 percent; and operating losses swelled to $5 million.
Keys had already undergone a change in management, and the Chairman was attempting to merge with another Florida credit union. When that merger fell through, directors of Keys consented to a voluntary conservatorship.
On Sept. 24, 2009—one month after I was sworn in as NCUA Board Chairman—the NCUA Board voted unanimously to conserve Keys in order to protect the National Credit Union Share Insurance Fund.
Navigating Stormy Seas
During the first year of conservatorship, loan losses continued to rise and the net worth ratio plunged to 2.4 percent by September 2010.
Given its declining trajectory, Keys was on course to cost the Share Insurance Fund as much as $20 million. But NCUA's Conservatorship Board had a different vision: to turn Keys around and prevent those losses.
In early 2011, the Conservatorship Board made tough decisions to close two branches, reduce staff, renegotiate contracts, and temporarily suspend the real estate and member business lending programs that had caused deep losses. To boost consumer lending, the main office was relocated to a more visible retail location.
In May 2011, the Conservatorship Board hired Scott Duszynski as President/CEO. Scott had worked at Keys for 15 years in operations, accounting, strategic planning, and information technology. In addition to his strong credentials, he maintained a strong presence in the local community and positive working relationships with staff and members.
At the direction of the Conservatorship Board, Scott immediately implemented significant operational changes. He also began working to strengthen Keys' relationship with the Navy community and reestablish the credit union's presence in the field of membership. 
Righting the Ship
Improvement was slow. It wasn't until the end of 2012 that the local economy showed signs of recovery. Delinquency and loan losses were finally receding, and the credit union started to turn around.
At the beginning of 2014, when Myra Toeppe became the new NCUA Region III Director and the Agent for the Conservator of Keys, the Conservatorship Board realized additional, fundamental changes were needed if the credit union was ever to be returned to the membership.
This required a revised Net Worth Restoration Plan and development of a realistic, viable business model. Operations were further streamlined; fees were raised to reasonable levels, and loans were shifted from real estate to autos and credit cards.
With these changes, earnings improved substantially. Incredibly, return on assets in 2014 topped 1 percent, and in the first half of 2015 approached 1.4 percent. Even more remarkably, Keys outperformed its Net Worth Restoration Plan for four consecutive quarters, and by September 2015 had a net worth ratio approaching 6 percent.
Charting the Future Course
Before returning the credit union to its members, the Conservatorship Board established an Advisory Board of seven qualified and motivated volunteers who would form the credit union's board of directors and supervisory committee. The seven volunteers were long-time credit union members with varied backgrounds and strong ties to the community.
These enthusiastic volunteers participated in numerous educational courses and attended monthly meetings with the Conservatorship Board and NCUA staff to gain an understanding of the duties and responsibilities required of credit union board members. After two years working with the Advisory Board, the Conservatorship Board determined that these seven dedicated individuals were ready and able to guide Keys into the future.
Celebrating Success
Although a long time in coming, Keys Federal Credit Union is a conservatorship success story. As counterintuitive as it may seem, this conservatorship ultimately saved the credit union from failure and saved the Share Insurance Fund from millions of dollars in losses. In doing so, it provided members with continued access to the affordable financial services they have come to expect for 75 years.
This remarkable recovery was made possible through the collaborative efforts of Keys' management and staff, the Advisory Board, NCUA staff, and the loyal members who stuck with their credit union through turbulent times.
Through sheer determination and commitment by the management and Conservatorship Board, willingness to reshape the business model and make very tough decisions required to stabilize and revitalize the credit union, Keys will remain open to many generations of local residents—hopefully for at least another 75 years.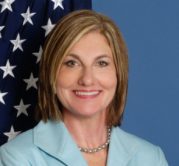 Debbie Matz was nominated by President Barack Obama to serve as the eighth board chair of the National Credit Union Administration (NCUA). After confirmation by the U.S. Senate on ...
Web: www.ncua.gov
Details