Leaving NCUA with confidence in credit unions' future
Announcing my retirement as NCUA Chairman was not a decision I took lightly. It was the culmination of a great deal of thought and soul-searching. But after serving 11 years at NCUA, including a full year beyond the expiration of my second term, it is time for the next chapter in my life.
For every day of those 11 years, it has truly been an honor to protect the safety and soundness of America's credit unions and safeguard the deposits of 103 million members.
It's amazing to reflect on everything that credit unions and NCUA accomplished to ensure stability and promote growth. Through the hard work of credit union officials and NCUA staff, the credit union system rebounded mightily from the depths of the Great Recession. Virtually every metric indicates the credit union system today is strong, resilient, and poised for even greater success in the future.
Putting the Past Behind Us
However, when I was sworn in as Chairman in 2009, the credit union system was on the brink of collapse. Survival of the system was threatened by corporate credit unions holding $50 billion in toxic assets and consumer credit unions facing billions of dollars in potential losses. Such catastrophic losses would have wiped out the National Credit Union Share Insurance Fund, which at the time had only $8 billion in assets.
At NCUA we worked around the clock to stabilize the system, save as many credit unions as we could, minimize total losses, and rebuild the Insurance Fund. We focused on shoring up gaps in supervision and regulations that threatened safety and soundness. NCUA's new safeguards stopped the hemorrhaging and prevented the system from failing.
At the same time, we resolved the most severe liquidity shortfall in credit union history. Using an innovative approach never before implemented by a federal regulatory agency, NCUA successfully repackaged the seized corporate assets to raise more than $28 billion through marketplace sales of government-backed securities.
Earning Recoveries
I am extraordinarily proud that NCUA became the first federal financial institutions regulator to recover losses from Wall Street firms that contributed to the Great Recession. To date, we've recovered over $3 billion in settlements with firms that sold faulty mortgage-backed securities to corporate credit unions.
Net proceeds from these recoveries reduced the need for assessments paid by consumer credit unions, and increased the likelihood of a rebate after the Corporate Stabilization Fund expires in 2021. With 11 lawsuits still pending, I'm confident NCUA will collect even more recoveries on behalf of credit unions.
Providing Regulatory Relief
After stabilizing the system and initiating recoveries, we were able to shift our focus to regulatory relief. My Regulatory Modernization Initiative yielded 21 areas of innovative regulatory relief, consistent with President Obama's Executive Order 13579.
These relief measures removed unnecessary burdens and empowered credit union boards and management to make strategic business decisions.
Listening to Credit Union Officials
In fact, many of these initiatives came from credit union officials. One of the best parts of my job has been traveling the country to visit with credit union staff and volunteers, to hear suggestions and address concerns wherever possible.
As part of my outreach, I held 19 in-person Listening Sessions, hosted 13 industry-wide webinars, and participated in meetings with tens of thousands of credit union officials representing every state. Credit unions' commitment to member service is the gold standard for our nation.
Serving Americans
Serving the American people is a tremendous honor. So I am deeply grateful to President Obama for providing me with the opportunity to serve our nation. As I recently told the President, this has been the most challenging and gratifying position I have ever held.
I chose a career in public service to make a difference in people's lives. My two terms at NCUA have permitted me to do that in many ways. It has been a privilege working with the best staff in the federal government and the most dedicated professionals and volunteers in the financial services sector.
Working together, we accomplished every goal I had set as Chairman—from helping the credit union system recover after the Great Recession, to modernizing the regulatory framework, to providing meaningful regulatory relief without compromising safety and soundness.
I am more convinced than ever that the state of America's credit union system is strong. I am leaving NCUA confident that the credit union system is firmly positioned for continued growth, innovation, and success for the foreseeable future.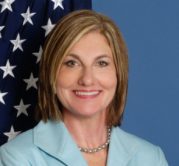 Debbie Matz was nominated by President Barack Obama to serve as the eighth board chair of the National Credit Union Administration (NCUA). After confirmation by the U.S. Senate on ...
Web: www.ncua.gov
Details