Let's hope the NCUA Board can avoid the wrong road
Recent actions by the Congress of the United States in proposing legislation aimed at providing regulatory relief for credit unions sends a clear and distinct message to the NCUA Board. Address the issues that that you should or we will do it for you.
By putting off discussing and acting on issues like supplemental capital, revised exam scheduling, transparent budget hearings and significant member business lending revisions, the NCUA Board is risking losing their authority as a regulator and insurer to be the decision making body on credit union matters. Failing to address controversial subjects where positions need to be taken and hard decisions made has resulted in the trade associations pursuing their agendas directly with Congress. Not to say that certain issues do not require legislative action, but we have reached a point where Congress is being asked to address and rectify issues that are in the discretion of the NCUA Board.
Credit unions need to understand that the last thing they want is to deal with the 535 members of Congress on day to day issues that impact their operations. Opening the door to the belief that they have to go to Capitol Hill every time credit unions feel the NCUA Board is dragging their feet is creating a path that neither credit unions or the Board should want to go down.
The NCUA Board by statute is the place to address the issues they are empowered to deal with. That is where credit unions and their trade associations must make the effort to accomplish regulatory changes the Board can readily handle. Dealing with three people, and now two, should be a lot easier than trying to convince 535 individuals.
The federal government moves very slow and accomplishes a lot less that they should. In some areas, NCUA is right in line with that dreaded philosophy. There is no reason why credit unions should have to wait months or even years for the Board to openly discuss areas of concern and one way or the other make a decision on a course of action. A prime example is the question of whether or not to allow a cycle of 18 months for examination of well-run credit unions. It is an issue that should be addressed now and resolved now not later.
When someone fails to do their job someone else usually step up and in to fill the void and do what needs to be done. The NCUA Board cannot allow that pattern to continue and impact their operations.
I don't know anyone who really wants the Congress to take over the decision making for credit union regulation. That is a slippery slope to go down. Let's hope the NCUA Board can avoid that direction.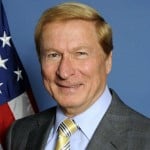 Michael Fryzel is the former Chairman of the National Credit Union Administration and is now a financial services consultant and government affairs attorney in Chicago. He can be reached at ...
Details