Mark Zuckerberg Saves the Credit Union Movement
by: Andy Janning, President, NO NET Solutions
Buried in the Icarus-like plunge in Facebook's stock lies the future of the credit union movement… described by none other than Facebook CEO Mark Zuckerberg himself.
Author Henry Blodget provides a magnificent annotation and commentary on Facebook CEO Mark Zuckerberg's original letter to shareholders. In the first two sentences Zuckerberg asserts, in no uncertain terms, that Facebook's reason for existence will always be more important than stock price:
"Facebook was not originally created to be a company. It was built to accomplish a social mission – to make the world more open and connected."
That's hard to read for the investors who've watched their Facebook portfolio shrivel to barely half of its opening day value. Keep reading the letter, though, and you'll find the root of Zuckerberg's conviction:
"Simply put: we don't build services to make money; we make money to build better services. And we think this is a good way to build something. These days I think more and more people want to use services from companies that believe in something beyond simply maximizing profits.
By focusing on our mission and building great services, we believe we will create the most value for our shareholders and partners over the long term — and this in turn will enable us to keep attracting the best people and building more great services."
There has been a good deal of discussion online recently about the future of credit unions. They will be half as many, but will be collectively twice as large, by the time Justin Bieber will need Just For Men. We should keep "credit union" in our names. Or not.  And we're a movement. Or not.
Zuckerberg's letter has given me some perspective on these and other important CU issues:
What are credit unions making? What are credit unions building? Zuckerberg's "simply put" position on his life's work hangs securely on his answers to these two questions. To him, the money he makes helps him fulfill his mission – not the other way around.
This is more than clever verbal gymnastics for investors. Zuckerberg really believes it. And every time you like, share, comment, or simply read something on Facebook, you prove him right.
This has profound implications for a movement cut from that same cloth and created "to help people, not to make a profit." We must reconsider the logic of churning out products, services, and innovations that have CU profit as the primary goal.  The breadth and depth of Facebook's mission-first focus supports the wisdom of holding every CU action and offering accountable first to the reason any of them were created in the first place.
We must keep hacking: The latter third of the letter is Zuckerberg's defense of "The Hacker Way":
"The Hacker Way is an approach to building that involves continuous improvement and iteration. Hackers believe that something can always be better, and that nothing is ever complete. They just have to go fix it — often in the face of people who say it's impossible or are content with the status quo."
Dropping "credit union" is how some institutions are hacking their own way into their future. I applaud the vision and bravery it took to make the change.
Does this increasingly common practice signal the end of the credit union industry as we know it?  No. Does keeping the CU maintain the strength of the credit union industry? No. Our industry is not our brand.  We must stop confusing the two.  Apple, for instance, is in the computer software and hardware industry but their brand transcends it.
We will do the same – and earn the right to continue calling ourselves a "movement" –  only when credit unions collectively move quickly, boldly, and openly to benefit the people who make them possible. With typical brilliance, Jeffry Pilcher described what such an effort would look like.
Credit unions started as the ultimate hack of the financial services industry, a deliberate alternative to help improve the way people turned financial dreams into reality. We rightly follow FDR's lead in lauding Filene and his fellow hackers for their bravery and vision in creating something far larger than themselves.  Yet what are we, the CU community, prepared to tear down and hack and break and rebuild now in order to remain relevant to our members? If we abandon the mindset that made us in the hopes that safety and sameness will save us, with millions more members and billions more in assets at stake, then we deserve to fail.
Will we be remembered for our fall, or our fight? Our future depends on it.
The president and founder of NO NET Solutions, Andy Janning is an 8-time state and national award winner for excellence in organizational development and former credit union executive. He's an editor for CUWaterCooler.com, writer, speaker, and professional voiceover artist. He works with a variety of clients to develop their experienced and emerging leaders through the Leader Effectiveness Training program, the only system of its kind to earn its founder three nominations for the Nobel Peace Prize. Find out more at AndyJanning.com and follow him on Twitter at @andyjanning.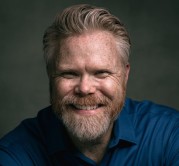 Andy Janning is the author of the books Heroes, Villains, and Drunk Old Men and The Breast Cancer Portrait Project, an 8-time state and national award winner for overall excellence ...
Web: andyjanning.com
Details