Myth vs. reality: AI practical applications for credit union security in 2023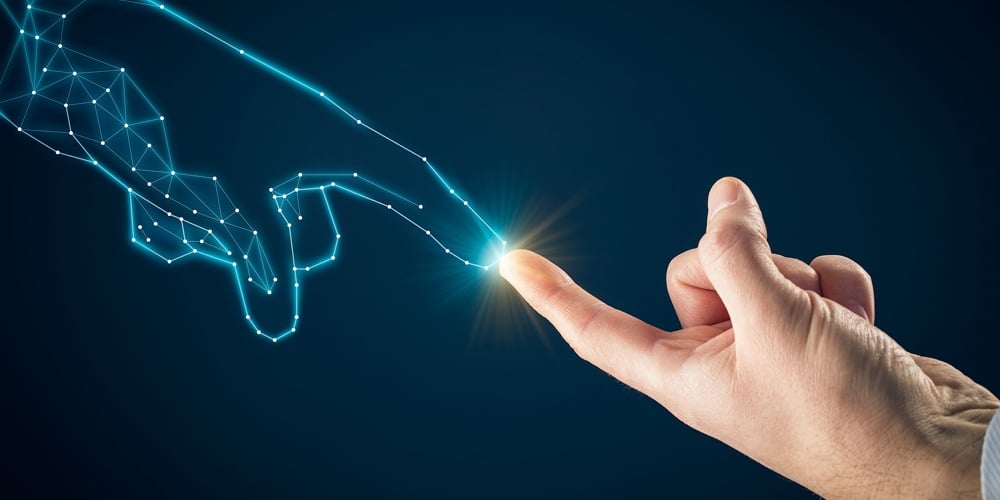 Artificial intelligence (AI) is nothing new to the popular vernacular. Hollywood has included it as key elements in some of the most thrilling sci-fi movies ever made. A recent noteworthy entry, 2014's Ex Machina, explores the power of synthetic intelligence and its dire consequences. Consequences aside, the potential of AI has endless positive possibilities for applications in our everyday lives, but the practical application of AI has been mostly limited, until recently. Gradually, with new revolutionary AI program releases, like the Microsoft-backed, ChatGPT and CoPilot, we are on the cusp of an entirely new relationship with AI.
Whether its interacting in life-like chats (ChatGPT) or clicking one button to prepare a 12-slide presentation from a press release (CoPilot), the practical applications of AI are starting to raise a lot of eyebrows. The financial services sector, in particular, is ripe for benefiting greatly from AI.
As account holders increasingly move to digital, they are looking for streamlined, personalized and secure interactions with their financial institutions. Unfortunately, the mountains of bank and credit union data that is often required to achieve many account holder digital experience desires can be challenging to implement without advanced AI programs. By design, AI programs can instantaneously interact with mass amounts of data and help to bring ideal digital experiences to life. The promise is great, but in many ways the practical delivery isn't necessarily here yet for AI transforming digital interactions with members.
An area where the promise and delivery of AI has tremendous impact for credit unions today is security and fraud mitigation. With online fraud costing consumers $5.6B in 2021 according to the FTC, there is much more that can be done to lower this number. AI is the perfect, proven innovation that mitigates criminal organization effectiveness in achieving fraud, significantly limiting their account takeover success rates and more.
Existing fraud protection at credit unions
Most financial services institutions have enhanced fraud detection capabilities, as they should. Being one of the most lucrative targets for criminal organizations, they face persistent and motivated attackers. However, oftentimes, these existing fraud mitigation capabilities are saddled with authentication challenges from multiple vendors and data sources. They also tend to lack rich actionable insights into end-user behavior and device anomalies, instead relying on basic level of threat intelligence from intrusion prevention systems (IPS) and firewalls.
A better way to identify suspicious fraud-related activity
Large amounts of data can be extremely difficult to leverage quickly on a practical level in mitigating attacks that can result in fraud, unless you have a better way to decipher it and make it actionable. This is where AI steps in. Using AI to analyze inherently suspicious mass amounts of data like the below types is a game changer in fraud prevention capabilities:
Behavioral features, like mouse movements keyboard usage patterns
Device features, like device identifiers, browser anomalies and login patterns
Network insights, like IP (internet protocol), ASN (autonomous system numbers), location
While collecting the above data can be challenging without the right tools in place, most financial services institutions, should have access to providers who have solutions that can either be operated as a stand-alone offering or bolted on to existing fraud mitigation systems.
An important consideration is to find a solution that continuously studies attacker retooling, and then incorporates the learnings into their AI. The best ones continuously perform off-line or second stage analysis to ensure that their solutions remain consistently effective against criminal organization efforts to endlessly outmaneuver the protections in-place.
How to streamline gaining the benefits from AI-driven fraud mitigation
With previous investment considerations and institutional knowledge in-place, most fraud teams would avoid completely replacing their fraud mitigation system with an all-new solution. Not only would it not necessarily make financial sense, but the effort and IT personnel commitment required would generally be a showstopper.
Finding an AI solution that can be bolted onto existing infrastructures and solutions is likely the better option for credit unions. Like ones that are deployed as a lightweight JavaScript (JS) bundle across all the web pages. Simply put, with this approach, application defenders at financial institutions will be able to seamlessly integrate with their existing decision engines to look at security, fraud, and authentication challenges in a holistic way. My guess is that criminal organizations are not a big fan of this streamlined option for AI powered fraud mitigation.
Making life easier for fraud teams
Using AI to detect and mitigate fraud is the obvious benefit here, but there are other benefits AI can bring to the table in this context, such as, utilizing the right fraud systems powered by AI to create better synergies between fraud and security teams.  The right solutions can bridge the gap between these often-siloed teams and minimize manual processes, which criminal organizations have been targeting as a known gap in security. For example, leveraging and providing shared JS data across organizations can lead to better decision-making capabilities for the collective teams, resulting in fewer false positives and fewer false negatives (blocking legit account holders because the system thought they were fraudsters).
Another great example is using AI to reduce analyst workload. Imagine, all the number crunching and report building time saved. Augmenting fraud analysts with AI makes them much more effective in identifying critical data insights that impact fraud related decision-making.
What to expect from AI-driven programs in credit unions
With ChatGPT and CoPilot programs finding their way into the mainstream, the power of AI is beginning to take a more practical, realistic existence, rather than a mythological one. Nowhere else is this more prevalent in the credit union world than with AI-driven fraud mitigation. Empower your fraud and security teams with high fidelity, actionable intelligence around behavioral biometrics, network characteristics, and device characteristics when you look to boost your fraud capabilities with AI.
This article was produced without the help of any new AI programs.
Chad Davis is Industry Sr Solutions Marketing Manager, F5 Networks, which is the leader in app security and multi-cloud management. He can be reached at c.davis@f5.com.
Web: https://www.f5.com
Details