Next steps to improve financial well-being for all
GAC is over with all its focus on improving financial well-being for all. April – a.k.a. Financial Capability Month – is over with all its focus on financial education and capability. So, what's a credit union to do now to continue its journey to improve financial well-being for all? 
Look no further for inspiration than insightful research discussed during CU FinHealth™ 21 by the leading credit-union owned payments/technology CUSOs, PSCU and CO-OP Financial Services. Merry Pateuk, SVP of Industry Engagement for PSCU and Sam Paxson, Chief Experience Officer for CO-OP joined me for a conversation about the payments opportunities in building a financial health and well-being ecosystem. 
Both PSCU and CO-OP have done significant research to help credit unions improve financial health and well-being. 
PSCU recently completed a study with MDC and the Financial Health Network entitled "How Credit Unions Can Become Financial Health Providers." Results of the study show that the financial health needs of members are evident: Over 60% of credit union members surveyed are struggling financially and at least one-third live paycheck-to-paycheck. In line with these findings, more than 60% of credit union employees are struggling financially, too. Moreover, credit union members who identify as a minority group are more likely to be struggling financially as shown below.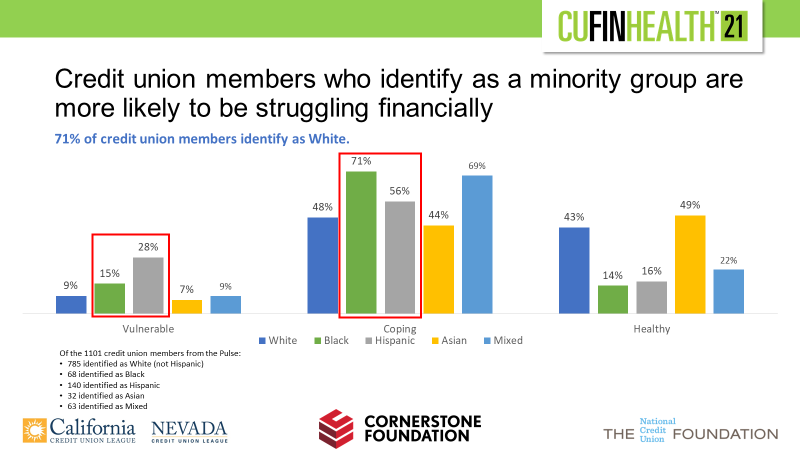 Source: PSCU
As Merry noted in her remarks during CU FinHealth™ 21, "Our goal through this research and partnership is to help credit unions and other industry organizations rethink how we operate, the investments in products and services we make and the resources we provide in order to prioritize financial well-being. Measuring the financial health of members and employees is a key step toward improving financial outcomes."
Similarly, CO-OP has done in-depth research on the fragmentation of consumer financial relationships and what credit unions can do to provide solutions. CO-OP looked at the most trusted financial brands and discovered that fintech is the biggest threat to credit unions for a member's primary financial relationship. In response, CO-OP developed a series of persona to identify solutions gaps and corresponding opportunities for credit unions. 
"By combining traditional demographics with more personalized life needs," noted Sam, "we create a better model: Lifestyle Banking. Through Lifestyle Banking, credit unions can provide Members and prospects with more cohesive experiences and curated value propositions that meet their financial needs, delivering at the right place, right time, and right channel. If we're not part of our members' daily lives, how can we help them improve their financial behavior and overall wellness?" 
The graphic below reflects that opportunity and market share gain for the five personas CO-OP unearthed from the respondents to the research, demonstrating unmet needs from credit unions and potential daily finhealth-based solutions like virtual access to a financial planner, receiving paychecks two days early, digital identity removal service and more.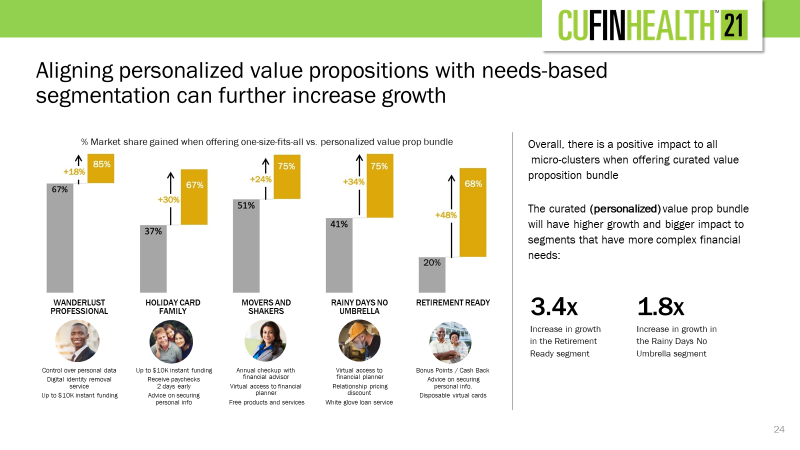 Source: CO-OP Financial Services
Your credit union-owned payments/technology CUSOs are thinking about and developing solutions that help build a financial health and well-being ecosystem in credit unions. 
What can you do next to keep this work going? 
Start with your employees and measure: Talk with your employees about the main financial pain points in their lives and what they are hearing from members. Measure through surveys and/or look at transaction/data trends to see what's going on. Make sure you truly understand what your employees and members need and design your solutions sets to meet those unmet needs in their daily lives.
Use the incredible research from PSCU and CO-OP to inform how you approach the outcomes your members want for each micro-segment of membership.
Build your strategy from the inside out with a culture that focuses on being a financial health and well-being provider, not just a financial services provider. This means a laser focus on anticipating needs and driving outcomes for your members, not just how many products and services you can sell. 
Join us on this journey at Making Financial Well-being for All a Reality (ncuf.coop).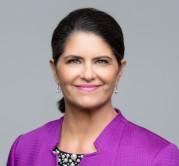 Gigi Hyland serves as the Executive Director for the National Credit Union Foundation (NCUF), the philanthropic and social responsibility leader of America's credit union movement. Prior to her work with ...
Web: www.ncuf.coop
Details