Now streaming: NCUA's Hauptman discusses digital assets on the CUPP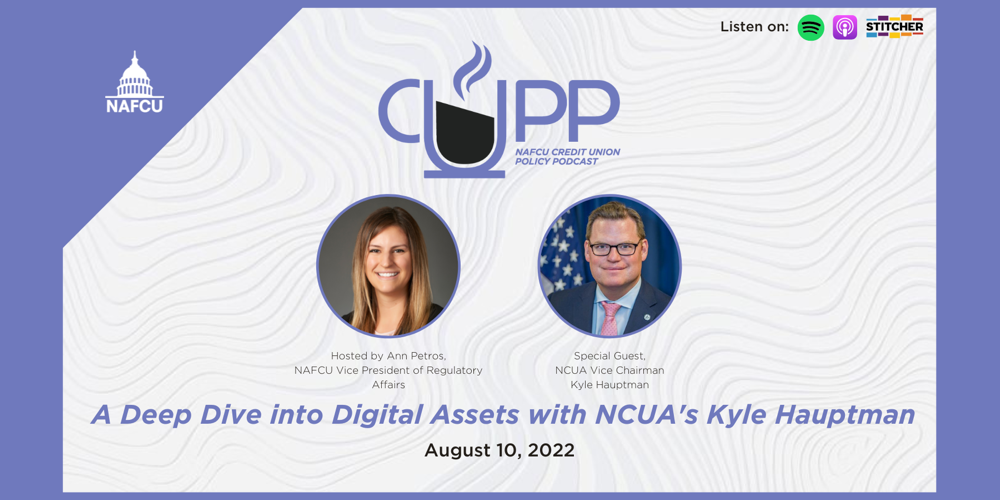 The latest episode of NAFCU's Credit Union Policy Podcast (CUPP), which launched in early July, features a discussion between NCUA Vice Chairman Kyle Hauptman and NAFCU Vice President of Regulatory Affairs Ann Petros exploring digital assets and its evolving regulatory landscape.
During this week's episode, Hauptman and Petros dive into what credit unions need to know when engaging and incorporating emerging technologies within the products and services they offer to members. NAFCU has engaged with several regulators on the topic of digital assets, sharing feedback on ways it would impact the credit union industry.
NAFCU earlier this week wrote to the Treasury Department in response to its request for comment (RFC) on the responsible development of digital assets, fulfilling its consultative requirement under President Joe Biden's Executive Order on Ensuring Responsible Development of Digital Assets. The association has voiced similar comments to the Federal Reserve and Commerce Department.
The CUPP, hosted by Petros, takes listeners into the heart of Washington, D.C., to highlight where lawmakers and regulators stand on key credit union issues. In the previous episode, Petros sat down with NCUA Chairman Todd Harper to discuss topics related to diversity, equity, and inclusion within the credit union industry.
continue reading »